The future of manufacturing enterprise's competitiveness is in neural, adaptive, and connected capabilities.
By Sreenivasa Chakravarti, VP of Manufacturing Business Practice at TCS
The ways that manufacturers operate and interact with partners within and outside of their ecosystem has evolved time and time again as technology has advanced. Manufacturers continue to digitalize and automate their shop-floor and supply chain processes as a result of emerging technologies, platforms, and ever-changing customer behavior.
With the emergence and continued impact of COVID-19, manufacturers have had to quickly make a significant shift once more – adopting technologies and practices that provide resilience and unprecedented adaptability to meet the emerging demand patterns. While this ongoing shift is sudden and drastic, the move towards agile and lean manufacturing has been a long-term goal for many enterprises for quite some time. With that said, the pandemic has catapulted manufacturing to a new era where manufacturers work in an ecosystem of partners, aligned to a common purpose and intensively networked to work through operating models driven by emerging technologies – a necessity in today's uncertain conditions.
This new approach of doing business is called "neural manufacturing." It enables organizations to have a responsive, adaptive, and personalized value chain where every actor is able to adapt their behaviors to gain and even sustain competitive advantage through the application of connected capabilities.
How does neural manufacturing work?
Neural manufacturing is a way of thinking, it is not a tangible technology, framework, or defined process. As technology becomes increasingly engrained in the product and the manufacturing process – and as demand continues to become increasingly service value centric – there are more and more touchpoints and third-party partners that need to be in constant communication with one another in order to achieve true supply chain efficiency and resiliency. Neural manufacturing looks at the value chain from a top-down perspective, where each component of manufacturing has a purpose tied to the end goal, and to seamlessly reach that stated end goal in the fastest way possible while meeting customer demands requires the use of connected technologies.
Think of a neural enterprise as biological neural system that's able to sense, perceive, and act autonomously. Neural manufacturing is defined by a frictionless value chain of flexible partners – call them the vital organs if you will – working in tandem to meet both individual and group goals while adapting to internal and external pressures through the use of technologies like automation, machine learning, artificial intelligence, and IoT – or in this case, the brain.
Serving as the foundation of this shift, technology underpins neural thinking by enabling manufacturers to work, adapt, collaborate, and even compete efficiently, effectively, and cohesively in these ecosystem environments.
What are the advantages?
Beyond bringing more agility and efficiency, a neural approach brings to life many advantages for manufacturers. Through optimal digitalization, neural manufacturing enables resilient, machine first supply chains – which are imperative in an economy that remains uncertain and volatile for the foreseeable future – and in turn, allows organizations to be adaptable to any internal and external factors while working towards their end goal.
The autonomous connected capabilities that come with neural manufacturing help organizations engage with smart connected products and assets in real time by eliminating the interface friction phase. This not only brings efficiency to the overall business processes but enhances responsiveness of the process altogether.
Additionally, adaptive abilities help manage the variabilities introduced by the move from mass, to lean, and to personalized and customized mass manufacturing. Through neural thinking, manufacturers are not only able to adjust to anomalies that come with a tailored process, but it also allows organizations to engage in B2B2C business models where both customer and consumer are taken into consideration when working, adapting, or collaborating.
Lastly, through these connected capabilities, a neural manufacturing network is location-independent, meaning no person, process, or system is reliant on a certain location – which caters to the remote norm of today and creates more opportunities, rather than the challenges that stem from being beholden to a certain geography.
How can manufacturers implement it?
To begin with, enterprises need to redefine their purpose in the digital world, identify their opportunities and new sources of competitive advantage, and create their ecosystem of partners who can accelerate their journey towards their aspiration. This requires a new set of business and operating models. Technology is the core to a neural enterprise. To implement such practices throughout manufacturing plants and supply chains, manufacturers must begin by building and strengthening technological infrastructures that support and enhance automation, machine learning, artificial intelligence, and IoT. Only when an organization has built this strong digital foundation can they adopt neural manufacturing to stay ahead of the curve.
All in all, many businesses have gathered components of neural manufacturing by slowly adopting different technologies, but few are entirely digitally forward. Cognitive, connected, and collaborative digital capabilities are now more important than ever, and through neural thinking manufacturers will be able to future-proof their enterprises by differentiating through new sources of sustainable competitive advantage.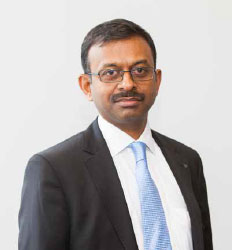 Sreenivasa Chakravarti, Vice President and Head of Manufacturing Business Practice, TCS
With 28 years of cross-functional experience in consulting, IT and manufacturing, Sreenivasa has played roles in the areas of strategy planning and execution, sales and marketing, corporate planning, innovation, and business consulting. He has worked extensively in the connected, autonomous, shared and electric (CASE) automotive business and has authored several thought leaderships papers on digital-led transformation of the manufacturing enterprise.