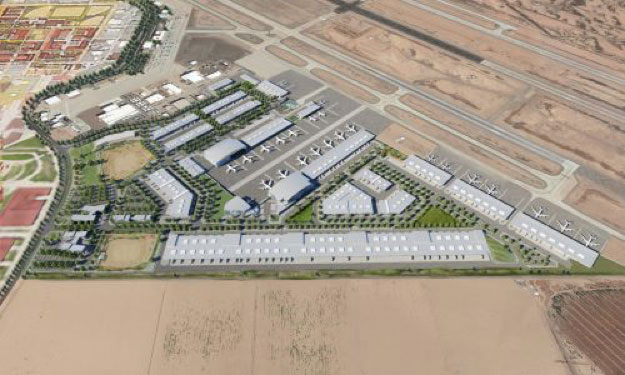 What are the benefits of the Skybridge Arizona Development?
It should be no surprise that Mexico is the second-largest export market of the US, following closely behind Canada. Mexico continues to experience economic growth and an expanding middle class. This makes it an ideal location for US businesses to expand their global presence.
Unfortunately, one of the barriers to Mexican-American trade has been the requirement to send all products through international customs in one of three cities, the most common being Mexico City.
However, this step will soon be obfuscated for select companies with the development of SkyBridge Arizona in Mesa. It'll serve the Greater Phoenix area. This is just one of the major benefits that companies can enjoy when they partner with Phoenix-Mesa Gateway Airport.
To date, there are more than 1.5 million square feet of planned on-airport development opportunities that will provide enticing benefits to global US businesses. What can companies expect when they join the SkyBridge Arizona project? Here are just a few top benefits:
Bypass Mexico City Customs When Exporting Products
As referenced above, when your company decides to partner with the SkyBridge Arizona development, you're able to ship your products straight to their final destinations within Mexico. This is done through the first-and-only joint air cargo hub that will house both US and Mexican customs agents. This will streamline shipment through the Unified Cargo Processing (UCP) program.
Your products will no longer need to first ship to Mexico City, Monterrey, or Guadalajara. This will improve the already great supply chain system between the US and Mexico. It will also reduce commercial and consumer costs, which will directly translate to a higher profit margin for American businesses.
Increased Cargo Flights
Gateway Airport is already a go-to destination for cargo exports, but with the SkyBridge Arizona expansion, it'll grow from 2,000 flights per year to more than 10,000 by 2036. If you're thinking about business development growth, there's no better location than in the Greater Phoenix area, one of the top-growing US metropolises, where you can have access to leased space directly on airport land.
On-Airport Land-Use Opportunities
SkyBridge Arizona at Gateway Airport will lead to additional on-airport land-use opportunities for all types of businesses. Not only will there be warehouse space and aeronautical use facilities, but also offices and research and development space, as well as retail and hotel developments.
It will be a 435-acre multi-use development with 363.5 acres of leasable space and another 78 acres of fee simple land available for development with Pecos Road access.
Educated Workforce Nearby
Not only does the Phoenix metropolitan area continue to grow by leaps and bounds each year, the nearby population includes a highly educated workforce. Just adjacent to the development is the Arizona State University Polytechnic Campus, which is continuing to expand, as well as Chandler-Gilbert Community College.
And on-site companies that already recognize the value of the location include Embraer, Cessna, Able Aerospace Services, among more than 30 others.
There's a reason Phoenix is dubbed the "Silicon Desert." While it's always been considered an extension of California, it's now a major force of its own, with prominent aerospace, defense, and technology businesses calling the region home. This makes the SkyBridge Arizona development the ideal space, primed for success.
Economic & Commercial Benefits Abound
There are key items any global business will look for when expanding its footprint. And while Arizona may not have been on the mind at first, after learning about the unprecedented site advantages offered at SkyBridge Arizona, it will likely lead the list.
Here are just some important callouts to consider:
No real property tax (RPT)
Military Reuse Zone
HUBZone eligible
Foreign trade zone
Opportunity zone
Job training funds available
Additional Advantages for Aviation Businesses
In addition to the list above, there are even more benefits provided for aerospace and aviation businesses when it comes to savings. There's also Arizona's transaction privilege tax, job tax credits for net new jobs created—up to $10,000 per employee over a five-year span—and a personal property tax reduction for five years.
New & Improved, But Great Already
While Arizona SkyBridge at Phoenix-Mesa Gateway Airport will provide amazing benefits for local and global companies, it's already a source of success and is capitalizing on being in the right location at the right time to bring even greater value to its partners and the community at large.
In 2018, the most recent figure available, it transported air cargo goods totaling $6.8 trillion. It transports 52 metric tons of cargo every year, and that's growing, and it currently contributes to 35 percent of the air cargo share of the world trade by value.
In addition to what Gateway Airport has already accomplished, it will see an estimated 4.3 percent annual global air cargo traffic growth until 2037. It will also help support 68 million aviation jobs and is forecasted to generate $130 billion in air cargo market worth by 2025.
SkyBridge Arizona is a development unlike any other occurring in the US right now. Lots are ready for development. All utilities will be provided to the site. Future taxiways and roadways are planned. It offers light industrial zoning. These park features, and more, continue to astound companies, as it truly offers an ideal aeronautical and commercial location.
This $230 million project has a 15-year build-out plan, but sites are going now. The space is already zoned for use, so once that land is leased, the opportunities for similar businesses expire.
Don't miss the opportunity to become a leading Mexican exporter and grow your business while capitalizing on countless perks. Reach out to learn more about pricing, available lots, and the incentives mentioned above. You can also tour the grounds at Phoenix-Mesa Gateway Airport.