One in three manufacturing employees observe misconduct—and that's better than average across industries.
A new multi-year research effort from LRN proves that ethical culture can be measured, and that businesses with better culture outperforming peers by up to 40% across multiple metrics, including employee loyalty, customer satisfaction, and even growth.
The manufacturing industry as a whole scored high on the LRN Benchmark of Ethical Culture, a comprehensive survey of nearly 8,000 thousand employees at corporations around the world. A multi-year, collaborative research effort, the report builds on three decades of work and supporting research proving ethical culture both protects corporate reputations and propels the bottom line.
The findings reveal that in an era of stakeholder capitalism with eyes on environmental, social, and corporate governance (ESG), culture is the key to authentic or inauthentic expression of a company's commitment to purpose, values, people, society, and planet.
Key takeaways include:
There's a big disconnect between management and production employees: The biggest area of concern is that production employees feel more pressure to achieve short-term objectives, even if it means acting unethically.
One in three employees surveyed observed misconduct in manufacturing, which is actually slightly less than the overall average across other industries.
Corporate employees and production team members differ greatly on their comfort level in speaking up on misconduct: 74% of corporate employees in the manufacturing space would be comfortable reporting unethical behavior to a manager while only 57% of production employees do.
A Pandemic Paradox exists. While management heralds frontline employees as heroes, line workers aren't feeling the love.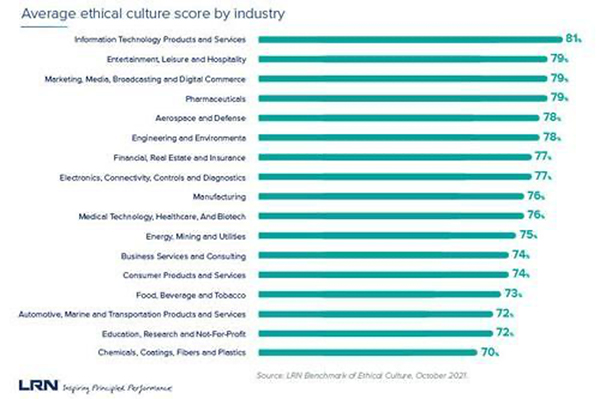 There is a leadership disconnect. Senior leaders report more favorable perceptions of the state of their organization's culture. Middle management reports average and individual contributors and those on the front lines report the lowest perception of culture.
Black Americans and people who identify as female observe unequal treatment in the workplace. While companies have made commitments to diversity, equity, and inclusion, there is a wide gap in the perception of equality at an organization. African, Black, Afro-Caribbean, and African Americans report a less positive experience of cultural dimensions, while people identifying as female report less than those identifying as male.
Employee loyalty is notably higher in environments characterized by high trust. Employees are more loyal to companies that are ethical and purpose-driven with a clear commitment to diversity, equity, and inclusion.
"How business defines and achieves performance has evolved," said LRN Chief Advisory Officer Ty Francis MBE. "We're proud to introduce a new model for achieving ethical performance and a new benchmark for an ethical corporate culture that explores the values and needs of all stakeholders."
Said lead author Emily Miner, Senior Ethics & Compliance Advisor, LRN. "The data prove that manufacturers should prioritize ethical culture as it isn't just the right thing to do, it is the smart thing to do."
The LRN Benchmark of Ethical Culture is based on comprehensive data collected from nearly 8,000 employees worldwide, ranging from frontline employees to the C-suite, and representing 17 industries. It offers a unique view of ethical culture and its impact on ethical conduct and business performance. LRN, a pioneer in the ethics and compliance space, helps more than 30 million learners each year across 1,000+ companies worldwide.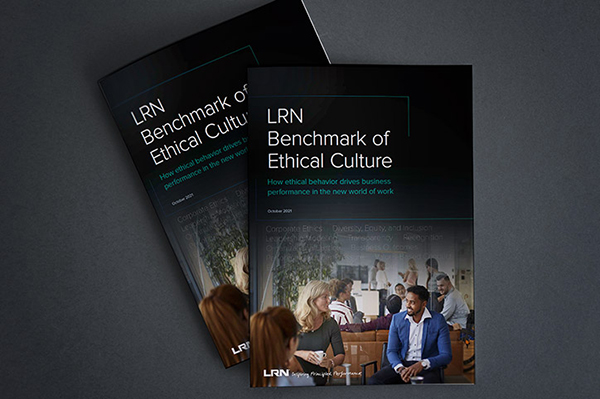 For more information, access the LRN Benchmark of Ethical Culture (free with registration.)