Industrial marketers can stay productive during challenging times by adopting no-cost marketing activities to further their 2020 strategy.
By Pete Hoelscher, Acting CEO, IEEE GlobalSpec
COVID-19 has halted the world, putting an indefinite pause on all activities across nearly every industry, including the manufacturing sector. In these unprecedented times, it is very easy to feel restricted in our ability to move our marketing efforts forward, especially when our plans, our budgets, and even the channels we rely on (including tradeshows and other face-to-face events) are in a state of flux.
Now's the time to focus on the things we can control in today's business environment. And part of that is finding ways to maintain productivity and develop our strategies and teams so we can start strong when the world is back on its feet. Here are five no-cost activities that you can implement today that will position you for success during these challenging times.
1. Leverage your team's social media skills
Due to the increased regulations around social distancing, social media has become an important form of personal connection. Therefore, audiences are likely spending more time on social media than usual. This can be extremely beneficial in terms of visibility and engagement. While connecting with prospects and customers face-to-face is now impossible, you can use this unique moment in time where all eyes are on social media channels as a means of authentic connection. Focus on posting regularly, responding to all messages, remaining aware of the environment, and being mindful of the content you release. If you haven't already, you may also want to review any posts scheduled in advance to ensure they are appropriate given the news climate.
2. Connect with customers
It's important to provide a sense of stability and security to customers during this time. Everyone is feeling a sense of uncertainty right now, but as a marketer it is important that you do not externally convey these feelings of anxiety. Remember what your company stands for and lean on the pillars of your brand. Transparency from business to consumer is going to set your company up for success as we emerge from this crisis. Continue to consistently connect with your audience, inform them of changes occurring within the industry, and keep providing value and knowledge by helping them solve their professional challenges.
3. Strengthen core skills
Professional development is something that we keep on our to-do lists throughout the year. However, these activities often get placed on the backburner due to busy schedules, increased client demands and so on. With business travel at a standstill, and more companies offering training content online, now is a great time to focus on those goals. Take advantage of webinars, whitepapers and reports on marketing topics of interest to you. If you work as part of a larger marketing team, bring everyone together to find out what they're hoping to learn as well. Utilize social conferencing platforms to brainstorm and share skills. Take this time to learn more about your industry, your team members, and how you can combine strengths to provide higher quality service to customers in the future.
4. Stay on top of industry news
While it is very important to be aware of the latest updates on COVID-19, it is also imperative that we keep our fingers on the pulse of news in our industry. Subscribe to relevant publications, browse social media to see what your peers are discussing, and expand your view to include your competitors. What are they up to, and how are they responding to current events? Make sure to stay connected to your biggest customers and the power players in your industry.
5. Plan for recovery
As states start reopening, and more companies begin returning to some sort of business as usual, you need to be ready to hit the ground running. What goals do you need to accomplish by the end of 2020? What do you need to do to accomplish those goals? It is not too early to begin drafting a game plan. This plan might be similar to your original 2020 plan or completely different. Either way, this downtime is a perfect opportunity to examine at your plan and adjust accordingly.
Those who use this time to uplevel their strategies and better themselves and their teams will undoubtedly rise to the top when the world achieves a sense of normalcy. While many of our plans may have been altered due to COVID-19, we should approach the remainder of 2020 with an attitude of optimism, resilience, and understanding from this experience. Participating in these simple activities can serve as a major step in that direction.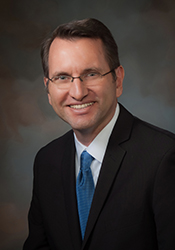 Pete Hoelscher has served as the Acting CEO at IEEE GlobalSpec since January 2019. Prior to joining IEEE GlobalSpec, Pete was the Chief Strategy Officer at Peak Reliability and held a variety of leadership roles at Acxiom for 17 years. Pete's professional skills include organizational development, customer relations, corporation communications, operations, and strategy.