By Michael Cravens, VP of Sales & Operations, Americas, iTiZZiMO inc.
Manufacturers continue to struggle to find their next generation of workers. The shortage of skilled manufacturing labor required to replace retiring workers and allow for growth over the next decade is a serious problem. Twenty-two percent of skilled manufacturing workers, or 2.7 million employees, are retiring over the next ten years. Because of a lack of incoming replacements, the industry is projected to fall a startling 2 million workers short of its needs.[1]
One reason why could be that the industry has a PR problem—namely, the persistent perception of the old, dirty, loud factory floor. Millennials are part of a world that is much more dynamic and complex than the world of their predecessors. Today's youth have been raised on technology and they want to work for companies that embrace their digital enthusiasm while also providing an environment in which they feel they are making a real difference, not just operating machinery. McKinsey believes that the IoT has a total potential economic impact of $3.9 trillion to $11.1 trillion annually by 2025, and more so in manufacturing than in any other industry.[2] As part of that growth, manufacturers will need a new generation of workers to connect the various systems and machines, gather the data and analyze it. It's critical that we bring the IoT culture into the workplace to help stimulate interest in the industry and make it more attractive to young talent.
Manufacturers need to go into 2018 with a serious goal of implementing some modern strategies to begin closing the talent gap:
Tech Deployment: For the new generation of workers, not one day of their lives has been void of a digital presence. Because of this, workplaces that don't offer a digital environment aren't attractive. As technologies such as virtual/augmented reality and wireless tech are deployed in enterprise environments, the job's appeal rises. Even assembly line workers want to use cool, next-generation technology to help them do their jobs. Manufacturers globally that are implementing technologies such as "smart wearables" on the factory floor are seeing the results of how this technology can help people do their jobs more effectively and in a more exciting way.
Apprenticeship Programs/School Partnerships: In the United States, it has long been widely perceived that if you didn't do well in academics, you "ended up" in vocational school leading to a factory job with little opportunity for advancement. Other countries have made great strides in erasing this perception and are making manufacturing jobs an attractive profession. Germany, for example, has led the way with very innovative apprenticeship programs. Similarly, domestic manufacturers should reconsider forming partnerships with vocational schools to offer internships with growth opportunities to promising young people.
Partnerships with trade schools would also help manufacturers ensure that new technologies being used in the plant trickle down into those schools. It's partly our responsibility to augment the current curriculum so that graduating workers can hit the ground running.
Clean Factory Floors: U.S. companies have created a new generation of modern, clean, bright plants. Shop floors today are cleaner than most people's homes so why are we not communicating that to the young people we want to recruit to help combat the "dirty factory floor" image? New workers don't care just about the products they're making; in fact, they most likely care more about the work environment. We've come a long way, so let's put some effort and money into marketing a rewarding factory job experience.
Corporate Social Responsibility: Companies such as Raytheon, Lockheed Martin and Boeing are among those being lauded for programs designed to hire more veterans into the workforce. Manufacturers like Crossville, DinoFlex and the world's largest steel manufacturer, ArcelorMittal, are recognized nationally for their environmental efforts. These types of programs are great examples of how companies are attracting younger and more skilled workers. Millennials want to feel they are a part of something more important than just their daily work. They want companies to be actively invested in the betterment of society and the solution of social problems.
It's clear that 2018 will see big changes in manufacturing technology. But it's also critical that we as an industry implement strategies, both offline and online, to strengthen our young workforce at the same time. Offer Millennials digital technologies and appealing workplaces and they will come.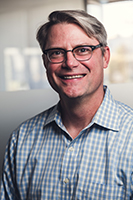 About the Author
Michael Cravens is VP of Sales and Operations, Americas, at iTiZZiMO, a digital transformation software company specializing in the rapid development of applications for industry. As an established global sales executive of more than 25 years, Michael has worked with multiple industry-leading technology solution providers, selling services and consulting in manufacturing, banking and construction. Send an email to Michael at michael.cravens@simplifier.io
[1] https://www.forbes.com/sites/maryjosephs/2017/03/15/u-s-manufacturing-labor-shortage-how-to-make-your-company-a-happy-exception/#4196f6eb7e13
[2] https://www.mckinsey.com/business-functions/digital-mckinsey/our-insights/the-internet-of-things-the-value-of-digitizing-the-physical-world