March 21, 2019
The 3D Printing Trends 2019, an industry report by 3D Hubs — a Dutch company specializing in online manufacturing — summarized the insights gained by analysing its own transactional database, an independent survey of 400 professional 3D printing users, and a systematic review of the news and recent market analyst reports. The goal was to answers a simple question: why does the industry care about 3D printing today?
The most significant change seen in 2018 was the evolution of our perception of the technology. 3D printing isn't just for prototyping anymore. It is now considered as a valid method of manufacturing end use parts and products. In this article, we will delve deeper into three interesting findings of the report.
3D Printing is Moving Towards Manufacturing
The future of 3D printing was never meant to be in the living room but on the factory floor. The aerospace and medical industries have already embraced the technology for high-end applications, mainly taking advantage of its ability to create lightweight structures with an organic shape.
Until recently, however, the high cost of industrial 3D printing compared to other manufacturing technologies was — especially for metal and larger volume — was a prohibitive factor for wider industrial adoption.
Today, it is the automotive industry that leads the development of 3D printing toward full-scale production. In fact, three out of every four major automotive companies in the US & Germany (including BMW, Ford, Volkswagen, Audi, Porsche, Mercedez-Benz and General Motors) are now using 3D printing to mass-manufacture parts for their cars or for spare part production.
This is a tipping point: the production requirements in this industry are an order of magnitude higher than in aerospace and medical. Industry experts attribute lack of awareness of the full capabilities of the technology as the main barrier to entry today.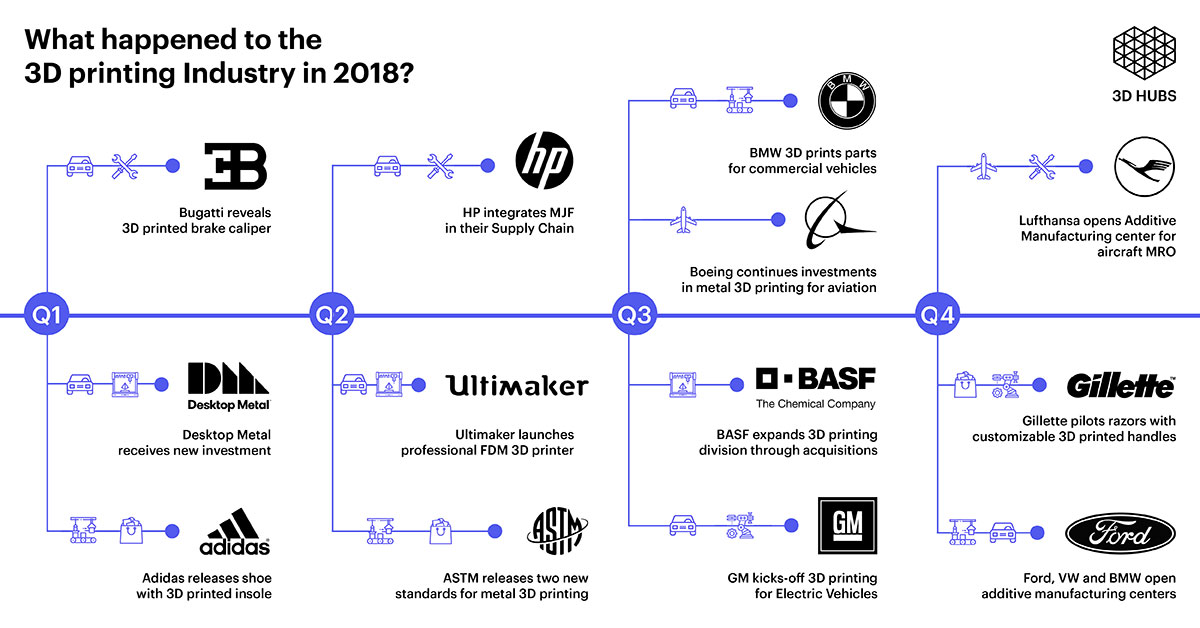 The Market is Due to Double in Size Every 3 Years
By averaging the estimates of different market analysts, the annual revenue of the global 3D printing market is estimated at approximately $10.2 billion in 2018. This figure includes sales of 3D printing hardware, software, and materials, as well as 3D printing and other services.
From 2013 to 2017, 3D printing grew at an average rate of 24.7% every year. For the next five years, the annual market growth forecasted by analysts varies between 18.2% and 27.2%, with the Compound Annual Growth Rate (CAGR) averaging at 23.5%. This means that the market is due to double in size every three years.
Meanwhile, investment in 3D printing is rapidly growing and is focused on industrial solutions and applications. From 2016 to 2017, venture capital funding increased by 86%. In 2018, VC funding exceeded $300 million in startups related to 3D printing.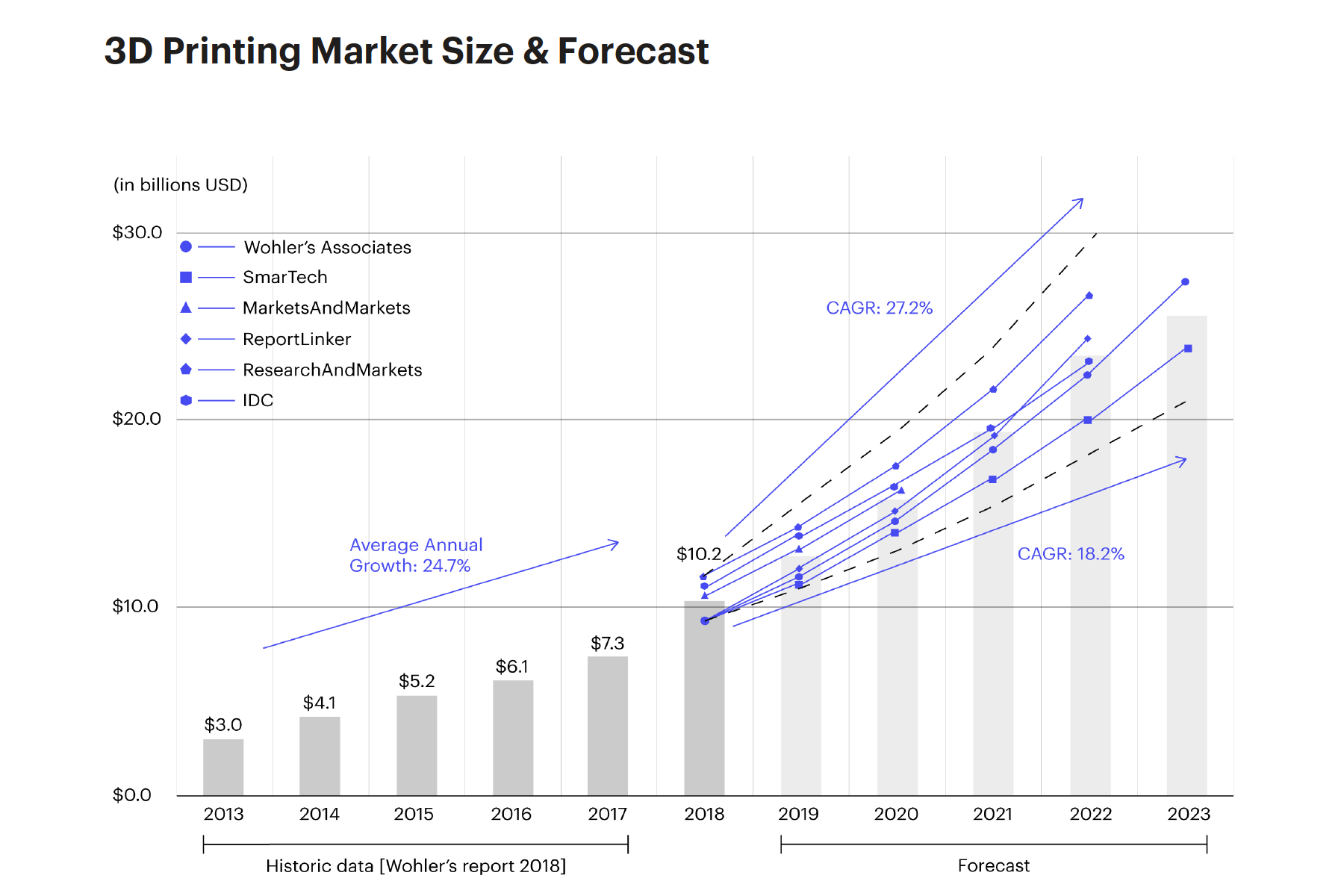 Despite its rapid growth, 3D printing still represents less than 0.1% of global manufacturing, which is currently valued at $12.7 trillion. If 3D printing manages to capture just 1% of that market – a scenario that is possible according to many industry experts – then it can reach annual revenues of $125 billion. This is five times greater than even the most optimistic 5-year forecast.
Where will this growth come from? Until recently, 3D printing was used almost exclusively for prototyping. However, the prototyping market is relatively small and estimated in the scale of $10's of billions. Today, large enterprises are making their first steps towards small-scale production and mass manufacturing with 3D printing. The size of these markets is 10 to 100 times larger than prototyping, opening up new opportunities for growth.
3D Printing is Only Part of the Answer
Of course, 3D printing will never fully replace all kinds of manufacturing. The technology has many limitations that only now are we starting to understand fully. In fact, only 38% of engineering professional will choose 3D printing for manufacturing and 90% of them would not consider it for production of more than 100 parts. Meanwhile, 3D printing is their first choice for prototyping more than 91% of the time.

As a result, engineers turn to technologies such as injection molding and vacuum casting for plastics, and CNC machining, sheet metal and casting for metal production.
This is why we should see 3D printing as a piece in the greater digital manufacturing puzzle. It will work synergistically with other digital manufacturing technologies, like CNC machining and low-run injection molding. These "traditional" manufacturing are also moving to the online realm, enabling engineers to manufacture parts quickly using processes and materials they are already familiar with.
If you are interested in reading the entire trend report, you can visit the 3D Hubs website for more information.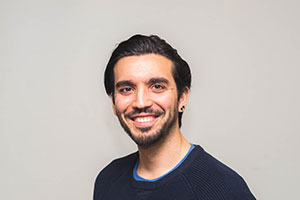 About the author:
Alkaios Bournias-Varotsis is responsible for all technical content published on the 3D Hubs platform, the largest network of online manufacturing services. His mission is to educate engineers and designers and help them grasp the full benefits of 3D printing and other digital manufacturing technologies. Before joining 3D Hubs, Alkaios received for his PhD in Additive Manufacturing and Printed Electronics from Loughborough University, UK.
Contact: alkaios@3dhubs.com