Paragon recognized as a 2022 Emerging Business of the Year. Specializes in custom sheet metal fabrication.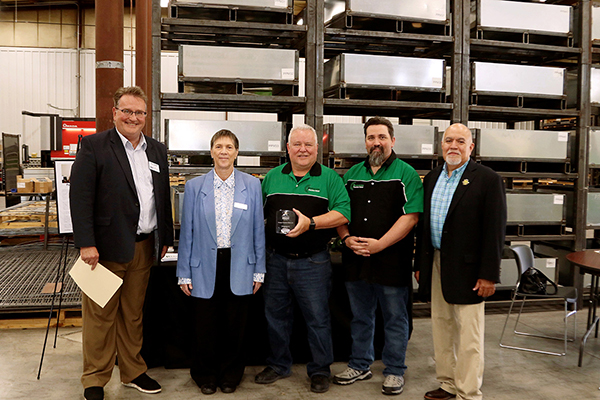 McPherson, KS – Paragon Precision Metal LLC (Paragon) was recognized on Thursday, June 9th as a 2022 Emerging Kansas Business of the Year by the Kansas Small Business Development Center. The recognition event was held at the Paragon facility in McPherson, Kansas.
Paragon is a rapidly growing manufacturing provider of custom sheet metal fabrication and specializes in laser-cutting, turret punch processing, and press brake processes utilizing a collection of state-of-the-art Amada equipment. It was established as a family-owned business in 2019.
"This recognition speaks loudly of the commitment our employees have in providing our customers with quality products and a business partner they can trust," says Paragon CEO, Bob Williford. "We are honored by this recognition, made possible by the hard work and dedication of our staff, the trust given us by our customers, the support of the McPherson business community, our mayor, and county commissioners. Without them, Paragon would not be where we are today, and we are excited for the opportunities we have ahead of us."
"It was an exciting project working with Paragon Precision Metal," says Frank Choriego, SBDC Associate Director, "we started from inception, not really a concept but an idea, created a business path to make Bob's dream a reality. Him and Paul applied themselves to execute on every action item the path to reality called for and well… now they are a four-year "overnight" success."