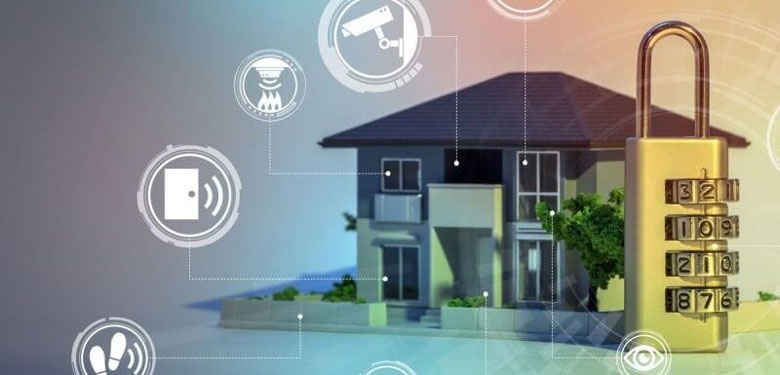 March 11, 2019
A lot of people doubt the need for security systems at their homes because of the expense involved with it. However; living without a home security system may cost you a lot more than the actual cost of its installation. A study revealed that homes without any form of a security system installed are three times more likely of being intruded by burglars vs. homes with security systems installed. Most of us are aware of the basic protection that the home security system offers. While the protection is crucial for safe and comfortable living at home, the advanced security systems offer a multitude of reasons that could save your life when an unforeseen situation occurs.
Early Warning System of Fire Alarm
An average household owner generally relies on smoke alarms in case of a fire outbreak. However, home alarm companies can offer an even earlier warning system to ensure minimal or no damage. An advanced well-equipped home security system alerts home residents of potential heat sources or smoke presence before alarming the relevant authorities. As it popularly goes "where there is smoke, there is fire", is true for all situations of heat leakage. It's reasonable to say that a heat protector is an important aspect of any fire protection system.
While the heat detector can be installed as a standalone device, installing it as part of a home security system offers major benefits in terms of timely escalation of probable fire. It merely takes 30 seconds for a small flame to turn into a full-blown fire, causing the lives a serious danger. A home security system alerts the authorities in advance and this apparently minimalistic time difference can save the lives (and the home) from serious aftermaths.
Protection from Harmful Gases
Carbon monoxide detectors are small devices that can be installed as part of Home Security systems, they are very similar to smoke detectors. Carbon monoxide is an odorless and colorless gas that can be released by heating systems, wood or charcoal burn or gas ranges. Humans cannot detect the presence of carbon monoxide unless they're in danger and it is too late.
With your carbon monoxide detector connected to your alarm systems, the emergency teams are alerted to treat carbon monoxide poisoning. The sooner the person poisoned with carbon monoxide receives treatment, the lesser are the symptoms and more the chances of the person's survival.
Prevention from Home Invasion
A Home security system is an impediment for any burglary. Most break-ins only result in theft of valuables; but you can't deny the fact that in the likelihood of confrontation; it may cause lives too. Security companies have an alarm which may scare off a lot of burglars and will notify the authorities if someone does attempt a break-in. If you have a security system doesn't only guarantee safety, it makes the neighborhood a safer place as well.
Assistance in Emergency Situation
Help should be one touch away in emergency situations like break-ins, medical condition or in case of fire. In such a life-threatening situation, the one touch panel of security companies put you in direct contact with monitoring teams, saving precious seconds of response times.
Modern security systems allow you to manage home remotely and be aware of the situation at home and of your relatives. 24/7 security monitoring gives you the peace of mind and relief in unforeseen situations like fire, invasion or any medical emergency.
Conclusion
Before choosing a security system package you need to assess what level of security you need. The right choice of a security system for your home will give you an added layer of defense against any probable harm. Whether you own a home or rent it, the safety and security of you and the loved ones remain a priority, which often is neglected by a lot of people.
Think no further and evaluate where you currently stand in your home security measures.