Whether a small business or global empire, Power BI provides data manufacturers need to remain agile and resilient in the face of change.
By: Rob Collie, founder and CEO of business intelligence consulting firm P3.
Manufacturing has remained a resilient industry in the face of revolutionary change. From industrial revolutions both past and present to navigating the ongoing pandemic, the industry has learned how to implement new technology, overhaul operations and improve workflows. In the past, manufacturers have had time to adapt and prepare for operational changes. In the present COVID-19 era, however, time has been in short supply.
The COVID-19 pandemic has forced businesses across every industry to rethink their entire operations. Changes of this magnitude require visibility across the business and real-time data insights. While every company collects data across their operations, not every company has the ability to use that data to inform business decisions. Data silos prevent companies from seeing end-to-end performance data and slow, manual reporting processes deliver data insights too late to do anything but react to the past.
While some see these challenges as too great to conquer, there is a solution that offers quick implementation, real-time reporting and the agility to connect and combine siloed data to deliver valuable insights. As a solution designed for businesses of any size and industry, Microsoft's Power BI provides vital data insights that empower manufacturers to adapt to changing business conditions. Here are two examples of the software in action.
"Once Tried, Always Used"
Based in Indianapolis, Indiana, and sold in over 30 countries, SerVaas Labs manufactures the "once tried, always used" household cleaning product, Bar Keepers Friend. With a lean team of 40 people managing everything from corporate reporting to manufacturing and packaging in-house, everyone wears many hats. After realizing he spent 20% of his time cobbling together manual reports and filtering spreadsheets to interpret data, SerVaas Labs' CFO led the effort to find a better solution. In early 2020, the company implemented Power BI dashboards that streamlined reporting and capitalized on real-time data.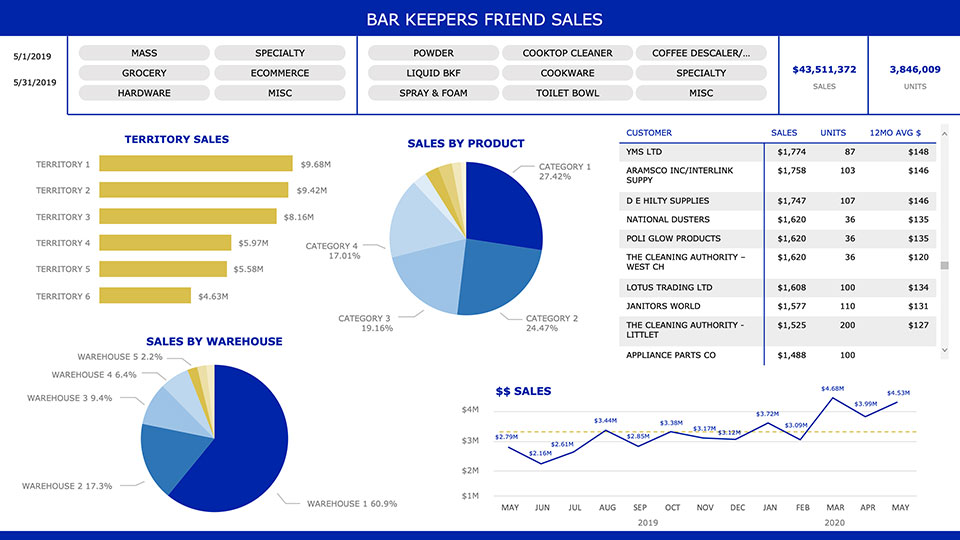 Two months later, as COVID-19 spread across the country, SerVaas Labs witnessed first-hand the overnight demand for cleaning supplies. Utilizing Power BI dashboards that provided real-time data by channel, retailer and more, the team was able to quickly understand the abrupt changes and drill down further to uncover a vital insight: demand was not spiking for all customers. Instead, those who were deemed non-essential saw sales plummet, while those who remained open more than doubled their orders.
With real-time data at their fingertips, SerVaas Labs was able to respond immediately by redirecting output from closed retailers and ramping up production to meet the overall increase in demand. Within days, the small manufacturer was able to overhaul its operations, thanks to the availability of real-time data insights that informed rapid business decisions.
Turning Data into Decisions
On a larger scale, the PVB Division of global chemical company Kuraray has seven manufacturing locations around the world. With different production systems at each location, the business captured valuable performance analytics every day but did not have a way to see all of the data in one place. Searching for a tool that could cross these silos in real-time, Kuraray implemented Power BI in late 2019. Within days, the team built dashboards that provided data insights from across the business division in just a few clicks.
As COVID-19 began spreading around the world in early 2020, Kuraray's leadership team understood the threat the pandemic posed to the global economy and took a proactive approach with aggressive cash flow targets. Using their dashboards to analyze current performance and determine next steps, the PVB Division quickly established their goal: reduce inventory by 18% by the end of the year.
After tweaking operations for the first two months, inventory was down only 4%. Realizing the need for more drastic action, the team returned to the dashboards and extended the conversations to production, sales, supply chain and more to implement immediate changes. With improved visibility and coordination across the operational silos, the team had the data they needed to make decisions and curtail production. By the third month, they met their yearly target and reduced inventory by 18%.
Conclusion:
With the ability to analyze end-to-end performance and measure impacts in real-time, SerVaas Labs and Kuraray made informed decisions and rapidly adjusted their operations in response to COVID-19 market impacts. Despite differences in size, product and scale, these two companies gained vital data insights from the same Power BI tool. Whether a small business or global empire, Power BI provides the data manufacturers need to remain agile and resilient in the face of change.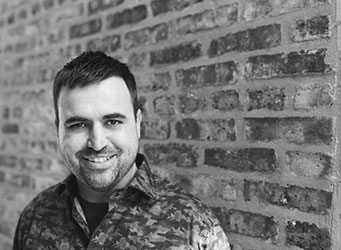 About the Author:
During his 13 years at Microsoft, Rob Collie led the BI-focused capabilities in Excel and was subsequently one of the founding engineers on Power BI. Through that insider's perspective and experience with Microsoft, Rob developed successful and groundbreaking strategies that can be utilized across almost any industry. A sought-after public speaker and author of the #1-selling Power BI book, Rob and his team are relentlessly committed to "the new way forward," making P3 a leading consulting firm in the industry, pioneering an agile, results-first methodology that bucks the traditional BI company model.
Contact:
https://powerpivotpro.com
p3@boltpr.com