By Dr. Greg Hayes, Director of North America Applications and Consulting, EOS North America
While the 3D printing market continues to expand, lack of expertise and knowledge is barring many organizations from getting on board. In fact, a 2016 study by Ernst & Young showed that 46 percent of companies believe 3D printing would offer their company an advantage, yet 28 percent said gaining relevant in-house expertise is a barrier to sustainably adopting the technology. [1]
There's a way to bridge that gap.
For a business to successfully implement 3D printing, also known as additive manufacturing (AM), it needs the expertise of key players along the value chain to deliver parts and products that are innovative, optimized and satisfactory to the end user.
End user companies have applications; new materials and material companies enable applications. Thus, material provider qualifies and supplies material needed for the respective application and its performance requirements. New materials for additive manufacturing are expanding potentials and pushing the limits of what was previously known. For example, why select a traditional aluminum material, when a stronger, more ductile aluminum is available using additive? In the qualification process, the provider assesses the mechanical properties that can enable features such as light-weighting, flexibility, strength, durability, or meet certain industry regulations. Once the part is designed and the material is selected, an original equipment manufacturer, like EOS, or an AM service provider like Incodema3D, Morph3D, or i3D, provides the system and machine that builds/prints the part. It is standard practice for all additive machine producers, including EOS, GE, or 3D Systems to allow third-party materials in their platforms.
There are six key components of the AM value chain to consider. It helps to look at what this looks like in real life.
Starting with the application end users like Ford, Boeing, or Smith & Nephew, all players on the value chain must come together around the end user's vision. For a company like Under Armour, this could be a lightweight, flexible and supportive shoe sole. For a medical device company, it could be orthopedic inserts (i.e. knee replacements) that have improved properties to promote bone growth. Aerospace sees applications in reduced part assemblies: 30 parts to 1 while saving weight, and automotive industries are finding applications not only in end use parts, but in mold inserts and tooling used to make final components. Possibilities for applications are growing constantly today, as reliable additive manufacturing expands globally into more industries.
The next key constituent is a design software partner, such as Altair, Autodesk, Dassault Systems or nTopology, which have expertise to create the designs for 3D printed applications. Other software partners like 3YourMind, Authentise, and Link3D help ensure that the manufacturing execution system (MES) is in place so those parts can actually be 3D printed efficiently. These MES software tools also enable new potentials in distributed manufacturing, the concept of creating digital twins, and allow operation near optimum production capacity. Using designs from traditional manufacturing does not translate directly to additive – designs must be modified so they are optimized and suitable for 3D printing.
After the desired part has been built, a testing and regulatory organizations such as the FDA or the FAA certify and validate the concept or part. Such regulatory bodies may provide input on slight modifications to parts that will increase safety or efficacy. Once any necessary modifications are made, the organization can mass produce the application themselves or seek partnership with a service provider – such as Incodema3D, Morf3D or Precision ADM – that are set up for serial AM production and have a proven track record and ability to fill the needs of the end user.
That's quite a bit of expertise needed to build applications from start to finish. Most organizations don't have the depth or breadth of resources it takes to master all of the expertise across the value chain. To attempt to do so without collaborating with the other players could present a significant risk of time, capital and other resources, as well as stunt competitiveness.
Imagine having the expertise of all of these players in one place, working on a single application for the end user – a true collaborative innovation center. This is one of the many topics the Additive Minds group of EOS is working on. Engineering teams would benefit immensely from pressure-testing their ideas and challenges with experts who specialize in specific parts of the process, coming to a conclusion for an application in the most efficient way. Ultimately, this benefits everyone – from those with an idea for an application to the customers who will use it and everybody in between.
Let's come together to create these environments to bring the entire industry forward.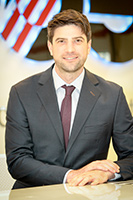 Author Bio:
Greg Hayes is a strategic technology development consultant with a background in high-end research and development, and a focus in materials science and engineering. Greg's professional career began as a consulting materials scientist and technical program lead, working internationally in the health-tech, high-tech, and aerospace markets. Currently, Greg is director of consulting and applications of EOS North America, where he works to identify market needs and uses of Additive Manufacturing (AM) technology to develop products to fulfill those opportunities. Most recently as a program manager and director of new partnerships for AM at TNO, he concentrated on design and structure of research programs, acquisition of funding and partners, and general management. In 2016, he joined the JuntoHealth advisory board. Prior to that in 2014, Greg co-founded Complex Materials, a bespoke bioresorbable materials company with a focus on magnesium alloy stent tubing. Greg holds an ME degree from the University of Delaware; a Ph.D. in Materials Science from The Pennsylvania State University; and Start-up and Entrepreneurship certification from the Vlerick Business School in Belgium.
[1] http://www.ey.com/Publication/vwLUAssets/ey-global-3d-printing-report-2016-full-report/$FILE/ey-global-3d-printing-report-2016-full-report.pdf