Founded in 1969 in Nods, France, the company GRESSET specializes in machining precision mechanical parts for the aerospace, defence and oil and gas industries.
Three primary markets
GRESSET has 49 employees, is ISO 9001 and EN 9100 certified, and is organised around three main markets:
Machining components for hydraulic systems, such as spools, splices, and valve seats, requiring a high level of manufacturing precision and a high-quality finish. GRESSET produces these parts from drop-forgings.
The company builds components for safety systems, such as braking systems, as well as spare parts. For example, GRESSET built parts for the Electric Green Taxiing system introduced by SAFRAN in the last Salon du Bourget trade show. "Our activity in the aerospace industry is, for the most part, focused on the creation of parts critical for military devices: Rapid Fire, Sight Checking, ATL2, helicopters," explains Lillian Lamy, Production Manager.
The company also produces high-precision aftermarket bronze bearings and set rings for the aerospace industry.
A controlled investment strategy
GRESSET has introduced Lean Management methods in production, quality management and industrial planning. The company has also invested over $1 million euros in 5-axis machine tools, a Computer-Assisted Manufacturing (CAM) software, tooling and training. The last major acquisition was a Mori Seiki NT3200 DCG mill turn machine which is a two-spindle machine with a 5-axis milling head. This acquisition led to the purchase of ESPRIT CAM software. The manufacturing program used previously lacked flexibility and made it difficult to make toolpath changes.
Why this choice?
ESPRIT was selected because of its partnership with Mori Seiki which provides advantages such as licences adapted to the machines and post-processors certified by the manufacturer. Other advantages of ESPRIT include its 5-axis machining capabilities, high flexibility and open post-processors, enabling it to be used with all of GRESSET's machines. The software program's simulation tools help optimise programmes and save machining time.
No 5-axis machining without technical support
USICAM, a partner of the ESPRIT distributor USIPROG, assisted with the implementation process. A training session lasting a few days, followed by the use of video tutorials offered by USICAM, allowed programmers to work on real world applications and familiarise themselves more quickly with the program. "We are particularly appreciative of how Michel Horning, the USICAM representative, has been readily available to support us," says Gilles Noirjean, a programmer at GRESSET.
GRESSET programmers used ESPRIT for the first time in machining a complex stainless steel hydraulic spool for the Airbus A350. This part required turning and milling operations on all sides. The two-spindle two-turret MORI SEIKI NT3200 machine with axis B in milling was successfully programmed in three hours. "With our previous manufacturing software, we had to go through several post-processors to obtain all the tool paths. With ESPRIT, one post-processor allowed us to generate all of the turning and milling paths. ESPRIT reduced our programming time by 25%."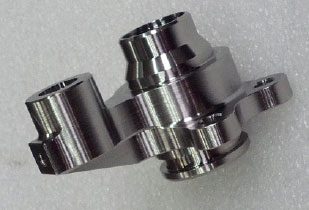 The programmers also created a program to build aluminium parts for a food processing machine on a 3-axis Spinner VC810 machining centre. The ESPRIT software reduced programming time by 30% and made it possible to modify the program to product different part numbers very quickly.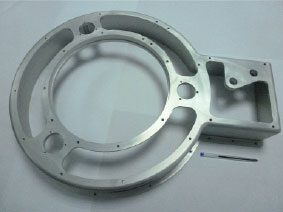 USICAM helped install a database of cutting conditions for the materials used most often by GRESSET. USICAM has also supported GRESSET by developing an application to facilitate the programming of new variants in a family of parts commonly machined at GRESSET. This application has reduced programming time by 60% compared to the previous CAM system.
Positive result and ambitions
"The creation of standard machining methods that can be re-used for new programmes have saved substantial amounts of time," states Lillian Lamy. "Collision detection has also helped us to prevent accidents." In addition, the GRESSET technical team appreciates how easy it is to manage tools in ESPRIT, with a base library that can easily be enriched with the addition of specific tools.
The application of the new mill turn machine and 5-axis technology has been a huge step forward for GRESSET. The directors are completely satisfied with their investment and with the service provided by the USICAM team.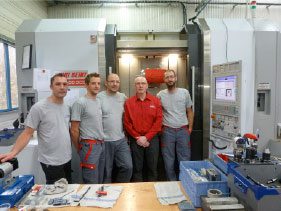 For more information about ESPRIT, contact:
(in North America) DP Technology Corp., 1150 Avenida Acaso, Camarillo, California 93012, USA. Telephone: +1-(800) 627-8479, Fax: +1-805-388-3085. E-mail: esprit@dptechnology.com, Website: http://www.espritcam.com/