The US must prioritize the development of advanced materials to recapture leadership positions and maintain competitiveness.
By Adam Khan, Founder of AKHAN Semiconductor
Now, more than ever, the world at large understands how important semiconductor technology is due to the current shortage spurred from historical events like the COVID-19 pandemic, global transportation issues, geopolitical factors and more. These occurrences exposed the semiconductor supply chain's fragility and propelled microchips to the forefront of the global economy. Shortages on automobiles, cell phones, gaming consoles and other technologies used daily by consumers have amplified the general public's awareness of chips, bringing to light how critical they are to powering our favorite electronics.
Looking at the current state of the industry, silicon materials take center stage as the most widely used material, however, silicon-based chips have several disadvantages and limitations when it comes to their capabilities, hampering the development of faster, lighter and more energy responsible electronics. Now, as nations around the world reassess their global position, those who want to truly be considered as innovators and leaders in the space must switch gears and prioritize the development of advanced materials.
Using advanced materials, like diamond, in place of silicon, has many significant advantages. Advanced material semiconductors are able to handle a tremendous amount of power, take up less space than other materials and diffuse heat effectively. Using a fraction of the material, they can uniquely isolate massive voltages while taking up less space because these materials are up to 1,000 times thinner than silicon chips. Without sacrificing performance and ultimately reducing the cost of cooling systems and overheating repairs, devices using advanced materials can run hotter (with the ability to operate at temperatures over 300 degrees). Advanced options are equipped to handle voltages that are 10 times higher and operate at over 90% increased power efficiency, especially compared to industry standard materials. Generally, they are also more cost effective and even more environmentally friendly.
Gallium Nitride (GaN), Gallium Oxide (Ga2O3) and Indium Phosphide (InP) are all advanced materials that a variety of industries can use to improve their performance and capabilities including aerospace, defense, automotive, consumer electronics, telecommunications and more, however, lab-grown diamond in particular, is considered the most ideal material for semiconductors, proven to significantly enhance capabilities.
Consumer electronics and automotive industries can also see improvements from their use of advanced materials, which pave the way for the creation of electronics that are more durable and lighter and in turn, operate more efficiently. In addition, numerous devices including cameras, phones and display screens would have longer battery lives if developed using advanced material chips.
However, while switching existing processes away from widely used silicon materials may seem like a difficult task, innovations in manufacturing and fabricating allow for an easy transition where new materials can be implemented without having to overhaul the entire current semiconductor processes.
Supporting innovations in consumer electronics and automotive industries are only one aspect of where advanced materials are more beneficial as they are also key components in crucial technologies that keep us protected. Advanced semiconductor chips address the heating and cooling of electronics in aerospace and defense avionics, which has proven to be a major issue, negatively impacting performance. They also enable solutions for hypersonic flight, guidance systems and optical systems used in satellites, lasers, telescopes and targeting systems, addressing temperature regulation difficulties inherent within these systems. In addition to electronics being able to operate at higher temperatures, through the use of advanced materials, they can fly with less weight, leading to improved flight efficiency.
When looking at optical components for manned and unmanned aircrafts, advanced materials can provide protective coatings that serve as effective countermeasures to ultramodern direct energy weapons like high-energy laser and electromagnetic systems. There is a greater chance for enemy weapon systems to infiltrate jets and helicopters without the use of these protective coatings, making the case for advanced materials in aircrafts unarguable. Specifically, multilayer anti-reflexive diamond coating systems have essential qualities that address optical detecting, optical sensing and craft electronics including their ability to be scratch resistant, extra-hard, account for chemical and biological inertness and produce high thermal activity.
The United States, United Kingdom, Canada and other allies in Europe and Asia who strive to be influential world leaders in semiconductor technology must understand that there is inherent value in investing in advanced materials because of their impressive ability to drastically advance electronics. Semiconductors are only going to continue to emerge as an important part of technologies that keep the world going round. With the events of the past year propelling semiconductors onto the global stage, it's imperative that we revitalize the semiconductor industry by reassessing our global approach and prioritizing the development of chips that use advanced materials.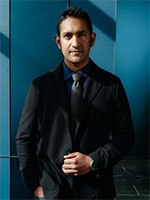 About the Author:
Adam Khan has authored several patents and technical publications, and is also a frequent speaker on Diamond Semiconductor & Clean Technology. As a result of his award winning research, which he began as an electrical engineering student at age 19, Adam is inventor of the Miraj Diamond® Platform. Additionally, Adam's work was recognized and individually honored by the United States Congress in the 114th Congressional Records & Proceedings. Adam's professional affiliations include the Materials Research Society, Board of Directors for the Chicago Council on Science and Technology, and the U.S. Council on Competitiveness.
Adam earned his B.S. in Electrical Engineering and Physics from the University of Illinois Chicago, before pursuing graduate research at the Stanford University Nanofabrication Facility. He has been everything from a CleanTech Open Midwest Innovation Summit winner, a Forbes 30 Under 30, to a Modern Day Nikola Tesla in the International Documentary Film 'Tesla's Children' (2016).