Strategies for success and critical aspects of facility management from safety and security, to custodial services and building hygiene.
By Sean McCrady, CEICC, CMC, CIEC, LEED AP, WELL AP, National Service Line Manager, Indoor Environmental Quality, UL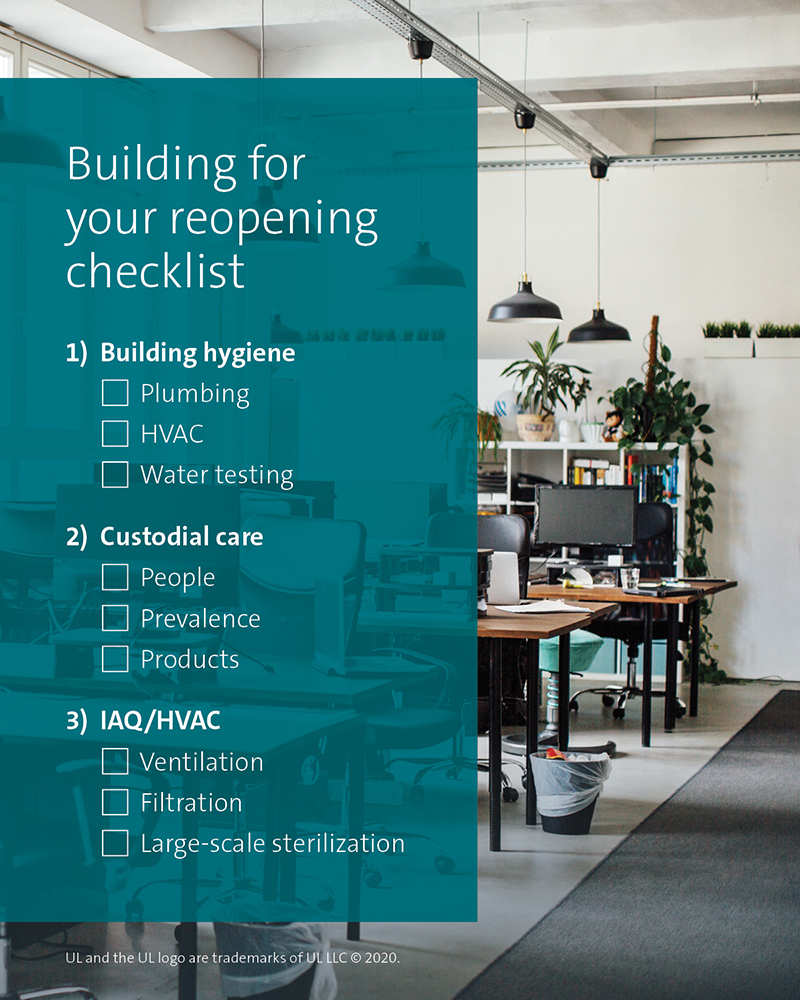 Following an extended shut-down due to the COVID-19 pandemic, companies are reeling as they restructure operations under "new normal" conditions. With disease transmission still a major consideration, management of indoor spaces is a fundamental concern.
As we shift from pandemic response to reopening and recovery, here are some things that any corporation, building owner or manager should think about as they invite employees, tenants and customers back into their buildings.
A high-level strategy: think, plan, verify
By approaching problems with a think, plan, verify approach, building owners and managers can work their way through the process of preparing the space, prioritizing the most critical needs, and adjusting based on results.
Step 1: Think – Identify new measures to protect occupants from COVID-19 and safely reopen an unoccupied building. Create a checklist of items that need to be considered, from new prevention systems to tasks that should be revisited as a part of regular building maintenance.
Step 2: Plan – With your prioritized list in hand, prepare the building and the people. What changes will need to be made to the building to accommodate new operating rules or new technologies? How will you communicate new rules of engagement to employees? Who will play key roles in the new measures? If employees use common equipment, are they responsible for sanitizing it afterwards? Prepare and review communications and documentation regarding return to the office policies, mandatory health screening measures or new cleaning policies.
Step 3: Verify – Identify methods you will use to verify effectiveness and track unintended consequences that may arise. As an example, surface testing may be conducted to verify that sanitation is adequate. By verifying performance, it's possible to address any shortfalls in the plan and make changes as necessary.
With this three-step strategy in mind, here are some of the critical aspects to consider when planning a return to the facility.
Custodial and janitorial
From assessing the effectiveness of cleaning products and increasing frequency of cleanings, to assigning responsibility of cleaning to particular individuals, it is essential to update janitorial processes. This may include an evaluation of cleaning products, communication and training for stakeholders, and/or reassessing janitorial resources.
Ensure that janitorial and custodial staff undergo training to learn practices outlined by organizations like the Occupational Safety and Health Administration (OHSA) and the Centers for Disease Control and Prevention (CDC), as these organizations provide guidelines and bloodborne pathogen training.
If you outsource cleaning, meet with those contractors to review their approach to cleaning. Ask tough questions about their operational changes due to the COVID-19 outbreak. Have their employees undergone additional training? What new measures are in place to protect their staff and customers? It's important to communicate responsibilities to all stakeholders, from third-party cleaners to employees and janitorial staff. Decide who will be responsible for what and communicate the expectations.
Safety and security
Responding to COVID-19 adds a layer of complexity to building safety and security. Unfortunately, the current focus on disease transmission does not diminish other security and safety risks.
Many buildings are adding automatic temperature monitoring at entrances to proactively detect fever in potentially ill individuals. This often results in reducing entrances and exits. Building managers may also choose to activate additional access control features to avoid congestion in the building. However, these measures may introduce new risks if occupants cannot easily exit the building in case of fire.
You may wish to make hand sanitizers available throughout the building to encourage frequent sanitation. However, hand sanitizers contain flammable liquid and must be placed a safe distance away from electrical outlets.
These measures are important in the quest to enable social distancing and reduce disease transmission in buildings and should not come at the expense of other safety and security efforts.
Building hygiene
Regular building maintenance activities may have been missed during closure and there may be challenges associated with the long building vacancy.
Unused plumbing systems may result in heavy metals leaching from the lines when water is turned on. Stagnant water throughout the domestic water system can allow the growth of bacteria and possibly Legionella. Thoroughly flush the lines and consider testing to ensure water safety.
Close inspection may reveal leaks or water spills that have resulted in mold growth, which should be identified, addressed, and repaired prior to reopening.
HVAC systems play a critical role in ensuring clean indoor air and ventilation. Assess changes to HVAC settings and the systems' performance capabilities. Increased air filtration may be desirable, but it's important to understand system limitations. Use dilution ventilation by increasing outside air ventilation and air exchange, but recognize the possible trade-offs such as increased costs and greater carbon footprint.
The most important thing is to think carefully, plan early and verify the measures you will take to reduce risk of COVID-19 transmission and then consider how those elements could impact other critical performance, safety or health criteria of the building. With some careful planning and good communication, you can work toward a successful and safe reopening. Here's to your health!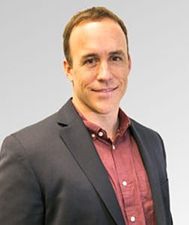 Sean McCrady leads the Indoor Environmental Quality service line at UL. Sean is a certified environmental infection control consultant, certified microbial consultant, certified indoor environmental consultant and a LEED and WELL accredited professional. To learn more, visit www.ul.com.