Sage/IDC report finds manufacturers are elevating visibility into sustainable processes to align with evolving consumer preferences.
By: Mike Edgett, Product Marketing Director, Sage
Sustainability has become increasingly important for manufacturers – not only to optimize production and revenue, but to comply with constantly changing regulations and address shifting consumer preferences. Due to younger consumers' eagerness for transparency around how eco-friendly their products are, the industry has had to adopt better supply chain techniques and visibility across the board.
In fact, according to a market report conducted by Sage and IDC, in order to achieve excellence over the next one to three years, manufacturers must prioritize supply chain optimization, including but not limited to modernizing and updating IT-related infrastructure, improving traceability and predictability and reducing cost with waste elimination.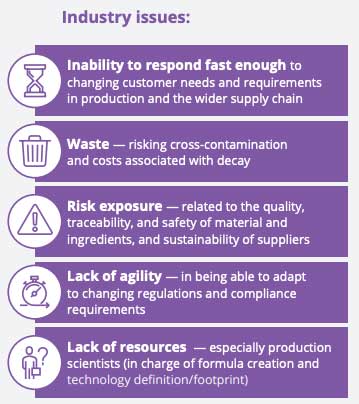 Further, in the wake of COVID-19, supply chain optimization is becoming even more important to minimize disruption. However, there are several key steps that must be taken in order to implement the right technology and practices to achieve full optimization.
Refocus Processes and Adjust Goals
Manufacturers worldwide rely on meeting the needs of customers to survive. Now, they are being urged to reduce environmental impact or be left behind. And the need isn't discriminatory – sustainability efforts are essential to manufacturing organizations of all industries, sizes and geographies.
Sustainability, though, is a term that gets thrown around generically and its definition and value can vary greatly between industries. Sustainability practices begin when manufacturers define relevant areas such as potential raw material shortage or environmental concern. They then analyze their current systems and processes in place and refocus them, working to set achievable goals centered around continuous advancements; this often includes focusing on long-term goals, such as increased access to locally-sourced products and improved business viability rather than short-term improvements, namely cost-cutting and risk reduction. Oftentimes, progress on the road to achieving sustainability improves overall business performance.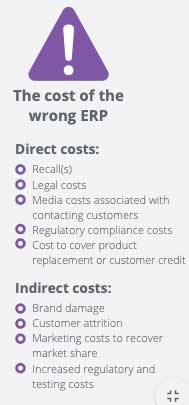 The market report conducted by Sage and IDC indicates that the top three sustainability efforts hone on product recycling (73%), low/no-emission internal logistics (65%) and low/no-emission internal supply chain (61%).
Distributors and manufacturers deal with a multitude of internal and external complexities when it comes to sustainability efforts. To improve main business functions, they must realign processes to identify shortages in how plants run internally while recognizing an external need for functionality to fulfill the hopes of consumers. Lowering emissions while maintaining functions often takes time, but with the proper software in place – either integrated to or part of their ERP system – plants can reduce lead times, ensuring end-to-end supply chains ensure a reduction in resource consumption and energy use.
Use ERP for Ethical and Sustainable Production
According to the report, 64% of distributors – specifically supply chain and ecosystem-focused distributors – are choosing operational excellence as the number one priority for their digital transformation vision.
By definition, operational excellence aims to assist production by enhancing performance and profitability for manufacturers. In choosing to boost operational excellence with sustainable production in mind, manufacturers must explore the faults within current systems in place – for instance, manual data entry slowing down response times – and how to improve them.
To solve for operational excellence, many manufacturers have naturally turned to ERP systems; however, 40% are stuck in ERP technical debt with heavily customized systems that don't easily allow for additional modifications. As such, there is a simultaneous lack of data visibility and inherent hesitance to reinvest in a system that requires an overhaul but may be better in the long-term.
Specifically, a lack of data accessibility leads to operational resources spending extra time looking at past numbers instead of at current data. This forces the use of manual processes to fill gaps, therefore hurting traceability, predictability and thus sustainability.
Sustainable distribution management lies in doubling down on congested data to improve traceability and to reduce the production of unnecessary waste. Reporting backed by cloud ERP systems helps bring manufacturers transparency and consistency to develop key indicators of how they have performed as it relates to time, money and environmental consciousness.
Modern, integrated business systems show manufacturers how certain functions can support employees, customers and the communities they operate in by offering seamless communication across supply chains; they also promote asset maintenance and thus maximize asset utilization to reduce material consumption and waste. Real-time data accessibility drastically improves the value delivered to customers – with a positive impact on service quality and brand.
Look Towards the Future
According to the report, between 2020 and 2023, distributors worldwide plan to improve their strategy on being resilient to external disruptions by improving their inventory performance, creating fully autonomous warehouses and diversifying suppliers and partners.
Unfortunately, COVID-19 has proved that no system – including those related to supply chain – are immune to external disruptions; but, by implementing an ERP-system that serves their specific needs and allows for advanced planning, manufacturers can be more resistant to business slowdowns in times of crisis.
With the increased demand for sustainable efforts in manufacturing, ERP systems can also provide manufacturers with the tools and information needed to prove how they've become environmentally conscious and adaptable to consumer needs.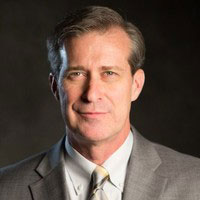 Mike Edgett, U.S. Product Marketing Director, Medium Segment, Sage
Mike Edgett is an enterprise technology & process manufacturing expert with 20+ years leading business strategy for brands such as Infor, Quaker Oats and Bunge Foods. At Sage, Mike leads the US Product Marketing team focused on the medium segment. This group drives the go-to-market strategy for Sage's solutions designed to meet the business needs and challenges across the manufacturing, distribution and service industries. Contact: mike.edgett@sage.com