As manufacturing becomes more automated, it doesn't always mean jobs will be lost but rather employees can learn new skills for other jobs.
One year into COVID-19 and supply chains worldwide are still under pressure. Manufacturers remain mired in increased orders, customer inquiries, shipping delays and remote workforce dynamics. Business leaders are continuing to overhaul their operations as the pandemic rages on. And, for supply chains, the message is clear: It's time to automate.
While many people assume automation means more robots and the elimination of jobs, that's not always the case. Rather, people need to be present to ensure the equipment still runs properly, cobots can be deployed to supplement someone's job or employees can be trained to complete more skilled labor that machines can't.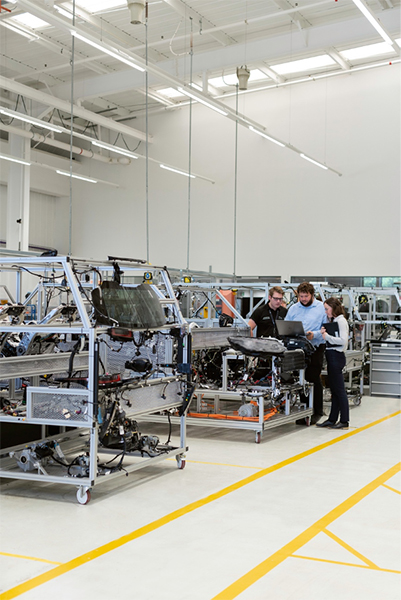 The importance of machine uptime
As the old saying goes, "Whatever can go wrong, will go wrong." That is to say that machines can, and will, breakdown at some point. Automation might be moving off the assembly line, but they will still be needed to oversee the equipment, perform safety and quality checks, ensure operations are running smoothly and, most importantly, fix the machines when they break.
If one part of the assembly line isn't working right, the downtime for a manufacturer could result in the loss of production, raw materials and time on other tasks, resulting in lost revenue. Plant managers, equipment operators and safety engineers need to perform regular quality and control checks on automated equipment in a manufacturing plant to help ensure the equipment is operating efficiently and safely.
The rise of cobots
Robotics in manufacturing has been shaping how plants operate for years now, and collaborative robots, or cobots, have been on the rise due to their flexibility in being adapted for different jobs. This type of collaboration makes the production process shorter, increases productivity, reduces the defect rate and supports the employees in their work making them more efficient and valuable instead of replacing them.
There are many benefits to deploying cobots as well. They are easy to setup and able to learn tasks on the go, often coming with out-of-the-box capabilities that help companies see ROI quicker. Additionally, cobots can be reprogrammed to complete different jobs relatively easily, enabling manufacturers to deploy them for multiple processes. And anytime new equipment can improve the job of an employee while also boosting productivity, it's a win-win for everyone.
Upskilling, not replacing, employees
As technology becomes more advanced and the search for increased efficiencies and more output continues, companies will continue to explore digital transformation and automated manufacturing processes as a means to get ahead. There has long been the prediction that machines will replace a lot of the tasks that humans currently do, and that is still looking to be the case, COVID-19 only accelerated many company's plans to further automate. And while there's often the connotation that jobs will be lost as a result, that's not always the case.
Beyond purely technical skills, companies will increasingly need people who possess complex problem-solving, critical thinking and creativity skills that are needed to analyze plant operations and find solutions that increase efficiencies. An example of upskilling would be training workers who have an aptitude for data and analytics to work as plant managers who can analyze machine optimization. This will enable them to contribute to increasingly mission-critical tasks such as improving machine uptime, which is important in keeping the supply chain operational. There will also be an increase in those types of roles for positions that look at supply chain management and forecasting as well as other technical back-of-the-office jobs.
How automation and upskilling are helping companies get ahead
With the added restrictions on social distancing and number of people who can be in a workplace due to COVID-19, automation was the only path for some businesses to survive. While it might not have been in their short-term plans, by doing so, these companies have put themselves in a position for long-term success.
Not only does automation improve efficiencies, limit mistakes and increase worker safety, but when you upskill employees, companies can fill positions with people who already know their business and are invested in it rather than looking for outside replacements. While there will be costs associated with training, companies are saving themselves on time and money by not having to recruit, go through the hiring process and train new employees. And when a company commits to upskilling employees, it shows their commitment to investing in their talent and fosters a more positive work environment.
Furthermore, by investing in automated processes and upskilling employees during the pandemic when the supply chain was slowed down, companies were able to better position themselves as things ramp back up.
About the Author:
Brandon Bach has over 18 years of experience in project management, marketing, video production, which includes both video and graphic creation as well as designing, setting up, and running live events. He currently serves as the president of CCT, the manufacturer of the EEASY Lid – the first major jar lid innovation in more than 75 years. Brandon interacts with the other team members on a day-to-day basis dealing with testing, production, marketing and sales. Brandon earned his Bachelor of Arts degree in Communication and a Minor in Business from Otterbein University in Columbus, Ohio.
Contact:
Website: https://eeasylid.com/
Phone: (937)-387-9244
Email: eeasylid@cctclosures.com