New regulations & precautions are likely coming as EVs become more mainstream.
By Rich Pinnock, ACERTUS executive vice president, fleet services
Recent events have triggered heightened awareness around Electric Vehicle (EV) safety concerns. After the Felicity Ace cargo ship transporting EVs and fuel-based luxury vehicles went up in flames in February 2022, continuing to burn in the Atlantic Ocean for a week afterward, industry experts have been trying to determine whether EVs are the source of this fire or whether they've simply fanned the flames.
According to a recent report from the research firm AutoInsuranceEZ, EVs are far less likely than fuel-based vehicles and hybrids to catch fire. In fact, EVs only have about 25 fires out of every 100,000 vehicles as compared to 3,474 fires out of every 100,000 hybrid vehicles and 1,529 fires out of every 100,000 fuel-based vehicles.
However, EV fires are much harder to extinguish. Lithium-ion, which is found in the batteries of nearly all EVs, burns much hotter than conventional fires. And then, once the lithium-ion is on fire, it is difficult to put out – EV fires have been known to re-ignite several hours or even days after they were initially extinguished. If water is used too sparingly when dousing the fire, it can exacerbate a lithium battery fire by working as a conductor.
Logistics providers anticipate regulations could be coming down the pipeline for EV transport; beyond the obvious safety hazards posed to both people and vehicles when such fires occur and cannot be extinguished quickly, whether the transport mode is ship, rail or truck – there are also consequences for supply-chain flow. This is especially true for an already strained supply chain that's been impacted by everything from closures at the height of the COVID-19 pandemic and labor shortages to a lack of critical vehicle parts like semiconductor chips, rubber for tires and seat foam – all of which has caused a lack of new inventory in the industry writ large.
As there is an increase in EV adoption, and a growing number of EV transports, vehicle-logistics companies are also looking at what precautions to put in place to ensure safe, secure and efficient deliveries.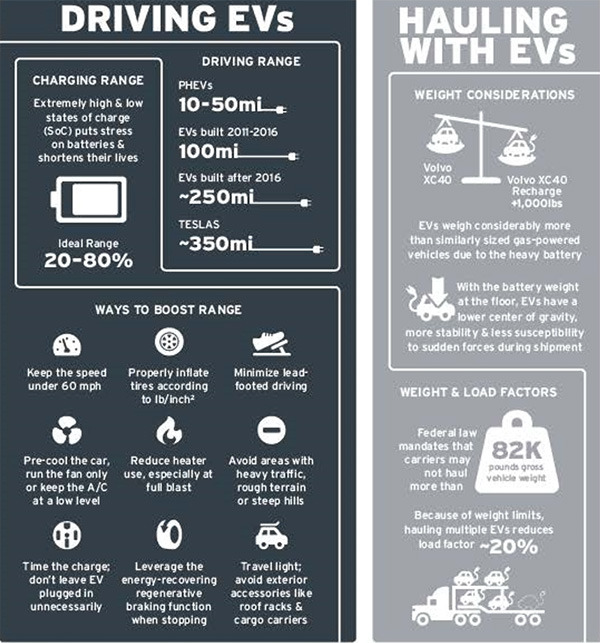 Logistics Providers Watching Developments Closely
Logistics providers and auto shippers are closely monitoring EV-transport regulation developments. But while there are not yet many policies that are standard for transporting EVs on land, there are other considerations vehicle haulers are already considering.
One of the top factors emerging around transporting EVs is the significant weight of these batteries; an EV weighs much more than a similarly sized fuel-based vehicle. Federal law mandates that carriers cannot haul more than 82,000 pounds of gross vehicle weight with any single transport, so transporting EVs means carriers must often reduce the number of vehicles they haul during each load. These weight limits ultimately lead to reducing carriers' load factor by around 20% for every load. If carriers exceed the 82,000-pound weight limit, they can be found out of compliance and face hefty fines.
Another factor to consider when transporting EVs is how extreme weather can impact the batteries. Both hot and cold temperatures can affect these batteries in negative ways. Extremely hot temperatures can bog down the EVs' management systems and even cause the battery to degrade, while at the same time, extremely cold temperatures can reduce battery range and lengthen charging times. Ideally, carriers should try to keep EVs in as climate-controlled of an environment as possible when transporting. If EVs must be temporarily stored mid-journey, storage facilities that are climate-controlled are critical, as well. Additionally, EVs must be optimally charged before being transported. Every day that the EV just sits, the battery loses charge and can even degrade if the charge gets down to zero.
To conduct safe transports and ensure supply-chain operations keep flowing, all while mitigating unnecessary delays, carriers must also have a game plan when it comes to EV charging. When EVs are dropped off at their final locations, they must have enough charge to be driven or even just moved around a lot. Currently, urban areas and coastal cities have the most charging stations in the US, while the Midwest and South do not yet have the same level of stations. However, with the recent passage of the Infrastructure Investment and Jobs Act at the federal level, it's estimated that by year 2030, there will be more than 500,000 charging stations across the country. It's critical that many of these charging stations that will soon be built are installed at ports, in storage facilities across the country and at locations like rest areas and trucking centers. Depending on the routes that carriers follow, and the states of charge (SoC) of the various EVs they're moving, carriers may also want to have portable chargers in tow for use when needed.
Even though there are not currently regulations that dictate the SoC of EVs or PHEVs when they're being hauled on land, as there are when transporting these vehicles at sea, logistics providers will likely fine tune their standards over the next few years as EVs and PHEVs continue to be more widespread.
Once an EV is ready to be driven, there are several ways to boost the battery performance throughout the journey. Drivers should minimize lead-footed driving, keep tires properly inflated, stay under 60 mph whenever possible, minimize heater and AC use and avoid areas with heavy traffic, steep hills or rough terrain. These steps will help keep up the EV's battery range and protect the battery from unnecessary degradation during transport.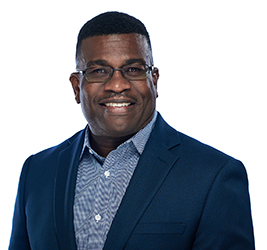 Rich Pinnock brings more than 20 years of experience in the supply chain and logistics space. Most recently, Pinnock served as Vice President and Chief Information Officer of AmeriFleet. Prior to that, Pinnock worked at a leading fleet management company where he focused on strategic planning and new venture development. Pinnock previously worked in the financial sector as a financial consultant. Pinnock is a graduate of the University of Baltimore and earned his MBA in International Business and MS in Electronic Commerce from the University of Maryland.