Volume 25
| Issue 2
| Year 2022
Click here to read the complete illustrated article or continue below to read the text article.
Accelerated vaccine development in response to COVID-19 demonstrated the resourcefulness of science. That resourcefulness depended upon the concerted efforts of a number of collaborators, including ThermoFisher Scientific, which produced well known items such as testing kits, PPE (Personal Protective Equipment), ventilator components and even hand sanitizer, as well as also complex laboratory equipment such as ultra-low temperature refrigeration to store perishable vaccines.
"The urgency of the pandemic required us to figure out new ways to develop and deliver products," says Michael Meguiar, VP of Global Operations for the Laboratory Equipment Division. "ThermoFisher Scientific brands help our customers push science and technology a step beyond."
One example is the Thermo Scientific™ TSX Series Ultra-Low Temperature Freezers which replaces ozone depleting refrigerants with more environmentally friendly hydrocarbon refrigerant and utilizes technology that adapts to usage patterns, such as door openings, substantially reducing energy costs without compromising performance. Even the manufacturing site is focused on science and technology as a zerowaste facility, using water-blown foam insulation, compliant with the U.S. EPA's Significant New Alternatives Policy (SNAP), the European Union's F-Gas compliance and other sustainability standards.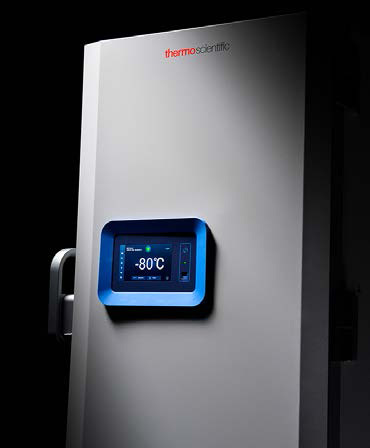 Another science enhancing product is the GP Pro centrifuge. Centrifuges are a workhorse of the science world, used for separating the constituents of liquids and chemicals by spinning them extremely rapidly in a safe, controlled manner. This technologically advanced centrifuge can run various speed and ramp profiles automatically. The advanced rotor management system (the part of a centrifuge which holds the test material as it spins) automatically maximizes acceleration, braking a residual load imbalance for each rotor and bucket option to optimize safety and improve separation, while also reducing energy consumption by 40 percent.
These products are among the many which actualize the ThermoFisher Scientific corporate mission statement "to enable our customers to make the world healthier, cleaner and safer. We do this by helping our customers accelerate life sciences research, solve complex analytical challenges, improve patient diagnostics, deliver medicines to market and increase laboratory productivity."
Custom, Scalable Solutions
That mission, Meguiar notes, is the guiding principle for product development throughout the company, from conception to execution. "We look to develop solutions that are highly customizable and scalable that we deliver in partnership with our customers."
Meguiar's specific responsibility is ThermoFisher Scientific's Laboratory Equipment Division, which employs about 5,000 people throughout the world. The Divisions Operation Leadership is based in Asheville, North Carolina with additional manufacturing operations in Ohio, California, Puerto Rico, Massachusetts, and global locations in China and Germany. "Our customers are worldwide, so we have facilities to be close to our customers," Meguiar notes. "At the same time, many of our locations are their own centers of excellence that develop products, solutions and practices to share throughout our operations and with our customers worldwide."
Supply Chain Risk Management
Like every manufacturer since the onset of the pandemic, ThermoFisher Scientific faces supply chain disruptions. Meguiar says the company works closely with valued suppliers, such as Temprite, which supplies refrigerant management products, to identify issues and allocate resources to meet demand and minimize issues created by raw material shortages, price increases, and shipping bottlenecks.
To address these challenges, the company recently implemented a supply chain risk management program to map, monitor, and lower supply chain risk based on supplier performance, geographic exposure, and environmental practices. In addition, the company employs the globally recognized EcoVadis platform to assess and help drive improvements in supplier health and safety, labor, and sustainability performance. The platform also helps ThermoFisher Scientific monitor compliance with its Supplier Code of Conduct and adherence to its four core values of integrity, intensity, innovation, and involvement.
World-Class Products
ThermoFisher Scientific sells both directly and through third-party channels. Meguiar stresses that end-users can rely on one-stop life sciences shopping. "What makes ThermoFisher Scientific stand out worldwide is our longstanding customer and channel partner relationships," he says. "Price is always a consideration, but our ability to consistently develop and deliver world-class products is why so many in the life sciences community rely on us."
Beyond the Laboratory Equipment Division, ThermoFisher Scientific also leads the way in the quest to support science. Most recently, ThermoFisher Scientific developed a test to detect monkeypox, which was just declared a public health emergency. There are currently fewer than 100 laboratories across the country capable of handling monkeypox specimens, and this capability will expand testing. ThermoFisher Scientific also recently announced a $105 million manufacturing site in greater Nashville to meet growing demand for bioprocessing materials required to produce vaccines as well as breakthrough therapies for other diseases. The facility manufactures customizable, single-use BioProcess Containers and fluid transfer assembly systems in high demand by biopharma companies.
Meguiar attributes the ability to continue to deliver world-class products on "our extremely committed team and the value of our human capital. The true purpose of every associate is to our customers, and making the world healthier, cleaner and safer."