By William T. Valenta, Jr.
Whether it starts on the shop floor or the lowest rung in the sales division, upward mobility to the executive suite can follow a variety of different paths. Just think about some of the many notable people who worked their way up the executive ladder: Anne Mulcahy, who took a job as a field sales representative and climbed the ranks to become CEO of Xerox; Jack Welch and Rex Tillerson, engineers who became CEOs of General Electric and Exxon Mobile; or Johnson & Johnson's William Weldon who got his foot in the door as a salesman.
Whether a company is in the Fortune 500 or a smaller, privately held enterprise, if it proactively fosters the professional growth of its employees, especially those who show potential as future leaders, it will benefit in the long-run. A machine operator could one day become the head of machinery operations; a line supervisor could become a manager; and a manager could rise to run an entire plant, if given the right tools. These are people who already have an intimate understanding of the company's innerworkings – its strengths and weaknesses, its production processes and its culture. And along the way, they've earned the credibility and respect of their colleagues that can make their ascent into leadership positions a natural choice.
But individuals at early stages in their careers also have gaps in their knowledge and experience.
A machinist may know every tool and piece of equipment, but will he be able to deploy strategies that reduce waste, improve quality and ensure regulatory compliance? A line supervisor may recognize inefficiencies in the production processes, but will he be equipped to coordinate design and R&D to create new baselines for standardized work? Someone who already leads a department might be very adept at motivating workers and meeting milestones, but will he be able to apply those skills across a broader section of the company, or deal with clients and operations internationally?
Preparing future leaders for expanded responsibilities requires an investment in educational tools – often leaving companies in the position of trying to determine which form of executive education will be most productive given their particular needs. Indeed, there are several types of options to consider.
Take, for example, Mark Smith, an alumnus of the Executive MBA program at the University of Pittsburgh's Katz School of Business, who was recently named Director of Sales & Marketing at DMI Companies, a leading manufacturer of HVAC products.
Over the years, he held sales, marketing and business development positions at DMI and its affiliated companies, becoming a well-established and effective employee. But 17 years into a career that began in 1997, his manager encouraged him to enroll in this executive MBA program, to gain tools that would enable him to take on larger leadership roles within the company.
With his manager as his sponsor, over the course of the 18-month program, Mr. Smith earned his MBA, while continuing to work at DMI full-time, including traveling for business.
He credits executive education with his recent promotion, his strong understanding of business accounting and finance and his ability to:
Analyze volume, cost and pricing of key product lines.
Identify ways to improve profitability, apply Lean practices and operations.
Manage employees – understanding their behavior, improving their involvement and performance.
Build relationships with senior managers within both regional and global organizations which face similar challenges to create collaborative, solution-finding opportunities.
However, depending on a company's needs, where and how deep the knowledge gaps are, a full executive MBA program may not be the best fit. Those are typically more suitable when a company has already identified a small handful of people it considers potential future leaders. For larger groups of employees, who either need to focus in-depth on a few business topics or gain a basic understanding of a broader range of issues, a better approach might be a customized executive education program. Such a program utilizes a university's world-class subject matter experts to develop a program that provides training around the specific gaps that have been identified.
But regardless of the type of executive education program, a good education partner will take a consulting approach to helping potential clients find the best fit. They will begin by delving into the specific problems faced by a company and its employees, assessing the capabilities of the people involved, conducting a root cause analysis and making recommendations based on that information.
A good education partner will also recognize that their students are also professionals who need to be engaged on a practical level – both in presentation of subject matter and in design of the course schedule. Just like Mark Smith, students are future executives who need a schedule that accommodates their existing professional lives but also maintains a high level of academic rigor. In the classroom, they need to be drawn from their comfort zones and given practical, hands-on scenarios that allow them to quickly apply what they are learning. They need to sit side-by-side with other students they consider their peers and be taught by faculty who have real world experience and can apply their knowledge to tangible workplace situations.
If companies make the right educational investments for the employees they've identified as future executives, those employees will not only be successful in their careers, but they will also lead the entire enterprise towards success. This is the kind of investment that creates an organizational strength that can be sustained across generations of leadership.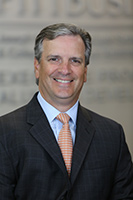 William T. Valenta, Jr. is Associate Vice Provost for Professional Programs at the University of Pittsburgh and Assistant Dean of MBA and Executive Programs at the University's Katz Graduate School of Business.
Contact: VALENTA@pitt.edu