By Steve Damerow, CEO, Incentive Solutions
Actions speak louder than words, and you can communicate a great deal about your brand through the act of rewarding your partners with a well-designed sales channel incentives program.
You might believe that having a brand vision—values, an image, and a message—is more important for business-to-consumer (B2C) than business-to-business (B2B). But in the reality of today's manufacturing industry and other sectors, that's not the case.
B2B customers care about their suppliers' brand values and, often, those values don't match up with theirs. As recent McKinsey research discovered, many B2B companies don't identify themselves as having open and honest dialog with customers, acting responsibly across their supply chain, or having values that fit with their customers'. However, these are among the most important factors in whether or not B2B customers perceive a brand as strong. So how can B2B companies change their channel marketing strategies in order to present brand values that appeal to customers?
Following these guidelines, you can operate a channel incentives program that sends the right message, and sends it loud and clear.
Use effective and updated channel incentive technology.
Most importantly: use the right kind of incentive technology. The dispersed nature of your sales channel mandates that you use an online rewards program that is mobile optimized or available through a mobile app. This is the easiest and most direct way to offer your channel partners compelling rewards. They instantly receive digital reward points for desired behaviors, and these points are immediately redeemable in an online rewards catalog with millions of merchandise, event ticket, and travel options.
Speed, ease of use, and immediately apparent benefits will pique your partners' interest in your channel incentives program. Then you move into the really fun part: using the program to improve channel marketing and brand loyalty.
Research the needs and values of your sales channel customer base.
What brand values and messages should your incentive program promote? Base your brand's channel marketing messages on research gathered from your own customer base to find out what's important to them. Offer your channel partners incentive rewards for submitting surveys about what they value in a brand they do business with. Use the results of this research to determine what your brand's messages and values should be—then leverage incentive rewards to reinforce behaviors that reflect those values.
Marketing your incentive program strategically will help shape the brand image and values you want to project. A channel incentives program platform such as Loyaltyworks allows you to take control of the program's imagery and content, so participants know exactly what you and your program are about, right from the start.
Educate salespeople using training incentives.
McKinsey reported that, "even in the digital era, our surveys show that personal interactions with sales reps remain the most influential factor—across touch points—for B2B customers." Your sales reps are the mouthpieces of your brand, so invest in them. Reiterate important brand values in all your communications with your sales reps, incorporate those values into their onboarding, and continue reinforcing those values with incentives for ongoing training.
With online training incentives, you can deliver training and gather information through quizzes, surveys, and daily trivia. Instantly receiving reward points for participating in training creates a strong personal incentive for partners to further their education in your brand, along with professional incentive. Training incentives ensure channel partners remember your brand's values and differentiators, so they can communicate them to consumers.
Run specific incentive sales promotions.
Once you know what your B2B consumers want from you and you are training your sales reps accordingly, you can also use sales promotion incentives to project brand values and influence consumers' perception of your company.
For example, offering sales reps incentive rewards for selling more energy-efficient products shows you're environmentally friendly. Partnering with charities and allowing your program participants to donate reward points to those charities shows your organization's humanitarian side. Demonstrate that your brand is committed to quality by running promotions on new or improved products and services.
Since your sales promotions can convey any number of things about your brand, so your options should never be limited. Using Loyaltyworks' Performance Tracking module, you can schedule multiple, simultaneous sales promotions and restrict participation to certain, qualifying channel partner groups or products.
If your brand messages and values are not resonating with your customers, it's either because your message isn't making its way to them, or you're not sending the message they want to hear. However, you can turn this situation around. Smart channel marketing can help you establish your brand values and become a company that your channel partners trust. Channel incentives are a great way to not just tout your brand values, but engage your customers and build loyalty.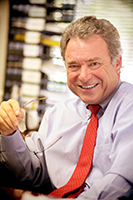 Steve Damerow is CEO of Incentive Solutions (www.incentivesolutions.com). He is a recognized expert and published author, and hosts the national radio show "Business Matters". Incentive Solutions currently manages hundreds of incentive programs for various manufacturing industry sectors. Steve Damerow can be reached at: sdamerow@incentivesolutions.com; 678-514-0203.