September 21, 2018
Artificial Intelligence (AI) has been having a transformative impact on every industry. With its ability to mimic the intelligent human behaviour, AI has assisted businesses and enterprises to enhance their efficiency and stay in the competitive race more ferociously than before. The revolutionary AI has also made its presence felt in the packaging industry and has been optimizing the industry's operations for some time now.
AI has transformed the packaging warehouse into a modern smart packaging warehouse of the future. Needless to say, it has brought in a concept of smart packaging, which is going to be the future of packaging. Let's have a look at how this technology is all set to innovate the various functions and tasks of the packaging industry forever:
The Current Benefits and Future Advantages of AI-Powered Machines
1. Enhance Productivity
For any business to thrive and grow, its workforce needs to be productive. AI has been proven to be instrumental in improving the productivity of the warehouse functions.
2. Improve Communication
For a team to run its day-to-day tasks in a smooth manner, it is crucial that there is proper communication between the team members. There should be a proper flow of information and efficient delegation for the tasks to be completed in time and as expected. AI has the ability to communicate to and fro at an unbelievable speed of 10 times in a second with the potential of efficiently eradicating human shortcomings.
3. Automate Warehouse Operations
As AI seeps into the packaging industry, it is expected that it is going to have an integral part to play in making the packaging industry fully automated by 2030. The operations is at the highest risk of robots taking over the jobs typically taken care of by humans. The money saved by replacing manual labour with AI systems can be used to invest in business growth.
4. Intelligent Robots
Can you imagine what the productivity of the team would be if the team members could tirelessly work 24/7 with just a 5-minute break every hour? A team of AI-assisted robots can do that for you. They can pick up goods and distribute them in just a few seconds. All they need is just 5 minutes to charge themselves every hour.
5. Perform Quality Control
Quality management is a crucial element in the packaging and distribution industry. AI can perform the tasks involved in quality control very easily. However, the AI system has to be frequently calibrated so that it accurately performs the detection and notification tasks.
6. Identify and Classify Products
AI has the ability to correctly identify a product and its parts too. It adopts a rule-based approach to classify a product. It uses various parameters and images to identify the product.
7. Accomplish Real-Time Tracking
It has always been next to impossible for humans to accomplish real-time tracking. However, AI has made it possible. With the help of AI, the systems can manage the data and track your items at the same time, thereby enhancing the tracking capabilities to a large extent.
Most people are engulfed by the fear of AI-assisted machines and robots replacing humans. They can put your fear to rest because however accomplished the AI-assisted systems may be in replicating intelligent human behaviour, they are not humans. They have their own limitations. AI may be better at data management, identifying and analyzing patterns in information, and in performing monotonous repetitive tasks, but they can never replace the superior edge humans have in handling ambiguity, decision-making and conflicts.
To successfully integrate AI into the packaging industry, it is essential for the machines and the humans to have a better interaction. Humans have to be available to oversee the working of the machines to ensure that they are doing their job accurately and efficiently. If there are any glitches, humans need to tend to them and make adjustments as needed.
AI is here to stay. It is now essential to upgrade the skills of your employees and equip them to accept AI as a way of life at work. This acceptance will go a long way in maximizing the effect of AI to improve productivity, quality, operations, time management and data handling. Technology has presented a tremendous opportunity to humans to augment AI's advanced capabilities with human's superior abilities across various industries. Yes, it's true that advanced technology has gone far to mimic intelligent human behaviour, but not far enough to mimic the human characteristics.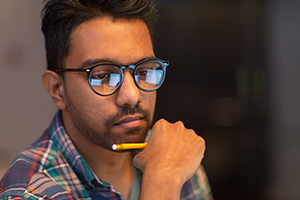 About the author:
Abhijeet Shah is the head of digital marketing for Packing Supply, a leading name in the packaging supply industry. He believes that it's not only what's on the inside that matters, but how products are packaged is just as important. Abhijeet stays updated with the latest trends and innovations in the industry and is quick to share them with his readers.