Volume 22
| Issue 2
| Year 2019
Click here to read the complete illustrated article as originally published or continue below to read the text article.
When you've been in business since 1972, expanding over the years to multiple locations as product lines are added and demand rises, there comes the time where the best way to optimize operations is to get everything under one roof.
That time has come for Super Products, a leading manufacturer of high-quality, easy-to-operate truck-mounted vacuum equipment for municipal, utility, and industrial contractors. This past April, Super Products broke ground in the villageof Mukwonago, Wis. on a new $15 million facility comprising some 170,000 square feet, with room for an additional 70,000 square-foot expansion as future needs dictate. Expected to be operational in early 2020, the new facility more than doubles the combined operations of its several existing plants (totaling some 80,000 square feet) and allows Super Products to consolidate manufacturing and customer support operations into a single, highly- efficient location.
According to Super Products President Mike Vanden Heuvel, "Not only will we be able to achieve economies of scale with all our manufacturing under one roof, we'll also be able to bring in operations that we've had to outsource. One example is that we will now have our own state of the art paint system. Not having to send our trucks out to get painted will make us all that more efficient and with faster time-to-market."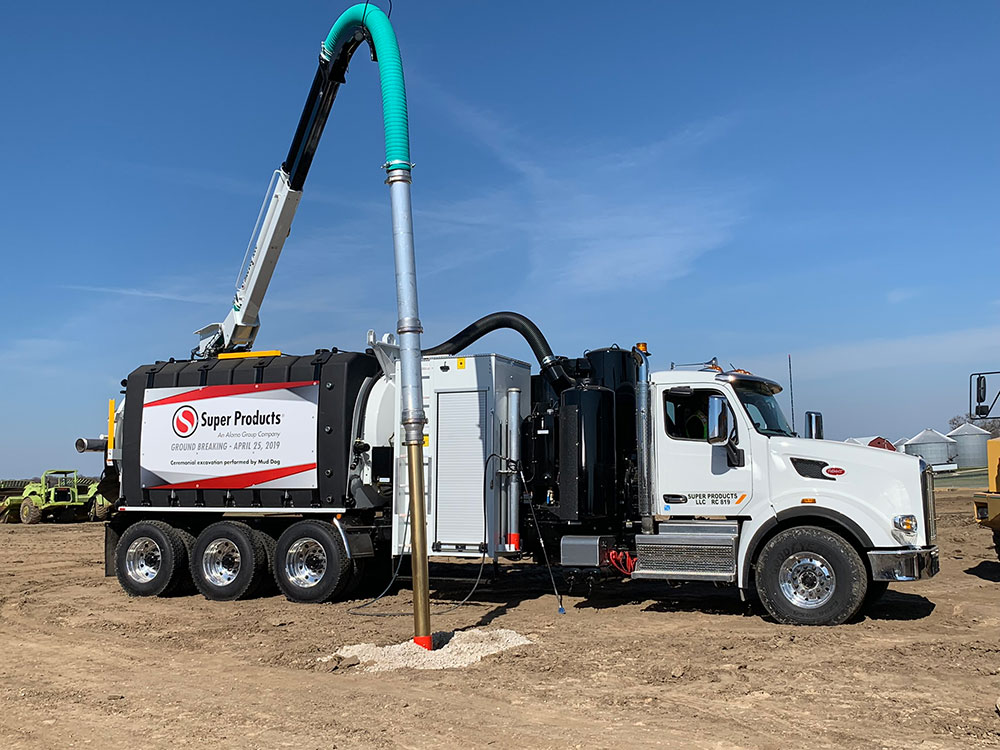 He adds that given the growing favorable economy, the timing is right to position Super Products properly to meet growing demand. "Our customers are doing well and consequently are more confident to acquire new equipment as they are expanding their business and/ or to replace aging equipment."
The company makes five truck mounted vacuum product lines to address specific applications that encompass hydro and air excavation, industrial vacuum cleaning, hazardous and non-hazardous waste cleanup and catch basin and sewer cleaning:
Supersucker® Vacuum Loaders
Durasucker® Liquid Vacuum Trucks
Mud Dog® Hydro Excavators
Camel® Maxxx Catch Basin/Sewer Cleaners
Superjet® Truck Mounted High-Pressure Jetting Machine
"The Supersucker is our bullet-proof flagship product, the first industrial vacuum loader Super Products made when it started in 1972," notes Jason Hetcher, Director of Engineering. "It's the workhorse of the industry." Updated over the years, there are various Supersucker models designed for different temperatures and applications.
Hetcher points to the Mud Dog as just the latest example of Super Products engineering innovation. "The ejection system pushes out debris in a way that is quicker and more efficient, with less likelihood of debris getting stuck and clogging the system, resulting in work stoppages."
Such innovations are the result of closely listening to customers and responding to their needs. "Right now, the trend is towards higher capacity payloads to haul more as well as higher capacity airflows to achieve faster excavation," Hetcher says. "Of course, we're also looking to improve ergonomics that make drivers not only more comfortable but more aware and safer with features such as back-up cameras and safety alarms. We recently redesigned the rear door of the Supersucker to provide easier operational access."
Mike Reis, Vice President of Industrial Sales, points out, "We're making the trucks as easy to use as possible. What we're making today is nothing like a truck of 10 years ago. On-board diagnostics and the human interface through screen-based commands help ensure the greatest levels of efficient and safe operation along with proper maintenance that makes a durable truck even more durable."
Superstores
The company has two different marketing channels, municipal government and private contractors. Government sales in the U.S, are handled by a nationwide network of dealers, with private customers handled by a dedicated sales staff. Super Products also markets internationally to Canada, Mexico, Europe, South America and Russia.
In addition to building new trucks, Super Products offers both rental and used vehicles. "By offering flexible equipment rentals, customers can get the vehicles they need when they need them," Vanden Heuvel explains "It could be that they need something right away and they can rent until we can make the truck for them. Or it could just be they took on a short-term job that they need a truck for a limited time."
He adds, "Rentals are a growing part of our business," Vanden Heuvel says. "lt's an ideal arrangement for customers taking on short term projects where they are only going to need the equipment for a limited time."
And if customers don't have the budget for a brand-new vehicle but would still rather own than rent, Super Products also maintains an inventory of used trucks. "These units are rotating out of our rental fleets and have been maintained to our highest standard by our "Superstores" and are a great value to our customers," Vanden Heuvel says. "Additionally, the Superstores provide the necessary parts to keep the units running.
There are eight "Superstores" located in seven states offering one-stop shopping for new and used equipment, weekly and monthly rentals, parts and accessories, maintenance and support if needed. "A lot of our customers maintain their own fleets, so while they don't rely on us to provide service, they know our technicians are only an airport away. If we can't help them with an issue over the phone, we'll dispatch technicians to solve the problem on-site. We are very sensitive to the fact that equipment tied up in the shop is equipment that isn't getting work done," Vanden Heuvel says. There's also an online Learning and Resource Center that provides a range of documents and videos providing product information, maintenance tips and product demonstrations.
Building Better
Vanden Heuval says the company has been planning on expanding for a few years due to increased business, particularly the rental operations. "The new facility is 15 miles from our present headquarters, so it will remain within easy commuting distance for our employees."
It's also a strategic location for two of its key suppliers, sister companies Fabri-Tech Inc. based in Brookfield, Wis., and Hader-Seitz based in New Berlin, Wis. Fabri- Tech Inc. supplies industrial metal fabrications, while Hader-Seitz provides custom engineered hydraulic actuator solutions. (Fun fact: The president of these two related companies are actually related to one another as husband and wife.)
An additional attraction is the good working relationships with local business associations and government agencies, as well as high schools and technical colleges to recruit and develop workers with the necessary skill sets for manufacturing careers.
"We're fortunate that in the Southeastern Wisconsin area the labor pool has experience with manufacturing," Vanden Heuvel notes. "We aim to attract and retain employees by offering good salaries with good benefits, including reimbursement for continuing education expenses. "This area of Wisconsin also provides access to one of the strongest supply bases in industrial manufacturing and fabrication in the nation. We couldn't do what we do without the experience, talents and support of our valued suppliers."
Building a new facility provides the opportunity to "start from scratch" to design manufacturing workflows and put in place the most modern equipment. "We're looking to install the latest robotics and other advanced technologies to automate wherever possible and at the same time put the tools our people need where they can best utilize them," Vanden Heuvel says.
One thing Super Products doesn't need to redesign is its commitment to safety. "ln 2018 we had zero lost time due to accidents," Vanden Heuvel points out. "We've also received recognition awards from our parent company Alamo Group, for our outstanding safety record. One thing we focused on in designing the new facility was not only how to make the environment as safe as possible, but how we can make it the best environment for our employees to come to work."
Super Products currently runs one shift among various locations with a little over 200 employees. Each of its five product models has a dedicated production line for a progressive build beginning with the truck's underlying chassis. Some basic inventory is maintained that can be customized, but in general production lead times are ordinarily four to six weeks. "However, if we have a backlog, it could be 12 to 14 weeks," Vanden Heuvel says.
Whatever a customer needs for truck mounted vacuum equipment, Super Products can supply it in the way that best fits each customer's particular needs and situation.