How agile-minded executives can accelerate innovative practices and transform operational cultures.
By Gerald F. Lackey, PhD, CSPO, CEC-Candidate, GAF Vice President Business Optimization & Agility and Mark C. Layton, MBA, PMP, CST, Founder- Platinum Edge, LLC
Buzzwords come and go, but every so often, there's a real paradigm shift that positively impacts the ways we do business.
Agility – leveraging Agile principles – is one of those shifts that's driving real change, and for some very good reasons.
Rapid technological advancements and crowded marketplaces continue to disrupt companies that were once thought to be in safe markets.
Unknown entrants pose major risk to these established businesses, but many incumbents are trying to move more quickly, learning how to build a more resilient value chain, and to sustain innovation that primes them for growth and long-term success.
Agile frameworks for project delivery and ways of working are helping companies drive innovation to avoid disruption, especially where industries may have historically been viewed as slow and inflexible.
The manufacturing sector offers both good examples and real opportunities where agile and lean principles have or could foster continuous improvement and iterative development.
But three myths have emerged that appear to inhibit companies' ability to invest in their future. To accelerate adoption of agile principles, leaders must tackle these myths head-on.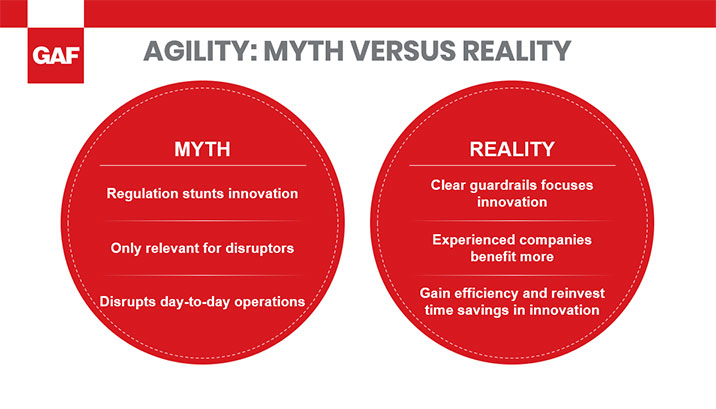 1. Highly regulated industries can't be agile and innovate quickly
Agile frameworks actually perform best when the guidelines for experimentation are clearly defined, similar to any regulated industry.
Yet, even in a highly regulated industry like automotive manufacturing, BMW has succeeded with the concepts of agility for several years now.
An agile mindset will challenge the value and reach of regulations, but that is no different than many of the zero-based budgeting or organizational methodologies that are commonplace today.
It is good business to question why and how we do things, especially in very established companies that may have become complacent in their ways of working.
Challenging traditional ways of thinking and working can eliminate waste and improve productivity to make an enterprise leaner.
The reality is, regulated industries provide transparent conditions where saved time and energy can be applied towards more strategic, high-touch innovation.
Focusing those efforts on iterative development of products and services can capitalize on new opportunities – and possibly fuel reform that benefits an entire industry.
2. Agility is only relevant for disruptive business strategies
The opportunity to drive measurable change across an organization through agility is greatest with more established, mature businesses.
Organizations can deliver sustaining innovation through agile product development that reduces the threat of disruption.
However, building business systems to support capable leaders who have strong project delivery capabilities takes years to develop.
The primary differentiator between companies who survive disrupted markets and those that don't is how quickly they can respond and get their ideas out of the lab and into the hands of customers.
Don't squander the opportunity of a slow market or strong profitability. Market stagnation is simply an opportunity to accelerate the adoption of agile ways of working.
Here are a few ways adopting agile principles can insulate existing market players against disruption from new entrants:
Be first – Co-creating products with customers brings deeper insights on market opportunities before others can exploit them
Solidify market share / penetration – Rapidly solving problems across the value chain creates positive entanglement that is hard to displace
Scale growth – Leveraging the size of the organization can become a significant accelerator in outperforming new entrants
Make no mistake; success today is defined by the fast versus the slow, regardless of strategic direction. There is no lasting defense for time-to-market advantage. None.
3. Adopting agile principles will disrupt operational efficiency
Companies can be innovative without disrupting their operations, but it requires extending business strategy and customer value streams through to the production line.
At GAF, a large roofing and waterproofing manufacturer with 30-plus production facilities, this meant building awareness of why agile practices were important for the future of the company.
We listened to how employees interpreted agility for their areas of expertise, and helped the organization rethink working norms to better align with the company strategy.
What emerged were principles everyone could relate to: collaborate cross-functionally, engage early and often with customers, and to stay focused on delivering real value.
Helping the manufacturing and supply chain organizations embrace these concepts led to a new performance analysis approach that transformed product pilots that maximize production efficiency without sacrificing resources required to test innovation.
Adopting an agile mindset was critical to building greater transparency into the way GAF pilots new product development, and has streamlined its capacity for innovation without taxing operations today.
The next challenge:
Agile principles may feel as if they're only applicable to software development or other highly digital industries, but they can yield extraordinary benefits in helping other sectors transform the ways they do business.
But there is no one-size-fits-all solution that leaders can purchase off the shelf.
By focusing on a few important steps, executives, agile coaches and other transformation leaders may bust challenging myths inhibiting their business transformation strategies:
Reinvest productivity gains into rapid development of new products and services
Don't wait to be disrupted, start your own social movement around agility today
Leverage the strength and wisdom of your workforce to win tomorrow
Find an agile enterprise coach that understands your business and will work with you to craft agile ways of working that fit your organization
Embrace an agile mindset, and established organizations will soon be telling new stories of their success as they become more resilient in their markets.

About Gerald Lackey
Gerald is Vice President, Business Optimization and Agility at GAF, North America's largest roofing and waterproofing manufacturer, where he drives enterprise transformation to deliver new and scalable execution capabilities. Previously, he was Associate Partner and Senior Organizational Expert at McKinsey & Company, where he focused on heavy asset industries. Gerald holds a PhD. in Sociology from UNC Chapel Hill and a B.S. in Sociology and Spanish from Duke University.

About Mark Layton
Mark C. Layton, known globally as Mr. Agile ® , is an organizational strategist and PMI certification instructor with over 20 years of experience. He is the Los Angeles chair for the Agile Leadership Network, current President for the Project Management Institute's Las Vegas chapter (PMI-SNC), and the author of the international Scrum for Dummies and Agile Project Management for Dummies book series. Mark holds MBAs from the University of California, Los Angeles, and the National University of Singapore; a B.Sc. (summa cum laude) in Behavioral Science from Pitzer College/University of La Verne.