With a rich heritage in textile manufacturing, Greensboro-High Point, North Carolina remains resilient amid the COVID-19 pandemic.
By: Brent Christensen, President and CEO of the Greensboro Chamber of Commerce and Loren Hill, President of the High Point Economic Development Corporation
Greensboro-High Point, North Carolina is one of the most advanced manufacturing clusters in the Southeast U.S., home to dozens of textile manufacturers that have operated in the region for decades. As the coronavirus pandemic forced businesses to shut down nationwide, this expertise enabled companies in Guilford County to quickly pivot operations to provide aid.
For starters, Greensboro-based global apparel leader Kontoor Brands (parent company of Wrangler and Lee) shifted its manufacturing operations to produce nearly 60,000 patient and disposable isolation gowns for North Carolina hospitals. "In times like these, it's important that we all rise to the occasion and redirect our efforts to help solve critical issues that have resulted from the spread of COVID-19," said Scott Baxter, President and CEO, Kontoor Brands. "We are proud to support efforts to fight COVID-19 and will continue to look for ways to help our communities and the people most affected by this crisis."
Similarly, global mattress fabrics marketer Culp Inc., based in High Point, is manufacturing face masks and bed covers for hospitals. The company has donated masks locally including 1,000 to the United Way of Greater High Point and has continued to provide its products for essential businesses. Culp Inc. CEO Iv Culp said, "This initiative was not about profit, but rather to support our community and nation during this crisis while also keeping as many workers as possible employed."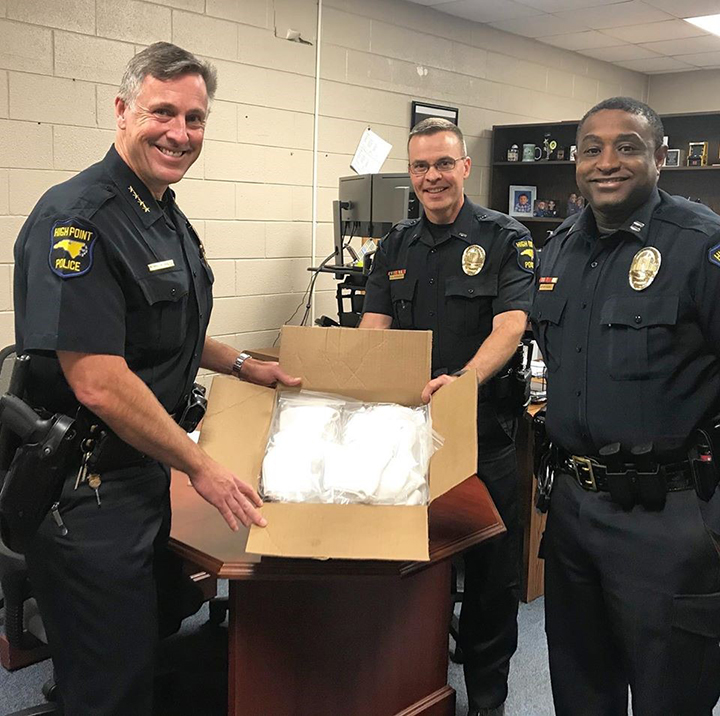 Textile manufacturer Eastern Accents, which exhibits at High Point Market and whose owner has local inn Pandora's Manor and other facilities in High Point, is also redirecting its resources to create free cloth masks for first responders. "This has helped us to retain workers and maintain our facilities," said Eastern Accents President Ridvan Tatargil. As the world feels the economic impacts of the pandemic, Tatargil believes the company has an advantage to remain economically viable thanks to its position as an integrated domestic manufacturer.
While textile manufacturers are doing their part to help combat the virus, they aren't the only ones in Guilford County joining the fight. In fact, High Point's Graphik Dimensions Ltd., a custom printing and framing services company, is producing acrylic intubation boxes and colorant company Standard Colors is now making hand sanitizer. Additionally, Guilford County's XPO Logistics and Lewis Logistics have partnered to meet the increased delivery and shipping demands brought about by COVID-19.
During this challenging time, companies across Greensboro-High Point have not only proven to be resilient, but also innovative in their efforts to support the community and those nationwide impacted by COVID-19.
About the Authors: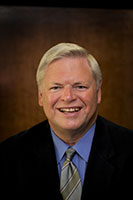 Loren Hill, President, High Point Economic Development Corporation
Loren Hill has served as the President of High Point Economic Development Corporation for nearly 20 years. Through his leadership, the organization's mission has focused on retaining existing business and industry, assisting local companies to expand, attracting new businesses, and encouraging the creation of jobs for residents of Greensboro-High Point. The High Point Economic Development Corporation is a city department which works with office, industrial, and retail clients. Hill is also on the board of the directors for the Piedmont Triad Partnership and previously served on the board of the North Carolina Economic Development Association.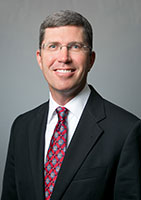 Brent Christensen, President and Chief Executive Officer, Greensboro Chamber of Commerce
In June 2015, Brent Christensen joined the Greensboro Chamber of Commerce as its President and CEO, where he leads the organization that includes Greensboro's lead economic development organization as well as Launch Greensboro and Action Greensboro. Before arriving in Greensboro, Christensen served as the Executive Director of the Mississippi Development Authority (MDA), the state's lead economic and community development agency. Prior to joining MDA, Christensen was the President and CEO of the Gainesville Area Chamber of Commerce in Gainesville, FL. During his tenure, the chamber was awarded its 5-star accreditation by the U.S. Chamber of Commerce, placing it among the top one percent of chambers of commerce nationwide.
About the Guilford County Economic Development Alliance (GCEDA)
The Guilford County Economic Development Alliance (GCEDA) was created in November 2015 with the goal of facilitating exponential growth in the Greensboro-High Point region. Through real and effective collaboration among the local governments of Guilford County and the cities of Greensboro and High Point, as well as the Greensboro Chamber of Commerce and the High Point Economic Development Corporation, GCEDA works to retain and expand existing industry in the area, as well as attract new business opportunities and emerging sectors. Under the alliance, the organizations work in concert with equal voice to manage projects, share leads, conduct research, and lead Greensboro-High Point into the future. Learn more at www.greensboro-highpoint.com.