With thousands of customers and hundreds of products, most sales organizations do not have the time or tools to chase down existing customer opportunities for up-selling or post-sales revenue.
There is simply no easy way to mine customer data at just the right time, for just the right customers. Yet According to Gartner Group, 80% of your company's future revenue will come from just 20% of your existing customers. While Adobe reported that online retailers spend nearly 80% of their digital marketing budgets acquiring shoppers, for each 1% of shoppers who return for a subsequent visit, overall revenue will increase by approximately 10%. This means if online retailers retained 10% of their existing customers, they would double their revenue.
Key takeaways:
Even a small increase in customer retention can result in dramatically great profitability.
It costs way more to acquire new customers than to retain existing ones.
And more importantly, aftermarket products and services typically have higher profitability than the original equipment, thereby boosting bottom lines of companies that do this well.
Sales leaders already know there are tremendous revenue opportunities for retention, up-selling, cross-selling, service, and replacement parts. They also know they have mountains of customer data to sift through to reach their goals. Unfortunately, many current methods for closing repeat sales and add-on services using that data are time-consuming and not easy to repeat.
COMMON METHODS FOR PURSUING EXISTING CUSTOMER REVENUE
Faced with these elusive customer revenue possibilities yet few tools to uncover viable leads, sales organizations have taken the initiative to find better ways to approach their existing customers. Depending on budget and resources, most rely on one or a combination of the following sales strategies:
Wait and Take
The bitter truth is that many organizations just wait for existing customers to reconnect and take their orders when they come in. In the meantime, many customers fall through the cracks and use third-party suppliers to fulfill their aftermarket needs or go elsewhere. Some sales associates proactively reach out to their biggest accounts on a regular basis. But this leaves too many customers untouched and potentially lost, and even major accounts may be contacted at the wrong time with the wrong offers.
Inside Sales Teams
Another method for mining customer after-sale revenue is to set up dedicated in-house or outsourced sales teams. They begin by manually searching through existing customer databases by exporting them to spreadsheets or smaller database subsets. Lists of customer contacts and their product purchases are generated. These lists are then turned over to low-cost call centers or less-experienced sales associates to make scripted calls. The lack of sales sophistication during these contacts, however, adversely affects closure.
Customer Blasts
Perhaps the most popular form of after-sale contact is to indiscriminately blast email or call-center sales pitches to the entire customer base at regular intervals. This scattershot approach does reach nearly every customer—but at what cost? Most emails are deleted, or even filtered out as spam. And calling the wrong customer at the wrong time with a canned pitch can actually alienate existing customers, making a subsequent legitimate sales call that much more challenging.
Not All Sales are Created Equally
With all the above approaches, to a certain degree, sales reps find themselves with plenty of existing customers, a lot of data on what they purchased, but little guidance on what the customer may really need, and when. According to a Harvard Business Review article, "The Dark Side of Cross-Selling," a great many cross-buying customers, even if closed, are highly unprofitable. These customers demand more service, return more products, predominantly buy only deeply-discounted products, and make relatively low dollar amount purchases. On paper the numbers look good (more sales). But bottom-line profitability can actually suffer. First, the company incurs costs for any method of contacting and initiating sales from these customers. Secondly, these customer types consume more internal resources and generate fewer dollars than most other customers in the form of over-consumption of services, shipping and returning of products, and purchasing low-margin items.
Wanted: A Sales Approach with Cost-Effective Results
All of the common methods previously described are proactive—to a point. The missing element in most proactive sales strategies is to produce predictable results with a low total "cost of sales." For aftermarket revenue, this is not possible across an entire customer base without a prescriptive approach that can identify the most profitable repeat customers. Just reaching out to any and all customers is costly, time- consuming, and does not provide a desirable return on investment. What businesses need is a cost-effective way to gain repeat sales and services to high-value existing customers.
AI to the rescue
Installed base and Aftermarket engagement software provide enhanced tools and tactics for sales, marketing and service professionals who are trying to retain customers and grow the portion of revenue generated by their existing installed base. CRMs like industry leader Salesforce, and Customer success platforms like Gainsight and Totango offer out of the box solutions to increase visibility and provide better engagement. Other companies, like Entytle, are taking a different approach. Applying AI and machine learning algorithms to massive amounts of customer data, their software is able to cleanse and reconcile information to provide enhanced visibility and proactively pre-populate business opportunity for the sales, service and marketing teams.
Each customer is unique. Each product a company sells fulfills a particular customer need. Matching the two factors at the right time requires a more comprehensive analysis of customer data than many businesses can afford or develop on their own. That is why a new generation of software is using sophisticated and continuous analysis to arrive at a more targeted sales approach – identifying which customer needs what item and when. The key to generating more revenue from a manufacturer's installed base seems to lie in the continuous-learning software processes applied to their existing, dispersed, siloed data, to generate better qualified sales opportunities.
Startups, as well as software giants, are all dedicating lost of resources to applied-AI, which is taking the shape of user friendly platforms or devices providing actionable insights, rather than human-sized robotic helpers.
The future does look a little less scary now.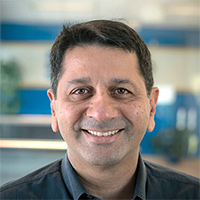 Vivek Joshi is the CEO and co-founder of Entytle, a Palo Alto based company that helps B2B manufacturers increase customer loyalty and lifetime value. Entytle's AI-driven Aftermarket Engagement platform Insyghts assembles data from multiple systems, and processes that data to identify usage patterns and customer segments, deliver opportunities, and drive revenue from installed base.