Universal Print is a Microsoft 365 service that moves key Windows Server print functionality to the Microsoft 365 cloud.
It seems that everyone is talking about moving print services to the cloud, and with Microsoft's Universal Print announcement, the talk is getting louder. With organizations increasingly focusing on their digital transformation efforts, cloud printing is a hot topic. However, the potentially high costs and the heavy burden that on-premises print services put on manufacturing business have been a barrier. Microsoft intends to change that with Universal Print.
Tell me more
Without being too dramatic, Universal Print is revolutionizing cloud printing. It's a Microsoft 365 service that moves key Windows Server print functionality to the Microsoft 365 cloud. It centralizes print management through the Universal Print portal and fully integrates with Azure Active Directory. Universal Print can be deployed with non-compatible printers by using Universal Print connector software. That means oorganizations no longer need on-premises print servers or need to manage printer drivers, a long-standing burden on IT resources. Universal Print assists companies in moving their print services to the cloud by simplifying printer deployment and making printing easier.
Business appeal
What does Universal Print mean for manufacturing organizations? The key benefits of moving print services and Universal Print include:
Cost savings – Servers and their maintenance are expensive. Industry analyst firm, Quocirca, estimates that a business with over 1,000 employees can spend annually more than $4,000 on the purchase and maintenance of one print server. As a company grows in employees and its printing demand increases, so will its print infrastructure costs.
Free up information technology (IT) – Eliminate the need to deploy and maintain a print server on-premises, as well as queues, drivers, and firmware management for the fleet. Reducing the print services burden on IT, management, and problem-solving time means the company can focus on more critical Digital Transformation tasks that help the business.
Consistent user experience – The experience for the business' staff remains the same. They submit their print jobs from their desktop as they usually do. All the magic of cloud printing is transparent to them.
Efficiency – Bringing together all models of print devices under a standardized system increases efficiency. In time, as printer manufacturers enable their printers to be compatible with Universal Print, the standardized system can account for finishing options that today tend to be proprietary (part of why the IT burden is so high).
Security – Managed printing in zero-trust networks uses single sign-on via the Azure Active Directory. Universal Print, as part of Microsoft 365, uses the same security already in place with Microsoft 365.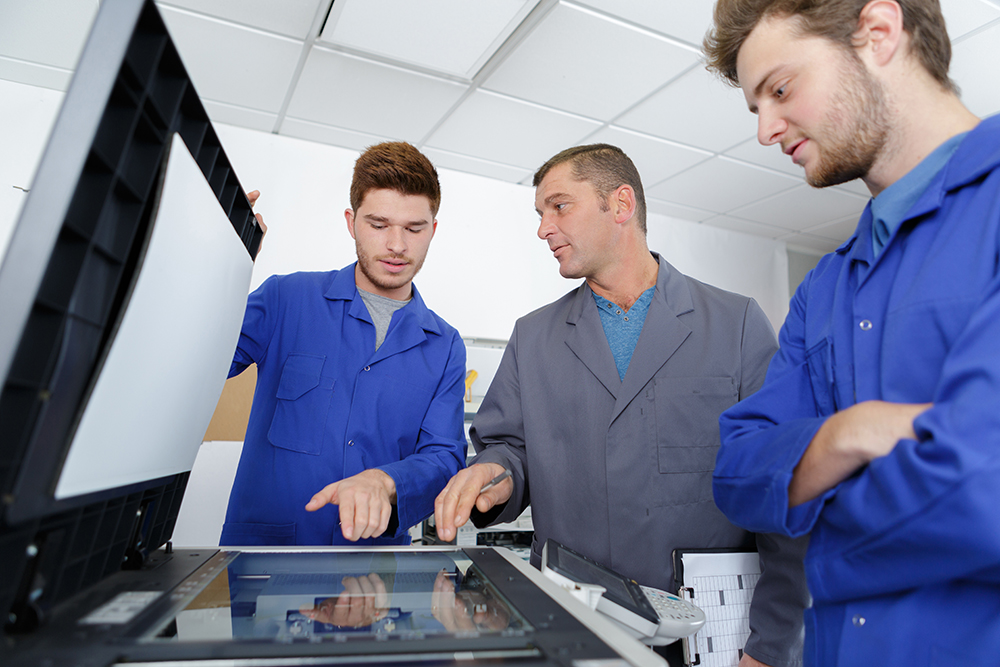 Your opportunity
Your organization may already be using an on-premises print management solution. Many of these solutions, including YSoft SAFEQ, will include access to Universal Print. Similarly, if your business uses a cloud-based print management service, Universal Print could be included, too.
Additionally, it is important to note that while Microsoft does offer a software connector, it requires a Windows 10 or Windows Server – which undermines the benefit of reducing IT's burden and costs. This was a problem that concerned Microsoft.
Microsoft asked Y Soft, based on our experience in the printing world, to come up with a solution. And a new product was born, YSoft OMNI Series a serverless edge device with downloadable applications, the first of which instantly and cost-effectively connects in-market printers to Universal Print.
Manufacturing organizations can now have a solution that offers secure cloud-based printing with little to no IT involvement. Simply register the printers to the Microsoft 365 account, and the Edge device takes care of the rest. Once an organization is experiencing the benefits of cloud-based printing through Universal Print, its employees will likely be interested in other apps. As the business grows, a transition to a full cloud-based print management service may make sense.
On the way UP
Whether organizations use print management solutions today or not, Universal Print is an easy steppingstone for consuming more cloud-based solutions. Universal Print is designed to be user friendly and easy to install. The future is looking UP for Universal Print from Microsoft – an innovative solution that leverages the legacy investments companies have already made in their print fleets.
Bruce Leistikow comes to YSoft with 25 years Hi-Tech industry experience serving in a variety of roles from software engineering to business related functions including management and marketing. For the past 4 years, he has served as a Solution Consultant designing YSoft SafeQ print management architectures for the largest of US companies. He now serves on the Y Soft Marketing Team as Director of Product Marketing and is leading the product development of Y Soft's latest product line named OMNI Series™. Bruce.Leistikow@ysoft.com