This article explores the concept of the "broken rung", or the gender disparity in managerial positions.
"You're figuring it out in your 20s". How often do young adults hear this advice? That the first couple of years in the workforce is for exploration and building experience. That there is a little bit of cushion because you're young, new, and figuring it out.
Unfortunately, that's not the case. Or at least not for women. Your first couple of years in an entry-level position are actually the ones that matter the most as a woman.
For years the focus has been on the glass ceiling or the invisible barrier between women and leadership positions at companies. However, based on McKinsey's Women in the Workplace report, that invisible barrier can be traced back to whether or not you land your very first promotion at your company.
The evidence lies in the numbers. For every 100 men promoted, only 72 women are leading to women holding only 38% of managerial-level positions (as opposed to men who hold 62%). This disparity for women in the path to leadership is referred to as the "broken rung".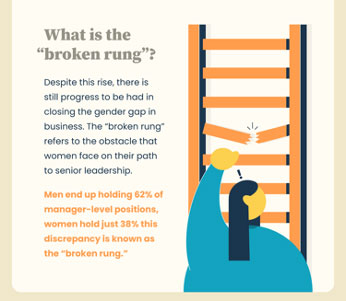 This entry-level promotion is the Achilles heel that stifles women to rise to senior-level positions. With fewer women in managerial positions means fewer women to promote to senior-level positions and the same is true for promotions to the C-Suite. This is the domino effect that starts with your very first position.
Not only does this waterfalling effect happen, but it's made systemic as studies have found that men are more likely to promote other men and women are more likely to promote other women, according to PayScale.
While this deep-seated issue needs to be resolved by corporations, they work on turtle-time (very slow). However, there are ways to empower ourselves, as women, to leap past the rickety "broken rung" and clear a path for ourselves to the C-Suite. Here are some ways to beat the broken rung:
Continuous learning. When it comes time to make a decision about promotions there are a handful of things for employers to consider; one thing being expertise. If you're early on your career and don't have a long track record in an entry-level position, it's important to cultivate an arsenal of skills. A rising number of women are attending business school indicating a change in the business landscape. Whether you get a degree or pick up a new skill, it's important to demonstrate your commitment to continuous learning.
Mentorship. According to Guider, you are five times more likely to be promoted if you have a mentor. That means if you have a mentor you are five times more likely to hurdle past the broken rung. You can learn how to find a mentor in this remote environment by reading through these tips.
Self-advocacy. It's easy to shy away when you're new in a company, especially if it's your very first job. However, it's important to make yourself visible to the decision-makers of the company. Whether that's watercooler talk with your manager or starting your own internal book club, make sure your presence is known. This also pertains to your accomplishments. Self-praises might be uncomfortable, but pay credit where it is due when you hit a milestone or reach a goal. Always advocate for yourself especially when you're starting off as it'll set you apart amongst your peers when it comes time to tap an employee to become a manager.
Calling out biases. Sometime in your career, you'll likely experience a moment where you are confronted with a bias. Whether it's a joke, a conversation, or an action, it's intolerable. However, it can be difficult to cut the head off a dragon as deep-rooted as gender bias in the workplace. When confronting a bias, you want to remain level-headed, make it an open conversation, and pay attention to your audience. You can read up on more tips here, but regardless these scenarios need to be addressed.
Self-fulfilling prophecy. Yes, there are uncontrollables when it comes to the decision of who will get a raise and who will get passed up. The bias behind the "broken rung" is for the most part one of those uncontrollable things. But there are also proactive measures you can take to ensure success. If you want a promotion, do the job before earning the title. Take on extra responsibilities to eradicate any doubt that you aren't the person for the job.
Know your worth. It all comes down to this: believing in yourself. Regardless of circumstance or bias, knowing your worth can carry you through all of it. If you get passed up for a promotion that you know you deserve, speak up, and ask for an explanation. And when you do get that promotion, have full confidence that you're the right person for the job.
These tips are even more important given the pandemic and economic hardships our society is currently facing. According to the newest McKinsey report on the pandemic, more than one in four women are contemplating downshifting their careers or leaving the workplace. If that were to be the case, the strides made over the past decades would unravel completely. A fate that we need to actively avoid by empowering women at all levels on the corporate ladder.
Sources: GreatBusinessSchools | Harvard Business Review | Guider | PayScale | McKinsey Women in the Workplace 2019 | McKinsey Women in the Workplace 2020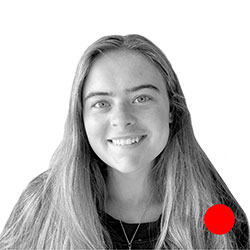 About the Author:
Lily is a content market specialist writing for GreatBusinessSchools a site that gives business students a portal that tells them everything they need to know before they commit to a business education.