July 12, 2019
When we talk about Industry 4.0 and the incredible advances that it is bringing to the manufacturing industry, much of the discussion has been centered on how connected equipment or other technologies, such as additive manufacturing (AM), are delivering value to the production process. This perspective makes perfect sense considering the obvious importance that utilization and agility has on the business operations of an original equipment manufacturer (OEM).
However, while the Industrial Internet of Things (IIoT), big data, cloud computing, and other advancements all provide unprecedented benefits, such as faster access to critical data and operational flexibility, there is another part of this story that should not get lost in the discussion, and that is the impact these technologies are having downstream, on sales and marketing teams, and their ability to flawlessly execute at all stages of the sales cycle.
Downstream Impact on the Sales Cycle
Technological advancements in manufacturing have led to an increase in the pace of innovation and commercialization. Direct sellers and channel partners now have more products to put in front of the customer. This solution diversity can help flatten out sales spikes, but it also means that sellers have more information to absorb, and effectively communicate, in a single sales call. In addition, as OEMs become more flexible, customers are demanding more unique solutions that are outside "core" product offerings with which sellers are most familiar, increasing the potential for confusion. Finally, new entrants are using modern manufacturing technology to gain a foothold in markets historically held by established players. This increased competition is forcing companies to change how they develop and talk about their business models. Traditionally, companies sold a "product at a price" but increasingly they are building contracts based on performance outcomes in order to associate their products more closely to a customer's business. This means commercialization teams need to update and coordinate messaging across the enterprise.
Ironically, as investments are made in digital transformation, the trickle-down effect is to slow down the sales cycle, which puts the gains that were realized upstream at risk.
Shifting Dynamics for Sales and Marketing
Let's face it. Industrial B2B sales and marketing processes have never been the model of efficiency. This is especially true with larger, diversified industrial manufacturers that have thousands of SKUs and volumes of sales material that go with them. Collateral is often hard to locate because it lives across multiple platforms including hard drives, email, thumb drives, or in the cloud. Locating this content takes up valuable selling time. Does this sound familiar? A seller keeps a constantly evolving 100+ page PowerPoint deck on their computer, which they have compiled over many years, often with mis-matched formatting and corporate branding, from which the rep pulls their top 20 slides for an upcoming presentation. Marketing has little, if any, visibility to what the customer has seen, and does not know if they are getting a return on the investment they made to create sales content. "Collaboration" between sales and marketing often means panicked fire-drills the night before a customer proposal to pull together up-to-date pricing and product specs. Despite this, because manufacturers traditionally had an established production process, a set of familiar products, a manageable pace of innovation and experienced sales teams, the sales process worked. But how will this model fare in this new environment where the industry has become much more dynamic?
Empower Sales and Marketing to Work Together
Sales Enablement solutions, like Seismic Software, should also be part of a company's Industry 4.0 formula. Seismic uses cloud-based technology to increase sales efficiency and maximize marketing effectiveness and is one way that manufacturers can match up their advances in production with go-to-market execution. Sellers automatically receive messaging and materials that always contains the most updated version of product information, so they don't waste sales time searching for content. They can generate personalized materials, specific to every customer with just a few clicks, and do away with those massive "Franken-decks." And, they access this collateral wherever the customer is located. Robust analytics provide visibility to content that makes the most impact, allowing sellers to further tailor messaging and marketing to see the value of the collateral in real-time.
As products come to market faster, solutions become more complex, and customer expectations change as a result of advanced manufacturing technologies. OEMs need sales and marketing processes that can keep pace to ensure a smooth flow of the right information, at the right time, that delights customers.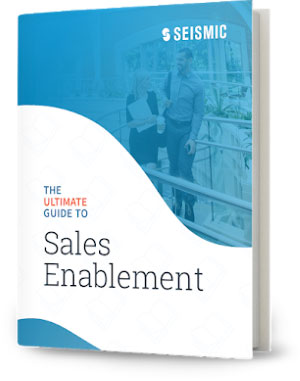 To learn more about how data and advanced analytics can be used to optimize the sales and marketing process, click here to receive The Ultimate Guide to Sales Enablement.

About the Author
Seth Werlinsky leads the manufacturing vertical at sales enablement company Seismic and has 15 years of experience in manufacturing marketing. Before joining Seismic, Seth held marketing roles at leading B2B and B2C Fortune 500 manufacturing companies including 3M and Ecolab. He is based in Chicago.