February 15, 2019

What is Mobile Commerce?
Mobile commerce (m-commerce) is a subcategory of e-commerce that involves buying and selling goods and services using mobile devices rather than computers or laptops. Originally stimulated by cell phones and personal digital assistant devices, the rise in smartphones and tablets has accelerated the growth of the global mobile commerce market.
Understanding the Different Types of Mobile Commerce
While assume mobile commerce is simply buying goods or services online using a mobile device, there are various other online transactions that fall under the mobile commerce banner
Online Shopping
Online shopping remains the most widely recognised mobile commerce transaction, where people buy goods or services online from a wireless handheld device. Almost every smartphone shops online at some stage, making this m-commerce transaction the main driving force behind the market growth.
For example, 62% of smartphone users have made an online purchase using their mobile device in the last six months alone. That number is only set to grow alongside the mobile commerce market.
Mobile Banking
Mobile banking is another form of mobile commerce. Banking institutes have embraced m-commerce and are a key component of its future, allowing customers to access information on the accounts and make quick and easy transactions and payments.
Unlike a bank branch, mobile banking is available 24/7 and all processes are completed. Customers don't need to waste time visiting branches and waiting to be seen, while banks also cut costs by reducing visits to branches.
It is estimated that by 2019 mobile banking will overtake online banking, showcasing just how significant the future of mobile commerce is.
Mobile Payments
Not to be confused with mobile banking, mobile payments is the process of using a mobile device to pay for a good or service. Rather than using traditional payment methods such as cash or credit cards, mobile payments allow consumers to use their smartphone to pay for goods and services, both digitally and physically.
Mobile payments are perhaps one of the more overlooked aspects of mobile commerce but could facilitate some of the most significant changes in the future. From replacing credit cards to creating new points of sale in retail locations, the future of mobile payments is a core component of the growth of the mobile commerce market.
Why is the Future of Mobile Commerce so Important?
The future of mobile commerce looks positive. As consumer habits evolve, so too must those of retailers and service providers looking to remain ahead of the curve. Any commerce business that isn't fully embracing mobile commerce as part of their future is certain to fall behind their competitors.
There are More Mobile Users Than Ever
The most obvious reason that the future of mobile commerce is so important is because mobile ownerships continues to grow. For example, by the end of 2018 55% of the world's population – approximately 3.2 billion people – had internet access.
Of those 3.2 billion people, a staggering 2 billion are smartphone owners. This is only set to increase in the coming years. Current predications see smartphone ownership growing by 25% each year over the next five years, meaning that over half the world will have internet access and a smartphone.
As you can imagine, that means a huge increase in mobile commerce activity in the near future, so businesses need to be fully prepared to accommodate the growth and enjoy the benefits of doing so.
Mobile Browsing is Overtaking Desktop Browsing
The convenience of browsing the internet with a mobile device is clear to see. Instant access to the internet and simple to use applications mean that internet users are mostly sticking to their smartphones when browsing online.
For example, the average time spent browsing on a smartphone is 87 hours per month, more than double the average of browsing on a desktop, which is currently 34 hours per month.
Mobile Ecommerce Sales are Continually Rising
As more people use their mobile devices to browse the internet, mobile commerce sales will naturally increase, with consumers using their preferred device to shop online and complete various payments.
In fact, the figures are showing this trend as it occurs. Mobile ecommerce sales current account for over a third (34%) of all ecommerce sales and the number continues to grow. Research by Signal-boosters.co.uk shows that by 2021 it is predicated that mobile ecommerce sales account for more than half of all ecommerce sales (54%).
To give some perspective to these figures, the global retail ecommerce sales in 2018 totalled $2.860 trillion, so literally billions of dollars of worth of transactions occurred using mobile devices. Mobile commerce isn't just the future of ecommerce – its very much the present.
Mobile Devices are Influencing Consumer Habits
Both online and physical shopping habits are being influenced by mobile devices. Currently 1/3 of our buying decisions are directly influenced by a mobile device. When people are considering buying something online or in-store, a third of these decisions are influenced by extra info gathered on smartphones.
For example, imagine you are in a store and thinking of buying a television. There is a massive chance you want more information before spending the money, so you check the internet on your phone for more info such as features, reviews, and prices at other shops and websites.
These habits are only set to grow in popularity as more people have access to smartphone devices. In fact, it's a hugely popular process with people shopping in physical stores, with around 80% of shoppers checking their mobile phones for product reviews, price comparisons, and alternative store locations.
Mobile Commerce Growth is Already Impressive
We may be looking towards the future of mobile commerce but by looking at the present we can already see how impressive the growth has been. For example, in 2017 mobile commerce reached $700 billion in revenue in the USA alone.
This is more than 300% growth than the previous four years. How that exact figure looks in the coming years remains to be seen, but anyone not looking to take advantage of the growing mobile commerce market is certainly limiting their opportunity for success.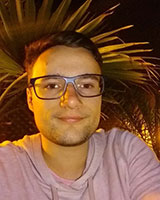 Sean Price is the community manager at Signal Boosters UK, he has a passion for working out and healthy eating, and when not in the gym enjoys cycling, swimming and rugby.