February 19, 2019
Let's face it, the task of running integrated marketing activities has never been as complex as it is in 2019. From online to offline, Chief Marketing Officers are – as a recent Forbes article states – held responsible for driving revenue through marketing.
While digital marketing can be a tangible way to prove value, organizing and running it effectively takes time and resources. From finding the right channels to setting up, monitoring, and constantly optimizing digital campaigns, marketers are often at risk for putting too much time into manual labor.
This is where marketing automation comes into play. The end-game is to make your digital run in a dynamic manner where you only have to pay attention to the big trends instead of menial details. While marketing automation can sound complicated and scary, it is all about selecting a few key software solutions that do the dirty work for you.
Email: Making Customers Feel Like You're Ever-Present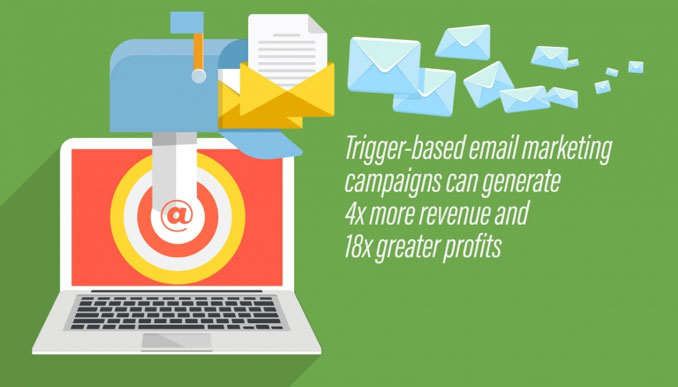 Automating your email marketing is one of the best ways to make sure that you're communicating with your audience in a consistent manner. Email marketing is highly profitable from a revenue point-of-view, as long as you're setting it up to mirror your audience's needs.
Before you start mailing away, make sure you have the basics covered. Having a business email is paramount to looking professional. A brand-specific email builds trust, brand awareness, and credibility. It also has an indirect impact on the eventual purchase decision as people are more inclined to do business with companies they deem as credible.
Next, let's take a look at trigger-based email marketing. It is an automated process where you respond to a customer action (downloading an ebook, subscribing to your newsletter, signing up for a service, abandoning a cart) by sending an email or a sequence of emails.
You'll still need to write the emails – just once. After you have the flows set up for whatever serves your business, you can just leave things running. Remember to make your email flows personalized to different use cases as more than 75% of email revenue is made from campaigns that are not generic.
Automation on Paid Search and Social
A good rule of thumb is to automate repetitive campaign operations on search and social. For example; if you are selling products or services online, chances are that you are running customer acquisition and retargeting campaigns on paid social channels like Facebook and Instagram. In these instances, you would be using a Facebook Pixel (a snippet of code) that tracks site visitors and matches them to Facebook users. This allows you to set up automated campaigns that retarget users with ads of products they recently saw without having to lift a finger – handy!
Similarly to social, you should also look into paid search automation. From bidding (ie. how much you want to pay for your ads) to setting customized rules that work like this: "if X happens, do Y" basis, you'll be running high-performing ads in no time.
Some of these automation workflows are available on the native tools the platforms offer, while others may require you to use an additional software provider, such as a Facebook Marketing Partner to access advanced automation.
The Basics of Creative Automation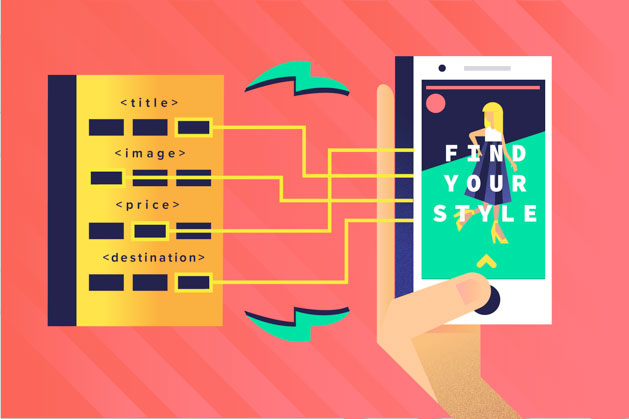 Creative is one of the building blocks of sustainable campaign performance and eye-catching visual storytelling can set your company apart. Yet, those much-desired conversions will come if, and only if, you refresh your campaigns with new creative assets on a regular basis. Why? You want to avoid ad fatigue where your audience is so used to seeing the same ad that they tune out and scroll on.
Creative automation is all about setting the rules, overlays or templates for how your ad will be composed, so that it can be generated automatically based on those rules. Let's say you're an e-commerce advertiser running a promotion for women's shoes. You could set an overlay that says "All Shoes -20%" and then apply that style to every single shoe in your offering automatically, without having to manually create each ad. What's better, changes to these templates are reflected in real-time, so you won't have to go in and re-upload your ad creatives after the edits.
When it comes to marketing automation, the options and solutions are endless. It can seem overwhelming at first but fret not; think about your core business and how your audience will best find and buy your products. Are you offering a service that requires you to guide your buyer through a journey? Consider starting with email. Are you a budding e-commerce company with beautiful product imagery? Think about combining Facebook ad buying with creative automation. Start small, scale your successes and learn from any mishaps that you may encounter along the way.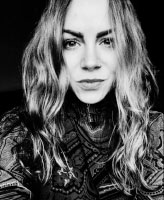 Christine Göös is an award-winning marketing and creative leader with a decade of experience in integrated advertising.