Volume 3
| Issue 1
| Year 2007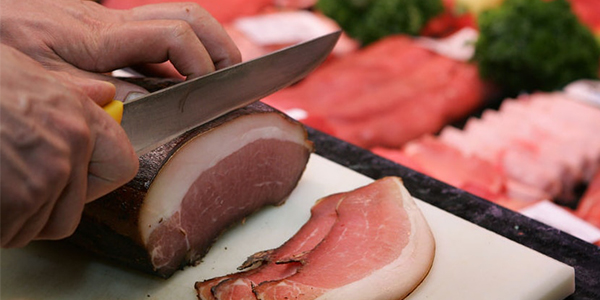 It began with individuals providing a basic service of holding vegetables and meat products in cold storage facilities, migrated to the National Frozen Food Locker Association and culminated with the American Association of Meat Processors. From 1939 to present day, in whatever configuration, the idea of preparing, cutting and packaging meat in a cold environment has gone hand in hand with the association's goal to further the operations of meat processors across the United States.
It essentially began in 1908 when H.K. Eames of Chico, Calif., operated the Chico Ice & Cold Storage Co. and offered farmers the facilities of his plant for storing their fresh meat. In 1917 Eames added another room with a chopping block and set of butcher's tools, but the farmer had to do his own cutting, wrapping and placing of meats in the locker. Other businessmen followed this trend and within a decade, cold storage locker establishments were diversifying their businesses, offering more services that included chilling and aging carcasses under controlled temperature and meat-cutting and wrapping services to maintain the quality of the finished product. Curing and smoking services were also offered under controlled temperatures and sanitary conditions and performed by experts in the meat industry.
On Dec. 7, 1939 the first Annual Convention of the National Frozen Food Locker Association was held in Des Moines, Iowa. Subsequent shows in the following decades focused on various meats, such as ham, bacon and sausage.
At its 34th Annual Convention in 1973, the membership unanimously voted to change the official name to the American Association of Meat Processors (AAMP) and adopt a new logo.
Today, the American Association of Meat Processors is an international organization whose members include meat and poultry processors, slaughterers, caterers, food service companies, wholesalers, retailers, suppliers, and co sultants to the meat and poultry industry. Currently, AAMP has over 1,500 members. There are 33 state, regional, and provincial associations of meat processors that are also affiliated with AAMP. A majority of our members are small and very small businesses, with most family-owned and operated.
AAMP's role is to provide information and support to small and very small meat processing establishments. The association provides a wide variety of information to the industry through consultation with the membership on government rules, regulations & legislation, meat processing validation, inspection/food safety, business management, public information, Hazard Analysis and Critical Control Point (HACCP)/Sanitation Standard Operating Procedures (SSOP), educational opportunities, and meat processing & production.
AAMP's goal is to be a one-stop source of assistance to very small and small volume meat industry businesses. AAMP strives to make sure that governmental regulations don't put this sector of the meat industry out of business. Everyone involved in the meat industry has food safety as the number one priority, but at times over zealous legislators and consumer groups avoid recognizing the economical impact certain regulations may have on the meat industry.
The largest issue that has affected the small and very small meat industry consists of the implementation of Hazard Analysis and Critical Control Point (HACCP)/ Sanitation Standard Operating Procedures (SSOP). This occurred less than 10 years ago, when meat inspection converted from command and control to self-regulation. On the horizon, we see issues such as food defense, humane handling of livestock, animal identification, and increased protection from pathogens of concern.
Looking toward the future
AAMP holds an annual convention located at different locations throughout the United States. This year it is being held in Milwaukee, Wis. from July 12-14. The convention provides an opportunity for meat processors in the same type of industry to interact, attend educational sessions, compete in a processed meat competition, and view technology at the exhibition hall.
There is no doubt that the future holds more regulatory authority in its midst. AAMP will be involved in regulatory actions to voice the opinion and thoughts on behalf of the small meat industry. The small meat processing industry is a large portion of the agriculture sector of the U.S. economy and the AAMP membership will diversify as necessary to remain a portion of that sector.
Jay B. Wenther, Ph.D. is executive director of the American Association of Meat Processors. For more information regarding this year's convention, please visit http://www.aamp.com/meetings/convention.asp; also visit: www.aamp.com