Manufacturing is one of the biggest industries across the globe, reaching and impacting not only sectors far and wide, but also billions of people. In the UK manufacturing is immensely important, producing $177 billion of its economic output in 2016alone. It's no surprise that it is the ninth largest manufacturing giant in the world.
Maintaining this global position and staggering profits are the 2.7 million jobs that make up the manufacturing workforce in the UK, coming to 8% of the nation's total employment. From operating machinery in large manufacturing plants as a safety technician, engineering products for a new car or managing the chemical transformation of materials, job diversity is huge in this industry and spans across other sectors such as retail, automotive and information technology to name just a few.
But out of all these employees, which are the most valuable?
Ultimately, companies are looking to have the highest revenue per employee as possible, as this illustrates high efficiency levels and productivity rates. Revenue per employee, calculated by dividing a company's revenue by their current number of employees, is therefore one of the most effective ways of determining the success of a company.
Vero Solutions examine the most successful manufacturing companies in the world and their employees. Including the likes of Apple, Ford and HP, which global giant has the employees that produce the most amount of money for them?
Companies with the highest revenue per employee: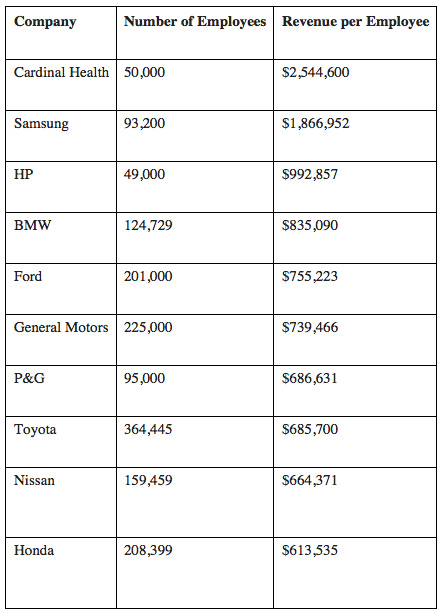 Cardinal Health have the most valuable employees in the industry, followed by Samsung
This healthcare company comes out on top for having the most valuable employees, not only in revenue, with each individual worth an impressive $2,544,600 but also arguably in the services they provide. Ranked in the top 25 of Fortune 500's list, this global company work towards improving patients' experiences within the healthcare industry by ensuring supply chains are moving as quickly and efficiently as possible and also by bettering areas such as pharmacies, hospitals and clinical laboratories.
Cardinal Health are taking the world of healthcare by storm with just 50,000 employees, a figure that stands out as surprisingly low compared to the world's other most successful manufacturing companies. For example, Foxconn have a whopping one million employees, 20 times the size of Cardinal Health's workforce. Interestingly, Cardinal Health's employees are worth 19 times more than those at Foxconn, who are valued at a comparably low $135,150.
Samsung comes in at second for the most valuable employee, with each worth a high $1,866,952. This South Korean multinational electronics company beats the likes of Sony, whose employees are worth almost half that figure at $539,252 and Apple, whose employees are the least valued out of the data, at $108,740.
Automotive Giants
In the EU, there are a whopping 12.6 million people employed in the automotive sector. Within this figure, there are 3.3 million high-skilled jobs in automotive manufacturing, which represents an impressive 10.9% of the EU's manufacturing employment But which automotive giant takes the crown for being the company with the highest revenue per employee?
The answer is BMW Group, with each individual employee worth $835,090. BMW Group have a total of 124,729 employees worldwide, who are the workforce that drove the company to sell 305,685 vehicles in 2017 and reach over 140 countries.
What's interesting is that just like Cardinal Health, BMW Group holds a low amount of employees compared to other manufacturing giants, and in fact has the smallest workforce out of all the automotive companies analysed in this piece. The likes of Volkswagen have over five times the number of employees compared to their German competitor, at 626,715, yet their revenue per each individual comes in at $367,535, nearly $500,000 less than BMW. Other automotive companies are similar, like Toyota who has a workforce of 364,445 yet revenue per employee is $685,700.
Whilst BMW Group ranked 10th in terms of revenue in 2016 compared to other automotive manufacturers across the globe – including Toyota Motor, Volkswagen and Daimler – their employee worth remains the highest by a significant figure.
How much is each employee worth at your company?
About the Author
Tim Young, Director of Vero Solutions.
Vero Solutions provide advanced location technologies to enable the tracking of people, assets and inventories, with the aim of helping customers improve the efficiency and safety whilst reducing the cost of their procedures.