As manufacturers push to digitize the factory floor, it's essential to extract the right data from the processes to drive positive results.
The past year and a half has placed a spotlight on the improvements needed in global supply chains. It has also tested the resiliency of manufacturing processes and highlighted the vital importance of digitization and data on the shop floor.
Some manufacturers proved to be up to the task and thrived by adapting to the rapidly changing environment. Others that were not as flexible have struggled.
The one element that made the difference between manufacturers sinking or swimming during this turbulent time: embracing digitization and data. When done right, digitizing a factory can deliver incredible results. On the other hand, there can be many pitfalls and false starts that companies need to avoid in order to make a successful transition.
Manufacturers need to be aware of several critical success factors for transforming their business with data and digitization efforts. If they adhere to these best practices, they can see tremendous success with digital transformations.
Don't Get Lost in Data
One good practice is not to get lost in datasets. A single production line can generate more than 70 terabytes of data per day, which equates to enough information to fit inside of five million phone books. So instead of aimlessly searching through mountains of data looking for insights, analytics and other teams should begin the process by defining the problem that needs to be solved and go from there.
While it might be tempting to dig through data stores to find potential jewels, more often than not this ends up being a productivity drain and a waste of time. Instead, it's better to figure out how data can enable the team to make lasting changes that will benefit customers from a quality, on-time delivery, or production standpoint.
Once the team has a specific problem in mind, parsing the data for a solution becomes much more focused.
Create a Plan
Another best practice is to develop a data and digitization plan. This is too big a shift to undertake without a comprehensive blueprint in place.
Manufacturers should spend 30% of the time thinking about how data can help solve a specific problem. Then, they should spend another 30% of time figuring out where the data to solve that problem resides and yet another 30% of time driving improvement based on that new data. Ideally, they should only spend 10% of the time on technical implementation.
The focus should always be on finding ways to extract information that helps drive business improvement in real-time without latency.
Invest in Training
Manufacturers need to turn raw data into action through training. People are the key to taking vast amounts of raw data and turning it into actionable information. And yet, the people leveraging the tools are among the most overlooked but critically important aspects of any technology adoption. Having humans in the loop is just as important as moon-shot approaches that drive closed-autonomous prescriptive controls.
This is especially true when it comes to digitized manufacturing. Therefore, manufacturers must invest in training that allows their employees to optimize technology investments and implement training programs that focus on system thinking, including broad uses of Artificial Intelligence (AI) and Machine Learning (ML). AI and ML can help humans make timely decision and detect trends faster, and more importantly, find anomalies that can lead to bad trends.
It doesn't make sense to spend $10 million on hardware and software if a company does not invest in its employees to operate solutions with intelligence. Training comes in many forms, including step-by-step manuals, on-the-job training where workers can get hands-on experience with machine interfaces, and even simulated environments where they can work in a virtual environment without risking production line interruptions. Digitizing traditional training content like this can help deliver the immersive experience en masse.
Training programs must also put a focus on system thinking. For example, if an employee changes one machine, that can negatively impact equipment down the line and potentially disrupt downstream production. Having an understanding of the full system is paramount.
Democratize Data
During the pandemic, many support workers at manufacturing companies were forced to stay home, and the people on the shop floor were responsible for leveraging insights from the digitized processes.
Because factories are constantly moving ecosystems, it is not feasible for employees at home to analyze data and suggest improvements based on the information. After the fact does not work in a manufacturing environment.
That's why it's essential to democratize access to data and empower every employee in the organization to leverage the insights to drive meaningful change. This can have far-reaching and powerful results for companies' customers as well as their internal processes.
Modern Manufacturing
Digitizing manufacturing facilities is no longer a nice-to-have capability; it's essential for competing in today's business environment. Those companies that have lagged in digital transformation efforts are rushing to catch up. A recent 2021 State of Manufacturing Report showed that 91% of manufacturing decision-makers are increasing their investments in digital transformation this year.
When digitalization is done right, manufacturers can see many benefits, including leveraging real-time data, ramping up production faster, delivering better customer experiences, optimizing processes, increasing productivity, and enabling more intelligent, faster decision making. As the adage goes, "necessity is the mother of all invention." Re-inventing the entire supply chain as a "digital supply chain" has started to show some real breakthrough benefits that will only continue to grow.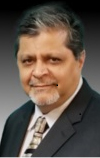 About the Author:
Murad Kurwa is vice president of the Advanced Manufacturing Engineering Group at Flex, the manufacturing partner of choice that helps a diverse customer base design and build products to improve the world.
Mr. Kurwa is responsible for helping drive the innovation engine that push Flex's advanced manufacturing practices forward. He has held various leadership roles at Flex, including vice president of Engineering Services, director of Product Innovation and others.
Mr. Kurwa also spent time at GE, Kateera, Manufacturing Services Limited, Micromodule Systems, Matheson Semi-Gas, Raychem (now Tyco Electronics) and Firestone Development Center.
He holds a master's degree in business administration and a bachelor's degree in chemical engineering.