Volume 22
| Issue 4
| Year 2019
Click here to read the complete illustrated article as originally published or continue below to read the text article.
The effect of a country's national image on its home-grown brands and the economy as a whole is now widely acknowledged. In a global marketplace, it is one of the most important assets of any state, encouraging inward investment, adding value to exports, and attracting tourists and skilled migrants.
For the past 15 years, the Brand Finance Nation Brands report has provided key benchmarks for diplomats, tourism boards, trade agencies, nation brand consultants and managers. The study analyses the benefits that a strong nation brand can confer, but also the economic damage that can be wrought by global events and poor nation brand management.
Brand Finance Nation Brands
In this year's study, released in October 2019, we have observed the nation brands of developing economies are growing 30 times faster than developed ones. The average year-on-year nation brand value growth among the developing economies stands at 13.9%, compared to as little as 0.4% for the developed economies.
Nation brand values of most developed economies have contracted or stagnated year on year. Japan is a notable exception with 26% growth, but even so – it is only the 15th fastest-growing nation brand this year, behind many developing African, Middle Eastern, Asian, and Latin American nation brands. Consistently with previous years' trends, 11 out of the 20 fastest-growing nation brands of 2019 come from the Middle East and Africa, with Ghana (nation brand value up 67%), Uganda (up 56%), and Egypt (up 50%) in the top 5.
Although catching up, at US$37.8 trillion – the combined nation brand value of the 65 developing economies in the study remains far behind that of the 35 developed economies – which sits at US$60.3 trillion. Topping the ranking again this year is the United States with a nation brand value of US$27.8 trillion.
China is, however, closing the gap behind the US, the difference in value between the two nation brands has dropped from US$12 trillion last year to just over US$8 trillion in 2019. The dominance of these two nations seems unwavering despite being at loggerheads since July last year in a bitter trade war, with tariffs imposed by both sides on billions of dollars' worth of imports and exports.
Japan has overtaken the UK to become the fourth most valuable nation brand (brand value US$4.5 trillion). In spite of predictions that its economy would suffer in the face of a global slowdown, Japan has been able to reap the benefits from its solid consumer spend and high levels of business investment. As the tech powerhouse economy of Asia, Japan is progressively forward-thinking and outward- looking, protecting itself amid global uncertainty. Championed by Abe and Trump, the Free and Open Indo-Pacific Strategy supports and promotes connectivity and free trade in its own right. However, the nation's 'super-aging' society is certainly something the nation will have to contend with in the future with increased pressures on the social and health services.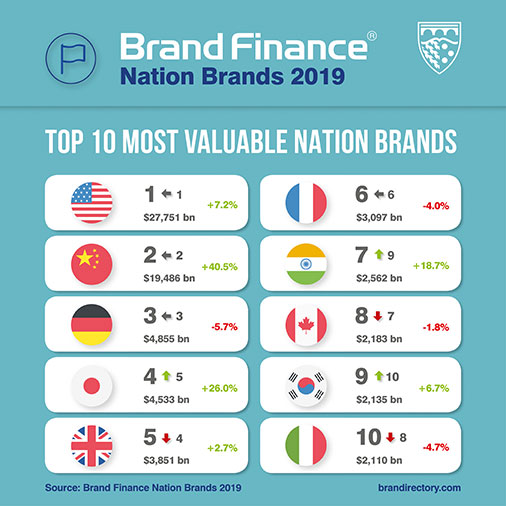 The coming year will be particularly interesting to observe the shifts on the global stage, with the Western world seeing a real crisis of leadership on both sides of the Atlantic, the developing world is catching up. Bolder, more agile, increasingly innovative African, Middle Eastern, Asian, and Latin American nation brands are racing ahead at breakneck speed, poised for further growth in the years to come.
Location Brands Can Boost Corporate Brands
Location branding is a term encompassing nation, region and city branding and marketing, through which local and global businesses strive to create visual, emotional, and perceptual connections with locations in order to effectively market their products and services.
The concept of location branding stems from the idea that places evoke strong emotional connections that are highly effective in conveying characteristics and perceptions associated with the location.
Sweden's reputation as a global design capital, the precision of German engineering, and Japanese efficiency, or Italy's reputation in luxury fashion are perceptions and associations that countries have earned and established for themselves through a history of performance in the field over the years.
Global businesses have leveraged these perceptions to form the basis of their marketing efforts and brand identity. Founded in 1943 in Sweden, IKEA is now headquartered in the Netherlands (and before that in Denmark), however product development is still headquartered in Sweden and IKEA is purposefully, closely associated with Sweden in its advertising. The iconic IKEA logo encompasses the yellow and blue in the Swedish flag, IKEA stores serve Swedish meatballs and each product is named after Swedish towns and villages, people and other applicable Swedish words. Similarly, in today's global landscape, production and manufacturing of iPhones and iPads has little connection with Silicon Valley as most Apple products are now made in China, rendering the relevance of the 'Made in' label for their marketing futile. Apple has since cleverly started labelling their products with "Designed by Apple in California".
A recent study conducted by Brand Dialogue, a public relations agency part of the Brand Finance Plc group, on British geographical indication (GI) brands validates the view that location branding can drive positive perceptions about brands. The study revealed that for GI brands, having a geographical indication fares well with British consumers. Phrases associated with protected status skew positive with "Authentic" (66.2%) and "Premium Quality" (62.2%) receiving the highest scores, followed by "Preserve Traditional Methods and Culture" (50.6%) and "Something to be Proud of" (49.6%). The two lowest-scoring phrases were "Only for Special Occasions" (8.6%) and "Rip-off" (4.4%).
Flexing Soft Power Muscle
Public diplomacy efforts within the realm of soft power should be treated no differently from developing a corporate and marketing strategy of a nation brand. A successful nation branding campaign will help create a more favourable and lasting image among the international audience thus further enhancing a country's soft power.
Essentially, soft power is a country's ability to influence the preferences and behaviours of various actors in the international arena (states, corporations, communities, publics etc.) through attraction or persuasion rather than coercion.
With the combination of Brand Finance's analytical experience in evaluating brands and our sister company Brand Dialogue's core capability around content, communications, diplomacy and PR, we are creating a new Soft Power Index launching in 2020 that Brand Finance will run annually, incorporating authoritative published data together with new proprietary survey research.
In this time marked by change, it is more important than ever that governments, trade bodies, and businesses take steps to ensure that their nation brand is strategically appropriate and well-managed.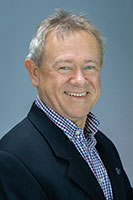 ABOUT THE AUTHOR
David Haigh is the CEO and founder of Brand Finance, the world's leading independent brand valuation consultancy. Every year, Brand Finance puts 5,000 of the world's biggest brands to the test, ranking the strongest and most valuable. David has represented the British Standards Institution on the international working party which published the first standards on brand valuation (ISO 10668) and evaluation (ISO 20671).
For more information on Brand Finance or to access their rankings and reports, visit Brandirectory at www.brandirectory.com or email enquiries@brandfinance.com.