Finding and qualifying trusted PPE suppliers as companies struggle to deliver in the face of crushing competition.
By Stephany Lapierre, Founder/CEO of Tealbook
No one could have predicted the sudden, tremendous impact of COVID-19 on companies, individuals, and markets worldwide. Supply chains have been under intense pressure as they struggle to adapt and maintain inventory control. In some cases, these organizations are fighting to uphold vendor management in uncertain conditions. In other cases, enterprises are pivoting to produce what the world needs, often upending their usual production plans.
In addition, the scarcity of personal protective equipment (PPE) has been a significant issue for organizations that need their employees to work safely in dangerous environments. Rapidly identifying and qualifying trusted suppliers is a critical supply chain management concern in times like these. Business leaders have to be agile and demonstrate creativity in order to face these new challenges.
Decision-makers must have access to trusted supplier information before they can make important decisions to support their business. Without it, organizations lose the ability to be agile when supply chains become overrun. This is especially true where product and service suppliers are involved. In most enterprises, supplier information is stored across disparate functions and systems. This fragmentation is a barrier to informed decision making and prevents businesses from leading with confidence.
Without trusted supplier data, buying organizations may find themselves in a state of paralysis. Up until now, the only substitute for actionable supplier data was staff time and effort, and companies don't have either of those things right now. Even if the time and effort could be invested, most enterprises will lack information that is complete, timely and trusted to make decisions that influence billions of dollars of business decisions. This uncertainty can lead to friction, lost opportunities, and even failure. Without trusted supplier information, making informed decisions during this time is impossible.
One of the many advantages of having an agile supply chain management mindset is being able to rapidly switch gears in response to market changes. This prepares teams for the continuously changing conditions like we see today. Companies with large North American manufacturing capacity, such as Brooks Brothers, are now shifting their production lines to make PPE. This requires internal changes, but it also requires access to suppliers that are not part of their typical supplier base. These companies are working in uncharted territory, and they need all the support they can get.
Conventional wisdom teaches us that supplier relationships should be fostered over several years and through deep evaluation. Making such a sudden shift requires a great deal of industry insight and immediate knowledge about who can provide goods and services that meet specific standards.
For example, we have all heard about the demand for N95 masks. In most cases, assembling the parts and materials is relatively easy for large manufacturers. The hard part is that an N95 mask requires 8 layers: spun-bond polypropylene and hydrophilic plastic, cellulose with copper and zinc ions, melt-blown polypropylene, more spun-bound polypropylene, aluminum, steel, spandex, and polyurethane. It is actually the polypropylene which makes the mask N95 grade, meaning that it removes 95% of air particles because of the 0.1-micron holes in the material that block larger particles. Acquiring these materials is complicated and requires a diverse array of suppliers.
The current response effort also includes auto manufacturers who are switching lines to make ventilators and brewers and distillers that are switching production from liquor to hand sanitizer. Each of these organizations is sourcing new, important materials that will make their way to the front line of the fight against COVID-19.
As these companies locate critical materials in the supply chain, they can help other similar manufacturers access the same sources of inventory, putting critical supplies into the hands of those who need them most in the shortest amount of time. This is truly a global and cross-industry effort.
Manufacturers that are willing to shift their facilities to produce PPE must still meet regulated quality standards. The ideal option is being able to source materials locally in the short term while fostering international trade relationships where necessary.
While no one can control when a crisis will happen and how the market will respond, supply chain management teams do have options. Here are a few things your team can do to prepare for future disruptions:
Build a solid supplier data foundation that provides actionable visibility into your existing and potential supplier base.
Automate data enrichment to focus skilled resources on high value and strategic initiatives.
Plan for and identify secondary and tertiary suppliers, locally if possible as it will minimize the likelihood of potential disruptions.
Prepare your team for continuous change so that they can quickly adapt in all circumstances.
Foster collaborative relationships with key suppliers and actively leverage their support during hard times.
Good quality supplier data enables supply chain teams to foresee opportunities and gaps ahead of a crisis, just as much as it allows them to take informed action when the unexpected happens. Now is the time to resolve supply chain and inventory management gaps and identify value creation partners so that we can fix the problem of enterprise supplier data in time for the next crisis.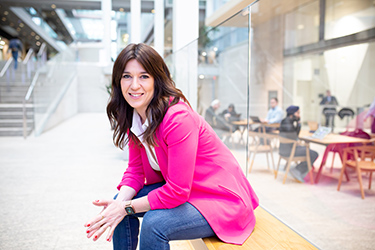 Stephany Lapierre, Founder/CEO of Tealbook
Stephany Lapierre is the founder/CEO of Tealbook, a highly coveted supply chain thought leader, and one of the most influential minds in emerging data technologies. She has been recognized as one of the Top 100 Most Influential Women in Supply Chain, and her company, Tealbook, has both been named a Top 50 company to watch by Spend Matters and won the Cool Vendor Award by Gartner. Prior to Tealbook, Stephany spent 10 years building a successful strategic sourcing and procurement consulting firm focusing on large scale sourcing optimization projects. Given her experience and visibility into the data issues crippling procurement she has made it her mission is to deliver a 'Trusted Source of Supplier Data' to an ever-growing eProcurement space. Currently, Tealbook is the only Big Data company that provides a self-enriching and self-maintaining mechanism to fix enterprise supplier data, forever.