Volume 22
| Issue 3
| Year 2019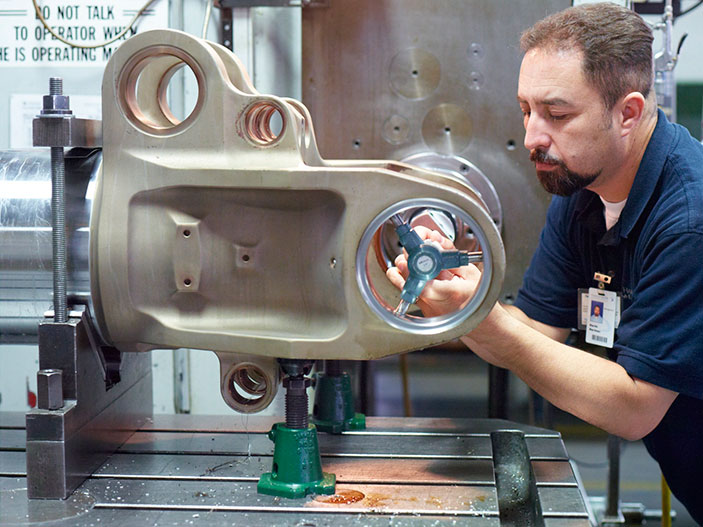 Click here to read the complete illustrated article as originally published or continue below to read the text article.
When you're the leading independent landing gear maintenance, repair and overhaul (MRO) provider in the Americas, and you're owned by the leading provider of MRO and modification services for civil and special mission aircraft in the world, you may think there's little room for improvement. However, despite its front-runner status, on the cusp of its 40th anniversary, U.S.-based Hawker Pacific Aerospace is gearing up for a major change to its business with a novel product line that promises to alter the company's bottom line not to mention the entire landing gear MRO segment.
Responding to Requirements
Established in 1980, Hawker Pacific Aerospace boasts roots that stretch all the way back to the dawn days of modern aviation. Harry George Hawker was a daring Australian test pilot and aircraft designer who, in 1920, co-founded H. G. Hawker Engineering alongside partners that included British aviation pioneer Tom Sopwith, creator of the legendary World War I fighter plane known as the Sopwith Camel.
After various decades, migrations and transformations, Hawker's namesake company was resurrected near the Bob Hope Burbank International Airport in Sun Valley, California. Following years of growth, in 2002, Hawker Pacific was acquired by Lufthansa Technik AG, a subsidiary of the German Lufthansa Group. Comprised of 30 companies that employ more than 26,000 people on three continents, the group carries out maintenance, design and production for more than 800 civil airline customers around the world. Upon its acquisition, Hawker became an integral part of Lufthansa Technik's Landing Gear Division, a global network consisting of a trio of companies specializing in landing gear MRO. In addition to Hawker Pacific, the other two Lufthansa Technik subsidiaries are located in London and Lufthansa's home base of Hamburg.
Over the years, Hawker Pacific has garnered a solid reputation and robust profits by focusing on becoming the top provider of specialized high-tech MRO services in the Americas. It's achieved this feat through a winning combination of competitive pricing, quick turn-around times and high quality customer service that prizes transparency, inspires confidence and anticipates clients' needs. Indeed, it was this commitment to always do better by its clients that led to the development of the company's new product line: the MRO of landing gear components.
According to Benjamin Strauss, head of product line parts at Hawker Pacific, two major factors inspired this new line. The first was customers' requirements. The second was the company's realization that it was no longer able to suitably respond to these requirements.
A Systemic and Sales-Centric Approach
"Traditionally, we were always focusing on maintaining and repairing landing gear," explains Strauss. "But sometimes we'd have customers with other demands, who would want us to provide MRO for other parts. Because these components were part of the landing gear family, we'd perform these services, but we didn't have a systemic approach because everything was done in accordance with the clients' landing gear account. As a result, the components came in and we didn't really give them the attention they deserved. They'd be repaired, but it could take a long time."
All this has changed with the 2019 launch of Hawker Pacific's new landing gear component line. "What we have now is accountability," says Strauss. "We've developed a sales approach. We have a dedicated sales staff, account managers, after sales and a dedicated workshop geared exclusively to this line. What we realized is that this isn't just a niche, it's a demand of the market."
The market in question consists foremost of the company's existing customers, who will be able to take advantage of Hawker Pacific's services for more of their overhaul needs. Up until now, clients sent their landing gear to Hawker Pacific while shipping out related components to other companies. Now, equipped with a larger portfolio, the MRO provider becomes more of a one-stop shop. Aside from taking this classic cross-selling approach with longstanding clients, Hawker Pacific also intends to court new customers, including those tied into competitors' contracts, but without MRO support for individual parts.
In addition to new airlines, Strauss envisions luring American companies that focus on buying whole aircrafts, tearing them down and selling the parts individually. "These broker companies won't sell landing gear to a shop, but they do sell individual pieces," he explains. "To have these pieces overhauled and then certified by us would give them a lot of marketplace value due to our reputation as a Lufthansa company, renowned for very high quality and technical standards. In return for our services, they can sell the parts easily, and for a good price, on the market."
Increasing Efficiency and its Local Footprint
If this idea seems simple, it's also – true to the spirit of Harry Hawker – somewhat pioneering. Currently, no other MRO operator in the segment offers this service in a structured way. Instead, airlines have two imperfect options. They can take their components to a landing gear supplier for repair, but often at the risk of being left behind because there's no dedicated focus to the line (as was previously the case at Hawker Pacific). Alternately, they can take their parts to a more general component supplier who lacks specific expertise in landing gear.
Although Hawker Pacific only rolled out its new component line in April, initial reactions from clients have been overwhelmingly positive. "Clients really appreciate the operational aspect," says Strauss. "They've particularly felt the impact in terms of turnaround time. Whereas our average turnaround time for these products used to be 110 days, we've managed to reduce it to 65, which represents a considerable improvement".
Also set to improve is Hawker Pacific's bottom line. With the implantation of this new line, the company plans to double its business over the next year, with expected annual revenues doubling from $10 million to $20 million (total revenues for 2019 are expected to be around $60 million). Initially, the company has no immediate plans to invest in new equipment. Instead it's banking on finding efficiency gains to fuel most of its growth, by harnessing existing resources – both human and equipment – to their maximum potential. Having achieved this goal, the company plans to add additional manpower and equipment to support growth under a new structure and management team.
Such aims are in synch with Lufthansa Technik's larger strategy of increasing its local footprint by being more present via its global units than via its headquarters. In keeping with this new approach, Hawker Pacific is growing this footprint in the U.S. at the same time that it's aligning itself internally with its two sister companies in Hamburg and London. The result is a streamlining of business between the three landing gear specialists, each aspiring to serve all global regions in the most efficient manner possible.
"Since 2017, it's been much more about collaboration," confesses Strauss. "Although we all offer the same service, we all have different technical capabilities and operate in different markets. There's been a huge focus on working better together instead of as three independent companies. On every level, we've been promoting and encouraging experience transfers, not just in terms of upper management, but also lower management, the leads, the shop floor. We do this via individual workshops and on-site meetings as well as a lot more video conferencing, phone calls and e-mails. The goal is for everyone to know their counterparts, to exchange best practices and learn from each other."
This new collaborative approach has already brought multiple benefits to Hawker Pacific, both within and outside of the company. In a segment where customer relationships are perhaps more fundamental than ever before, these transformations have had a positive impact. "The upshot of all these changes is that our customer relationships will be significantly strengthened and improved," says Strauss. "And, through the feedback they've given us, our customers have let us know that they really appreciate that we're changing."