Emerging centers supported by digital infrastructure and talent pipelines are poised to be the places for manufacturing jobs of the future.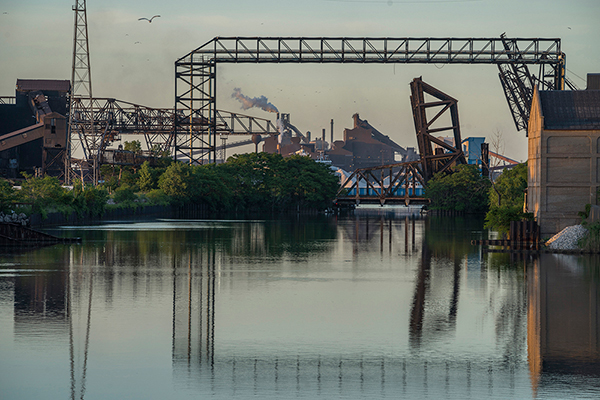 The Fourth Industrial Revolution has been a hot topic in manufacturing circles for some time. We've explored many of its facets: what the future of work will look like, how we can harness new technologies and why innovative solutions can help companies come out ahead. However, rarely do we consider where this flurry of activity will occur.
Alongside the COVID-19 pandemic, the Fourth Industrial Revolution continues to reshape the calculus of global economics. As of March 2021, the US Bureau of Labor and Statistics reported that while the 6% unemployment rate and the number of unemployed persons (9.7 million) changed little in March 2021, both measures are much lower than their April 2020 highs. However, they still remain well above their pre-pandemic levels in February 2020 (3.5% and 5.7 million, respectively). The manufacturing sector, in particular, has continued in an upward trend, reaching 5.2% in March 2021 as compared to 4.3% at the end of 2020.
As a result of the pandemic, many employees today have more freedom to choose where they live and work, causing a mass exodus from metropolitan areas like London, New York and Silicon Valley. To track these new centers of innovation, researchers at Cognizant's Center for the Future of Work looked at the qualities that drive their appeal to the new generation of workers. Diverse as they are, these places have in common an appetite to promote modern opportunities that are supported by digital infrastructure—the jobs of the future.
The 21 Places of the Future report reveals places primed to blossom in the next 100 years and includes the key drivers of each city's success. This analysis shows three locations that are flourishing thanks to their digital-first approach to innovation.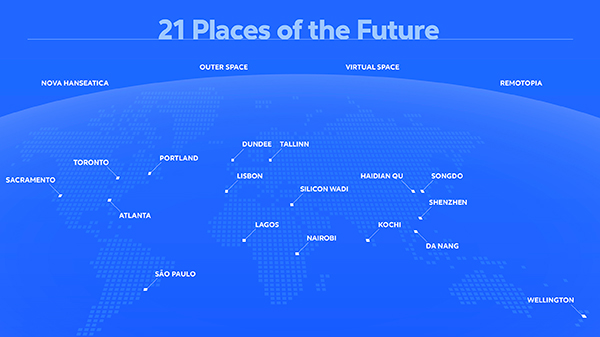 Shenzhen, China: Investing in the Future
Known as a city for electronics manufacturing, Shenzhen is commonly known as the inexpensive manufacturing hub for China and the world. Over the past 40 years, the city has transitioned from a manufacturing operations hub to a world-renowned innovation hub—a place that does not just copy and mass-produce products but also innovates and ideates.
Shenzhen's economy surpassed Hong Kong's for the first time in 2018 and shows no signs of stopping. Recognizing the transformation, government officials have pledged a multi-billion-dollar effort to make the city a trailblazer of entrepreneurship and creativity through focused efforts around R&D, emerging industries, public services and sustainability. Take leading enterprise Huawei as an example: the company's R&D expenditures reached 131.7 billion yuan ($20.3 billion USD) in 2019.
In the spirit of entrepreneurship, businesses in Shenzhen have perfected the art and science of bringing a new product from design to market. What takes months or even years in other cities takes weeks in Shenzhen. Between its open-source ecosystem, collaborative culture and abundantly inexpensive electronic parts, everyone has access to the know-how of building new prototypes. This mindset originates in part from "shanzhai" – a Chinese phenomenon of copying and improving the original products, giving a new definition to innovation.
Atlanta, Georgia: Cultivating Diverse STEM Talent
Home of the Georgia Institute of Technology, Georgia State University and Emory University, Atlanta boasts a steady pipeline of highly qualified graduates in the technology field. CBRE, the largest real estate and investment firm in the US, ranked Atlanta 7th on a national scale for total tech-degree completions, making it the 9th largest tech talent market in the US. This, in addition to Atlanta being home to the headquarters of 30 Fortune 1000 companies, has created an extensive, skilled engineering workforce of both creative recent grads and experienced talent.
With these new workers fueling innovative companies, Atlanta has cultivated a reputation as a hotbed for tech, startups and corporate innovation. Thus, when Silicon Valley companies began to commit to long-term remote work arrangements as a result of the COVID-19 pandemic, Atlanta became an increasingly desirable destination for tech workers.
Another unique aspect of Atlanta's workforce is an unprecedented level of diversity. Atlanta's rate of employment for minorities in tech is higher than 25%, according to the Brookings Institute, whereas Silicon Valley is a mere 6%. The combination of inclusivity and tech creativity leads experts to believe that Atlanta will soon become a mecca for innovation, attracting new and diverse companies and people for years to come.
Kochi, India: Prioritizing Health and Wellbeing
While there are many popular tech cities in India, Kochi offers a mellow alternative. Known as a popular port city in the past, Kochi is now distinguished by its natural beauty, green spaces, sustainability and high quality of life.
Part of this is due to how the city measures economic success. Instead of using GDP alone, Kochi takes education, healthcare and life expectancy into account with a method known as the Kerala Model. With its focus on human development indices, the Kerala Model expanded the definition of growth and propelled the state to higher literacy levels and life expectancy. Borrowing from this model, governments and businesses can introduce new key metrics to keep tabs on the overall well-being of citizens and employees.
As we look to Industry 4.0 and how to best implement the technology at our disposal, leading cities like Shenzhen, Atlanta and Kochi can provide a blueprint for best practices for ways to support tomorrow's technology and manufacturing workforce. Human-centric policies and cultivation of local talent will continue to attract diverse, highly-educated people to these geographic areas and diversify where innovation will happen in the future. The next generation of workers is already gravitating toward hotbeds of innovation and enjoyable areas to live like these.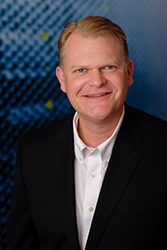 About the Author
Robert Hoyle Brown joined Cognizant's Center for the Future of Work in 2014. Since that time, he has worked extensively with the Cognizant Digital Operations practice as head of market strategy, and also with Cognizant's Business Accelerator leadership to drive the development of its intelligent automation strategy, messaging and go-to-market outreach.
His research emphasis has been on the topics of robotics, automation, privacy and augmented reality and their impact on business processes.
He was the lead author on the Center for the Future of Work whitepapers "The Real Reality of Augmented Reality" (2019), "Every Move You Make: The Future of Privacy in the Age of the Algorithm" (2018), as well as "Augmenting the Reality of Everything" (2017). He was also a co-author of "21 Jobs of the Future: A Guide to Getting – and Staying – Employed Over the Next 10 Years" (2017). He is also the managing analyst for the quarterly Cognizant Jobs of the Future Index. His work has been regularly featured on Axios, Huffington Post, and Forbes.
Prior to joining Cognizant, Robert served as a Managing Vice President at Gartner, Inc. both in the US and London. In addition to his career as a strategist and research analyst, his experience has included positions at Hewlett-Packard as well as the British House of Commons.
Robert is a fellow at the Fisher Center for Business Analytics at the Haas School of Business at UC Berkeley. He currently belongs to the board of directors for Big Skills, Tiny Homes, a nonprofit tiny homes vocational initiative in local high schools. In 2018, Robert was an Action Forum participant at the Aspen Institute.
He holds a BA in History from the University of California at Berkeley and, prior to his graduation, attended the London School of Economics as a Hansard Scholar. He resides in Marin County, California.