Volume 23
| Issue 1
| Year 2020
Click here to read the complete illustrated article as originally published or continue below to read the text article.
A dollar saved is a dollar earned.
Time is money.
Put those two very old adages together, and you can see why more and more businesses are looking to tolled highways, bridges, and tunnels for the reliable mobility they depend on for inbound and outbound freight.
Every entrepreneur knows that if business is the beating heart of America, highway shipping is the circulatory system. If the arteries and blood vessels get clogged, the heart gets more and more stressed. In the end, it just shuts down.
Now imagine a miraculous new treatment that could clear those arteries and get the system running smoothly again, with no side effects to speak of. What would you be willing to pay for a reliable circulatory system that kept your business alive?
Would you see it as an expense or an investment? Especially if the dollar you spent brought you savings in staff time and other overhead that went straight to your bottom line?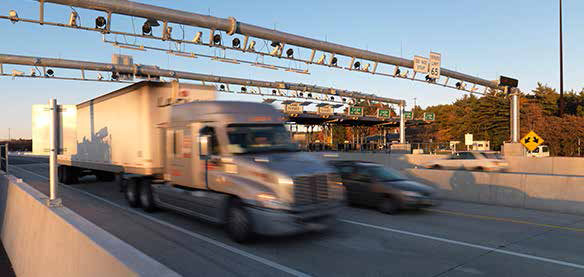 Put Your Business in the Picture
Take a minute to put your own manufacturing business in the picture. Every company has its own cost structure, but the Council of Supply Chain Management Professionals puts freight logistics costs at eight percent of America's gross domestic product. If your shipping and receiving costs are in that general range and your margin on sales is, say, three percent, what's it worth to you to have a far larger share of your shipments run on time? And how much more would you have to boost your top-line revenue to get the same bottom-line result?
Now you have a picture of why tolling is emerging as a solution for America's most congested urban corridors, and one of the country's hottest transportation trends.
The Highway Next Door
The cost of bringing raw materials in, sending finished goods out, and covering employees' travel time on the road is one of the factors manufacturers consider when they're deciding where to locate a new production facility. For Australian-based recreational vehicle manufacturer Furrion, LLC, a toll road made a difference in the decision to move its headquarters to Elkhart County, Indiana in 2016, bringing dozens of high-paying tech jobs to the area.
Furrion "is really a high-profile company," a county economic development spokesperson said. Proximity to the Indiana Toll Road was "part of the reason they chose the site. That site, being so close to the Toll Road, they really want to build the type of premiere facility that is going to attract attention."
The official stressed that the new Furrion would be "more than a manufacturing site," with a strong accent on research and development. "You will see a lot of need for engineers, people who can create product. These are higher-paying jobs."
And Indiana isn't alone. In its blog post on the Indiana announcement, IBTTA cited similar stories in states like Virginia, Pennsylvania, Ohio, Florida, and Texas. In 2018, the Association of Equipment Manufacturers listed on-time deliveries as a reason to invest in modern highways. And a year earlier, Tim Stewart, Executive Director of Colorado's E-470 Public Highway Authority, traced the massive economic benefits the road had delivered to the regional governments that brought it into being.
"E-470 has produced a $38.4-billion increase in real estate value along the corridor since 1986, and the road accounts for 12% of the annual economic activity across the six-county Denver Metropolitan Statistical Area," Stewart said. "That's outstanding, but it's not unusual. It's just what tolling does for a local or regional economy."
From a highway user's standpoint, he added that "no one should ever just build a tolled facility without demand. It has to be linked to people's willingness to pay, and the reason they're willing to pay is that there's an identified need. There's an economic opportunity."
Not Your Grandparents' Toll Road
To really tap into that opportunity, there's one quick, perceptual shift to get through: Tolling is a solution to highway congestion and a powerful driver for America's 21st century economy because we're not talking about your grandparents' toll road.
IBTTA Executive Director and CEO Patrick Jones recalls the days when it was news to drivers and decision-makers when he insisted that "yesterday's toll roads were stop and wait, but today's tech-enabled tollway is go go go". It's been years since he's had to make that argument— because by now, most drivers have come to expect all-electronic tolling.
"Some of us still remember having to line up at a toll booth and deposit a coin or token in a bin," he says. "But anyone who has tried to navigate through a congested urban corridor, or pass seamlessly between two or more express lane systems, has experienced the powerful benefits of cashless, all-electronic tolling in real time."
And that ties in with something the modern tolling industry has known for a very long time. "Seeing is believing, and our member agencies have realized that the more their customers experience the benefits of tolled infrastructure, the more they like it," Jones says. "It's an incredible relief to know that you can get to work on time, plan a reliable schedule for freight deliveries, or cut through rush hour traffic in time for a day care pick-up or your daughter's soccer game."
The Road Ahead
Just as tolling technology drove the last big leap in highway mobility, the private operators and public agencies that run America's toll roads are working hard to turn the next wave of disruption into an advantage for anyone who relies on a tolled commuter lane or freight corridor.
"It is an amazing time to be in the transportation industry," said IBTTA's 2020 President Samuel Johnson, Chief Operations Officer for the Transportation Corridor Agencies (TCA) in Irvine, California. "One of the big opportunities is our industry adjusting to the demand for consumer convenience, driven by Mobilityas- a-Service and changes in vehicle ownership."
More broadly, "the reality of groundbreaking technologies, micro transportation services and consumer influence dictate that transportation professionals think differently about the future.
The tolling industry, in particular, has to give thought to new payment models, customer changes and its solid business model of delivering and maintaining infrastructure, with the reality that money still doesn't mean we can build our way out of congestion. Balancing these aspects in the new era may push our agencies to broader thinking and participation in the overall success of mobility, with user fees playing a central role."
Five Minutes = $105 Million
Tolling agencies have also been paying attention to the converging trends that touch on freight logistics—from skyrocketing demand for heavy-duty trucks, to a growing shortage of skilled and available driers, to the urgent need for reliable freight routes. In 2014, local media in Tampa, Florida reported on a tolled connector between Interstate 4 and the Selmon Expressway that saved truckers so much time they could fit an extra load into their work day—showing that time is money for freight carriers as well as the customers they serve.
"Even with a toll required to take the connector, the time saving makes it a worthwhile route," the Tampa Tribune reported at the time. And "once modifications are made to the old truck route…even more tractor-trailers will begin using the connector."
And then there was the simple, practical equation we heard in 2014 from United Parcel Service Vice President Pat Thomas, then serving as chair of the American Trucking Associations. "If every one of our drivers sits in traffic for five minutes every day, that costs our company $105 million a year," he said at the time.
"The worst [highway] bottlenecks are very problematic for our members, as well as the motoring public," he added six months later, in an address to IBTTA's 82nd Annual Meeting and Exhibition in Austin, TX. "So there is a value proposition to doing some different things that would move traffic along at a better rate."
Investing Now to Save Later
No road (or Internet connection or cell phone plan) is ever free, and that means the best way to deliver on Thomas' value proposition is to invest now in the roadways we'll need tomorrow. The United States faces a multi-billion dollar shortfall in highway infrastructure investment, with little appetite for the public investment or associated tax increases that would clear the backlog. That reality makes tolling an important tool in the toolbox to get dollars flowing to highway maintenance and reconstruction— which is the surest way to keep freight traffic flowing for businesses.
"One of the best moments for our industry is when we hear genuine, heartfelt success stories from business operators and drivers who are surprised and thrilled that tolling made such a difference for their day-to-day operations," Jones says. "It really reinforces what we already know: We don't toll for the sake of tolling, we build toll roads, bridges and tunnels to serve a purpose, to provide free-flowing mobility that keeps our country and communities growing and vibrant."
And for the manufacturers along that road, the efficiency of tolled infrastructure might be the difference between completing and billing the order or missing the opportunity.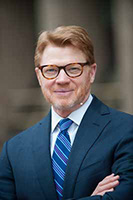 About the Author
Bill Cramer has 30 years of experience in communications, public relations, marketing, government relations, politics and development – all focused on creating a message and delivering that message to various audiences. Cramer has worked in the association industry for more than 15 years, in the private sector for 12 years and throughout, with all levels of government. Currently, Bill serves as communications director for the International Bridge, Tunnel and Turnpike Association (IBTTA), where he manages a team of communications consultants, directs all internal and external member communications and is responsible for leading the strategic development and implementation of the association's Moving American Forward Campaign.