July 15, 2019
By: Peter Ceribelli, Vice President of CETCO
For sites that contain PFAS contamination' there is a choice regarding their clean-up strategy: either continuously treat the impacted water or address the contamination at its source.
The de facto approach has been the former: to treat the impacted water rather than the source of the PFAS contamination. However, this approach is often costly and relies on an extended or indefinite timeframe to meet remediation objectives.
Treating contaminated water is a never-ending cycle as it continually attempts to manage only the end effects rather than address the root cause of the PFAS problem. In addition, co-contaminants in the waste stream can adversely impact the efficacy of selected treatment solutions. This impact requires more frequent change out of the treatment media, which increases costs and extends the completion schedule.
FLUORO-SORB® adsorbent, CETCO's proprietary, NSF-certified product, offers significant potential improvements in cost effectively treating PFAS contamination at the source. This unique product effectively stabilizes contamination sources and minimizes further migration of the contamination beyond the source area.
Unlike many sorbent products, FLUORO-SORB® adsorbent binds the entire spectrum of PFAS — including PFOA, PFOS, PFHxS and PFNA — efficiently and can be effectively integrated into most remediation strategies including in-situ stabilization and solidification (ISS) for source zone treatment. It can also serve as a flow-through filtration technology for drinking water and/or groundwater applications, as a Permeable Reactive Barrier (PRB) for passive groundwater or within a CETCO® REACTIVE CORE MAT® composite geotextile for sediment capping.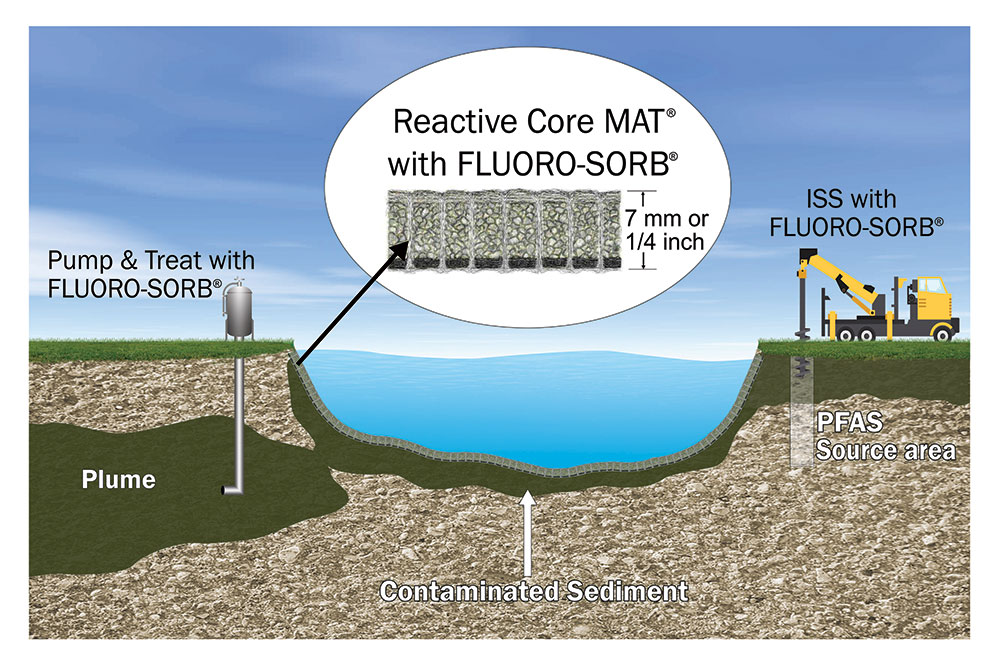 The road to development
Developing an effective source control solution has traditionally been difficult. Identifying the source zone and the hydrostratigraphy that drives plume distribution has been imprecise. And even when the zone could be accurately determined, measuring PFAS itself poses challenges, as existing methods only capture a small percentage of the likely chemicals present. As a result, remediation effectiveness has been difficult to measure, with a clear determination of what was and what remains ambiguous at best.
Traditional adsorption-based solutions remove PFOA and PFOS from water (variants of PFAS), though they are only modestly successful at removing short-chain PFAS and variably charged polyfluorinated precursors. Additionally, their deployment has been primarily used in pump-and-treat systems only.
Not either-or. Both.
That's where FLUORO-SORB® adsorbent presents an important new option. In addition to being deployed either as an in situ or ex situ media, FLUORO-SORB® adsorbent can also be combined with traditional technologies as a pre- or post-treatment media. As we developed FLUORO-SORB® adsorbent, we recognized that widely used adsorbent media perform other essential filtering functions yet FLUORO-SORB® adsorbent could assist with much of the "heavy lifting" when it comes to PFAS and other contaminant removal. By doing so, we can help extend the life of other more costly treatment media and provide a more cost-effective treatment solution.
Compliance today and tomorrow
The market needs new, innovative solutions for contaminated water clean up. PFAS research is at an all-time high, bringing this emerging contaminant into the spotlight across the globe. The U.S. Environmental Protection Agency (EPA) along with many states and communities on the local level are actively considering new regulations as public understanding and interest continues to rise.
FLUORO-SORB® adsorbent offers stakeholders a versatile and cost-effective solution for treatment of PFAS with the ability to scale into a viable source control solution. A much-needed solution for today and tomorrow.
Peter Ceribelli is the Vice President of CETCO, a subsidiary of Minerals Technologies Inc. Peter has over 35 years of experience in the manufacturing, engineering, consulting and construction industries and manages the company's Building Materials and Environmental Products Businesses. He can be reached at peter.ceribelli@mineralstech.com.