Dr. Ronald L. Hollis, President & CEO, MFG.com
2018 offers many unique opportunities – and challenges – for small and midsized manufacturers (SMMs) in the US.
Following years of offshoring our manufacturing base, we now face choices to reemerge and revitalize that base. A booming economy and business-friendly legislation have created an environment of optimism and allowed new thoughts of how to capitalize to grow businesses, pursue new technologies, and expand to new markets.
But where are those opportunities? What works best for a large manufacturing plant with 60 machining centers won't, and shouldn't, apply to a small 7-person shop with 3 machines. Revenue and resources demand a scaled, creative approach.
At MFG.com, we work daily with hundreds of SMMs vying for new work and customers. The capabilities that define the successful SMMs are striking, and these are the trends we see that can give them the sustainable, scalable, and more competitive edge in 2018.
Skills Gap
Finding qualified manufacturing talent in 2018 is a seller's market – the qualified manufacturing employee is in charge. SMMs face the full force of competition for talent, often lacking the flexibility to offer the benefits or perks of larger manufacturers. SMMs can look to partnerships with local community colleges or high schools to help nurture and steer the naturally-gifted to their businesses. Creating a culture that attracts and retains new talent gains importance, especially in the younger Millennials that strive for more out of their work life than just a salary. Training and skills qualifications will emerge as attractive incentives in 2018.
Additive Manufacturing Technologies
While most applications of Additive Manufacturing (AM) have been experimental or for creating prototypes over the past two decades, that trend is rapidly changing. According to Modern Machine Shop's recently published 2018 Top Shops report, 37% of the highest functioning SMMs in the US have adopted AM in their shops (up 19%). But of those, 74% are found to use AM to "3D-print tooling or fixturing for their own use on the shop floor." While prototyping services can open a new revenue stream for SMMs, the biggest value can be the savings of time and money in other creative applications. The cost of AM technologies has decreased significantly and is very affordable for the serious manufacturer.
Automation
For SMMs, automation is a means to an end. Too often, suggestions or technologies are presented with larger manufacturers in mind that simply overlook the limitations of smaller shops. Fortunately, in the current market, the accessibility and affordability of automations tools is prevalent. There are incremental and affordable automation options that can make real differences in a small manufacturer's efficiency and how it's perceived by potential customers, including work-holding & handling, pick and place, tool changing, and other multi-tasking operations. SMMs have many resources to choose from for advice and help with single-machine automation solutions – tooling suppliers, equipment providers (new or used), and those that repair machines or CNC controls. Smart automation can ease the labor burden and offset a skills shortage.
Processes, Processes, Processes
Measuring efficiencies is becoming more of a requirement for SMMs that want to grow their businesses in 2018. With the improving economy, many buyers are rethinking their offshoring postures of the last decade. But while they're open to suppliers of closer proximity, their requirements for performance and reporting haven't changed. Data is no longer a luxury – it's mandatory. SMMs must embrace this reality and look to assembling and providing customers with more data regarding cycle times, demand maintenance, and delivery. The single best place to start is at the CNC control. Many SMMs overlook the power of a CNC in data recording and focus solely on making the part. SMMs that begin providing more data, more evidence of improvement, and better governance of their machining processes will find more receptive prospects and long-term customers. Along with the data, the business must have consistent, proven, documented procedures to ensure that every project is handled in the optimum way for consistency and efficiency.
Services
Processes and data are part of a bigger opportunity for SMMs. Gone are the days of delivering parts alone. The sale isn't the end of a process – it's the beginning of an opportunity to differentiate one's business from another. At MFG.com, the most common 2 complaints from buyers are (1) lack of post-sale communication from suppliers and (2) failing to follow through with services – delivery, accounting, incomplete orders, and lack of quality control. While tolerances and geometries and materials will always be tantamount to machining businesses and OEMs, the services are where loyalties are strengthened. Enterprise Resource Planning (ERP) software applications – that include financial, shipping, workflow, maintenance planning, and delivery management – can create service improvements for SMMs. The benefits of monitoring for failures in advance, improving efficiencies, and elevating the quality of data provided to a customer after delivery are easy differentiators for the manufacturer and one of the most powerful strategies to retain a customer. In short, these improvements can allow SMMs to offer many services like larger manufacturers while maintaining profitability and focus.
2018 will see more technologies available to SMMs to 'plug-in' and participate with their customers for those manufacturers willing to invest the time to assess those opportunities and apply them with the eye toward their customers. As these technologies are adopted and deployed by larger manufacturers, they will establish the 'norm' for their customers which will force the SMMs to adopt and adapt in order to compete in the future.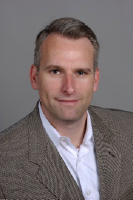 Ronald L. Hollis, Ph.D., is the President & CEO of MFG.com. He assumed the role in October 2017 with the major focus to transform the industry's leading manufacturing marketplace into the premier destination for buyers to easily discover new suppliers and manufacturers to efficiently discover new customers.
He is uniquely qualified for this position with over 20 years in manufacturing, both building and leading technology-based businesses for success. His passion is building organizations that can grow profitably, while developing leaders in those organizations and the community in which they operate. He founded Quickparts.com, Inc. and served as its president and CEO until it was successfully acquired by 3D Systems (NYSE: DDD) in 2011. Its novel approach to procuring custom manufactured parts has since become the industry standard. Previously, he has founded and lead various engineering and manufacturing companies, including being an early pioneer in 3D Printing technologies.
He holds a Bachelor of Science in Mechanical Engineering from the University of Alabama and a Master and Ph.D. in technology business management from the University of Alabama–Huntsville.