The manufacturing industry is woven into the fabric of our economy. It influences industries within and outside its own, bearing the weight of cross-sector expectations. Whether assembling metropolitan transportation equipment or plastic children's toys, the origin of our products, and manufacturing itself, is becoming increasingly important to consumers and stakeholders alike. As manufacturing companies adapt to new and changing demands, we see four major industry trends are rising to the surface.
TALENT
Employers created 37,000 new manufacturing jobs in July 2018 alone, according to data released by the Labor Department.[1] But even with job opportunities on the rise, the industry struggles to attract, grow and retain talent. The industry is in such a shortage that an estimated 2 million manufacturing jobs will be left unfilled by 2025.[2]
As baby boomers continue to retire in droves, employers are challenged to appeal to a new generational mindset that largely perceives manufacturing as polluting, repetitive and dangerous. Although manufacturing has one of the lowest turnover rates (2.3 percent) and highest average wages ($81,289 per year) across private sector industries, its current branding appeals far less to the largest working generation of America – millennials.[3] While this age-old industry attempts to grow its workforce, the clashing millennial career priorities have created the need for more creative hiring techniques.
Manufacturing companies are learning to focus more on early education through school partnerships and training programs, and they have had to re-evaluate benefits geared toward attracting younger employees. Employers are also looking to utilize untapped populations as a millennial alternative, such as refugees, immigrants and other non-traditional labor pools.
DIVERSITY & INCLUSION
Women are notoriously underrepresented in manufacturing jobs, making up less than one-third of the industry despite representing nearly 50 percent of the workforce.[4] There is no longer a tolerance for a lack of diversity in offices or factories.
Research shows gender diversity in manufacturing firms leads to improved innovation, higher return on equity and increased profitability.[5] Diverse perspectives, balanced management and varied backgrounds can propel firms above their competitors and provide an edge necessary to maintain growth and talent. Though the presence of women is at the forefront of most manufacturing diversity debates, racial, ethnic and disabled groups are equally lacking. For example, in 2016, 60 percent of women in the manufacturing industry were white, compared to only 18.7 percent Hispanic and 11.3 percent black.[6]
However, composing a diverse workforce only addresses half the equation. For women in manufacturing, many feel they must behave as men do to in order to grow their careers. In fact, according to a study conducted by Deloitte, 71 percent believe standards differ for men and women. To capitalize on a diverse workforce, companies are encouraged to modify business policies and practices to promote inclusion.
SUSTAINABILITY
Stakeholders and employees are increasingly interested in companies prioritizing responsible growth and condemning those that do not. In fact, 90 percent of companies believe a sustainability plan is imperative to remain competitive.[7]
In this age of maximum consumption – and therefore demand for rapid production – the manufacturing industry has a particularly important and unique role in establishing both economic and environmental sustainability. According to the World Economic Forum, the manufacturing sector accounts for more than one-third of global CO2 emissions, creating ample opportunity, and responsibility, for the industry to emerge as a leader in sustainability innovation by reducing costs and waste.[8]
Companies are challenged to re-evaluate processes such as product design, waste management and energy usage. Complying with these new requests for transparency and sustainability can reach new customers, build long-term business viability and strengthen public trust, ultimately linking sustainable investment to company performance.
TECHNOLOGY
The manufacturing industry is not immune to the world's demand for faster, easier and smarter. Concepts like Siri and Alexa are transcending the world of household appliances as artificial intelligence makes its way into the factory, along with virtual and augmented reality (VR and AR).
Manufacturing companies are using AI to implement self-diagnosing machine parts and turning to AR and VR to run preliminary tests before committing resources. A recent report by Bank of America Merrill Lynch found that more than 50 percent of manufacturing firms are implementing AR with benefits to their bottom line, such as faster assembly times and higher accuracy.[9]
But still with a need for labor, and modified employee skillsets in technology, firms are working to create an integrated approach to technology adoption. Streamlining processes to enhance the partnership between man and machine, and assure employees of their value, is top of mind in the evolving industry.
STAYING AHEAD OF DISRUPTORS
While many forces are impacting the manufacturing industry today, leaders have the opportunity to face disruption head on. By placing focus on driving talent, diversity and inclusion, sustainability and technological advances, companies can successfully navigate industry upheaval and continue influencing the growth of our national and global economies.
Bank of America Merrill Lynch" is the marketing name for the global banking and global markets businesses of Bank of America Corporation. Lending, derivatives, and other commercial banking activities are performed globally by banking affiliates of Bank of America Corporation, including Bank of America, N.A., Member FDIC. Securities, strategic advisory, and other investment banking activities are performed globally by investment banking affiliates of Bank of America Corporation ("Investment Banking Affiliates"), including, in the United States, Merrill Lynch, Pierce, Fenner & Smith Incorporated and Merrill Lynch Professional Clearing Corp., both of which are registered broker-dealers and Members of SIPC, and, in other jurisdictions, by locally registered entities. Merrill Lynch, Pierce, Fenner & Smith Incorporated and Merrill Lynch Professional Clearing Corp. are registered as futures commission merchants with the CFTC and are members of the NFA. Investment products offered by Investment Banking Affiliates: Are Not FDIC Insured • May Lose Value • Are Not Bank Guaranteed.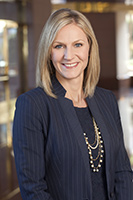 About the author:
Wendy Stewart is Co-head of the Southeast Region of Global Commercial Banking at Bank of America Merrill Lynch and Atlanta Market President for Bank of America. Based in Atlanta, Wendy leads a team of bankers, who serve public and private companies with annual revenues of $50 million to over $2 billion, to deliver the full resources of the bank.
©2018 Bank of America Corporation
[1] Bureau of Labor Statistics, 2018.
[3] U.S. Public Perception Manufacturing Study, 2017.
[4] United States Census Bureau, 2017.
[6] United States Census Bureau, 2017.
[8] World Economic Forum, 2012.
[9] BofA Merrill Lynch Global Research Report, 2017.