Volume 21
| Issue 1
| Year 2018
Click here to read the complete illustrated article as originally published or scroll down to read the text article.
American manufacturing added 196,000 jobs in 2017 and bounced back thanks to stronger economic growth around the world.
While President Donald Trump put the wheels in motion on a number of policy changes that could help manufacturing in the trade, tax, energy, and regulatory departments, most of these efforts are incomplete.
I've got my eyes on a couple of these initiatives that the president introduced last year, but remain unfinished. Here are some of the big ones.
No. 1: Meaningful Action on Steel, Aluminum and Other Imports That Threaten National Security
For years, China's managed economy has churned out too much steel and aluminum. It's now the world's leading producer of both. Most of its largest mills and smelters are state-owned, and both of its sectors are key contributors to the state of global overcapacity in these metals, meaning there's far more steel and aluminum being produced (and for sale) than there is demand for it.
Chinese manufacturers are dumping this heavily subsidized glut into the international market, and the resulting price plunge has been felt far and wide: Beleaguered factory workers have marched in Europe. There have been tens of thousands of layoffs and dozens of plant closures in the United States. And foreign governments are increasingly making it a diplomatic issue with Beijing.
This problem precedes President Trump. Near the end of President Obama's tenure his administration was regularly raising it with its Chinese counterparts, and it issued duties on specific steel and aluminum products. But it wasn't enough to solve the problem long-term.
Trump might have a long-term solution. In April 2017 he opened trade cases known as "Section 232" into the two sectors and was applauded by steel and aluminum manufacturers because 232s give the president broad authority to act. Plus, they aren't required to meet tests of injury, subsidies, or dumping.
A 232 investigation, performed by the Commerce Department, is meant to determine if the level of imports in question are threatening to national security. If that judgment is reached, the president can restrict them – be it by tariffs, quotas, or some combination of the two.
But the Trump administration needs to wrap up the reports first.
He promised quick turnarounds, but Commerce took nearly all of its 270-day deadline to complete the 232 on report on steel, and the aluminum report is nowhere to be found. And while he has the steel report in hand, the president hasn't announced any actions based on its conclusions.
Foreign manufacturers, meanwhile, have taken advantage of the delay to rush imports in before restrictions can be set in place. Steel imports were up more than 15 percent in 2017.
This case should have been finished months ago, but it was put off in favor of a run at a healthcare repeal and a tax package. So here's what U.S. steel and aluminum producers are looking for in 2018: A conclusion of these investigations with a robust defense of beleaguered American industry. It should include not only imports from China, but also from other major importers like Japan, Korea, Turkey, and Brazil.
No. 2: Movement on Manufacturing- Related Executive Orders
The steel and aluminum imports investigations aren't the only thing the administration has left in limbo. President Trump also issued a series of executive orders in 2017 for analyses of the health of the U.S. manufacturing sector. The president ordered in December a report identifying new domestic sources of rare earth minerals, for instance, and another in August on the strengths and weaknesses of the defense industrial base.
In April, he signed an order for a study of ways to improve "Buy America" government procurement policies – rules that do a great job of boosting domestic manufacturing activity and the jobs that come with it. But that report, due months ago, has yet to surface. Has the president received it? Has it even been completed? No one knows!
This hasn't gone unnoticed. Wisconsin Sen. Tammy Baldwin (D) – who represents a state with a strong manufacturing presence that swung for Trump in 2016 – has called on the president to make the report public. I'm with the senator on this one, and hope to see Trump release the report in early 2018.
No. 3: Intellectual Property Protection
China has clearly been a focus of the administration's trade policy priorities (see No. 1). Chinese imports of solar panels, for instance, were recently the subject of trade enforcement actions. But another China trade issue concerns the security of intellectual property. Back in August, the U.S. Trade Representative (USTR) launched a "Section 301" investigation to determine whether "acts, policies and practices" of the Chinese government related to "technology transfer, intellectual property, and innovation are unreasonable or discriminatory and burden or restrict U.S. commerce." It's expected the USTR will indeed find there are discriminatory practices. American companies have long complained about being forced to share intellectual property as a prerequisite for Chinese market access – and China is regularly accused of stealing trade secrets.
The question, then, is what will this president do about it. The United States long has lectured China on this subject, without extracting any meaningful change. Even some of Trump's advisers who don't favor aggressive trade enforcement are believed to be "comparatively comfortable with targeted actions against truly bad actors, as in this case."
Will Trump address the topic of IT theft? There's some reason for optimism – just last week the president said a "potential fine" against China for the practice is imminent. I'll be watching for it closely.
No. 4: A Big Infrastructure Investment Package
There aren't many policy areas where the U.S. Chamber of Commerce and the AFL-CIO come together to work on, but infrastructure is one of them.
It's not that surprising: The United States simply needs major infrastructure work. The American Society of Civil Engineers, producers of an annual review of the shared systems underpinning our country, gave U.S. infrastructure a D+ grade in their 2017 report.
The backlog of projects doesn't just mean that there are more potholes on the road and that subway trains are more often delayed – it also means the United States is less competitive in the global arena because our economic engine just doesn't run as smoothly on D+ train tracks. What's more, that some estimates say underinvestment has cost the United States up to 900,000 jobs. And it's a huge safety issue; 70,000 bridges across the country are classified by the government as structurally deficient.
There's widespread agreement, across political parties and advocacy groups, that something needs to be done. And President Trump promised $1 trillion for infrastructure during his 2016 campaign.
But while the White House maintains infrastructure is a top priority, it pushed release of its plan until after the competition of Republican tax reform and into a midterm election year. Trump's $1 trillion promise now looks a lot more like only $200 billion in seed money the administration says will help raise $800 billion of private, state, and local investments.
I'm not holding my breath. But, now that taxes are done, there's a glimmer of hope the Trump administration and his congressional allies can work across the aisle to pass a robust infrastructure investment plan. A real one would create millions of jobs, benefit domestic manufacturing, and make our economy more competitive.
No. 5: Trump-branded Items Actually Made in America
While the other items on this wish list require coordination among various government agencies and officials, the final one is a decision that can be made entirely without the input of "the swamp."
Ever since President Trump started talking about bringing manufacturing jobs back during the campaign, he's faced charges of hypocrisy as the vast majority of Trump-branded items are made overseas. That criticism has also hit his daughter, Ivanka Trump, especially after three Chinese human rights activists were arrested for investigating working conditions at factories making goods for her fashion line.
The president and his daughter are no longer involved in the day-to-day operations of their companies, but their name is still on the label. Imagine the power of a shift to Made in America production by Trump brands. It won't happen overnight, of course, but it would send a great message if Ivanka opted to manufacture some of her shoe line in America.
With elections looming in November of 2018, voters will be taking stock of the economy and how their lives and communities are faring in this new political era. Our elected officials would be well served by following through on promises made to manufacturing.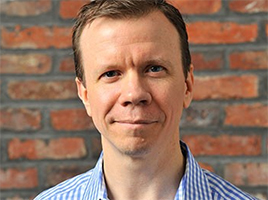 Scott N. Paul is President of the Alliance for American Manufacturing (AAM), a partnership established in 2007 by some of America's leading manufacturers and the United Steelworkers union. Scott and AAM have worked to make American manufacturing and "Made in America" top-ofmind concerns for voters and our national leaders through effective advocacy and data-driven research.
Scott has hosted more than 80 "Keep It Made in America" events, including a presidential candidates' forum on manufacturing, and has testified before seven committees of the House and Senate. He frequently appears on television news shows, and regularly blogs at Huffington Post. Scott is also a co-author of the 2013 book ReMaking America.
Scott served as a staff member on Capitol Hill at various times from 1989 to 2001. He currently serves on the Board of Directors of the National Skills Coalition and the Board of Visitors of the Political Science Department at the Pennsylvania State University.
Scott earned a B.A. in Foreign Service and International Politics from Penn State and an M.A. with honors in Security Studies from Georgetown University's School of Foreign Service. Raised in the small town of Rensselaer, Indiana, he currently resides in Silver Spring, Maryland, with his spouse Ilisa Halpern Paul and twin boys. You can follow Scott Paul on Twitter at @ScottPaulAAM and on Medium at @ScottPaulAAM.