November 8, 2019
The global productivity potential
Manufacturers are constantly caught in a battle for resources, related to both manpower and raw materials. The more they produce, the more factory efficiency can lag, especially if they are using outmoded production methods.
In fact, Sage's We Power the Nation survey – which polled 3,000 businesses globally, 12% of which were manufacturers – found more than $346 billion was lost to administrative tasks in the US alone in 2019. That is a huge opportunity lost, which is holding many companies from progressing and expanding this year and into the future.
Across the 12 countries surveyed, the average time lost to admin – such as chasing late payments, processing invoices and checking HR – amounted to 5.2% of their total time. Spain spent the highest percentage of business working hours spent on admin tasks (at 10.5%), whilst Canada only spent 1.7% of time on the same tasks. The US ranked 6th in the lineup, with 4.9% time lost to admin, and the largest monetary amount compared to all nations.
The digital skills gap
A large reason for this productivity loss relates back to digital skills and many manufacturers' hesitance to incorporate them into their business models – it's costly, time-consuming and disruptive to day-to-day operations but, of course, has a very high payout in the long-term. Of all businesses surveyed, only 61% of U.S. businesses plan to invest in digital skills to increase their profitability. In comparison to the 12 countries surveyed, the US, UK and France were the least likely to invest in digital skills in 2019 – the main reason cited was "a lack of applicability to business strategies."
Yet, the reality is that, for the first time ever, manufacturers and industry have now 5 generations in the workforce – from baby boomers to digital natives. As digital transformation continues to redefine manufacturing jobs of the future, leaders and workers alike need to embrace a work environment that blends advanced technology and digital skills with human skills. This includes collaboration platforms, work-based social media and instant messaging, along with more transformative innovations such as artificial intelligence, advanced robotics, advanced analytics and the Internet of Things. All employees should not only be educated on how these technologies can affect their day-to-day, but also seasoned on the ins and out of using them firsthand.
Who's to pay?
While Brazil, South Africa and Spain are the most likely countries to invest in digital skills in 2019, the U.S. doesn't follow a similar trajectory – only 47% see digital skills as vital to their business success. An even smaller number, 36%, see digital skills as a priority investment.
Further, many companies don't necessarily believe they should have to pay for digital upskilling regardless. In fact, 43% of medium-sized businesses and 41% of large-sized businesses believe the government should provide free digital skills training. A further 36% of medium-sized businesses and 38% of large-sized businesses claim the government should subsidize the technology.
However, while companies wait for government assistance, their competitors are furthering their revenue and bottom line, and simultaneously upskilling a workforce hungry for new information and abilities.
Back to the Future Tech
Resistance to upskilling is just as detrimental as the hesitance to adopt new technology – and therefore being on the cutting edge of what's new, shiny and lucrative. Only one quarter of US businesses are investing in smart technology, artificial intelligence, superfast broadband or 5G, a fact that is bound to put them in the technological slow lane when going up against the latest digital disruptors in their sector.
Despite overwhelming evidence as to the benefits of digital upskilling, many are reluctant or unaware of how to do so. Others insist it is a government responsibility and federal funds should be available for skills training. While they sit on their hands, competitors from home and abroad are increasingly soaring away in the battle for business supremacy.
That being said, in the next 5 years, many businesses have indicated their willingness to invest in new tech to further trade – 39% noted that AI would be the most significant factor to affect trade in their sector.
That is one major step toward reducing the administrative paper mountain that hampers personal productivity and international trade efforts. Automating menial and repetitive tasks means humans will be free to do more productive, thought-intensive and creative tasks.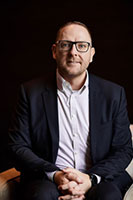 About the Author – Rob Sinfield, VP, Sage Business Cloud Enterprise Management
Robert Sinfield is a market and product strategist with a focus on identifying how, where and when to deliver intuitive, disruptive solutions that meet the ever changing technological and legislative landscape today and tomorrow.
He is the Vice President of Product for Sage Business Cloud Enterprise Management. Prior to joining Sage, Robert worked for other software vendors in a variety of roles in Product Management and Product Marketing. He brings with him more than 20 years of experience in the Enterprise space and has worked in a variety of industries ranging from manufacturing to financial services implementing enterprise software solutions in more than 50 countries.
Contact: rob.sinfield@sage.com