By Patrice Eberline, ServiceMax
But today, that's all gradually getting phased out and replaced by a new model where aftermarket service is put on equal — if not higher — footing than the product itself thanks to new technology that's shifting how manufacturers and their C-suites look at service.
I'm talking about an outcomes-based service model where manufacturers sell a business outcome versus selling a product with service attached to it. For a simple example, let's look at heating and cooling. Customers buy HVAC equipment because they want a certain temperature or environment — not because they want a giant grey box! Many of today's HVAC companies can configure their equipment with IoT sensors that can proactively send signals and alerts about the system's health back to home base. With access to this in-field intelligence, HVAC companies can better understand how the equipment performs, and therefore proactively service the machines before they break. As a result, these companies can move toward customer guarantees of uptime, or outcomes.
Another example might be solar energy. No longer must customers educate themselves on the purchase or lease of solar panels. Rather, they can simply contract with a solar company to provide a guaranteed level of energy production. If the level of energy production falls below the guarantee, the customer is compensated, all without incurring any responsibility for maintenance or repair.
Customers are happier because they get what they want — constant temperatures or predictable energy production — and they don't have to worry about monitoring the equipment or scheduling service. Manufacturers are happy because they get what they want — predictable revenue streams and stronger customer relationships.
Technology and the pace of innovation is influencing virtually every industry today, and is also enabling service organizations to have greater and greater impact on the business. Those behind-the-scenes players that are key in these advances?
Field service technicians.
From "Whack-a-Mole" to Adding Value and Preventing Risk
The field service industry isn't one that traditionally gets a lot of attention in the press. However, as our industries are transforming, so too are field service organizations, and that transformation is allowing service to become the foundation of many successful businesses.
Take what leading medical device manufacturer Elekta has done. By modernizing its operations and infrastructure through cloud and IoT, it's taken advantage of this new model to better serve its customers and their patients. Using modern field service management technology, the company is able to have valuable individual relationships with all of its customers, providing them with attention and assistance before problems actually occur.
Historically, field service organizations have operated in a primarily reactive manner. At their core, field service existed in a "respond to me" business model. For consumers, it was essentially like playing "whack-a-mole"— whichever company was quickest or most responsive to an outage or issue gained the most market share. People wanted fast, easy, painless, and immediate service that they could call upon to get back to business. "Respond to me" was the theme.
Over time customers became more service-savvy, and service delivery became more dependent upon relationships. We evolved away from the "whack-a-mole," "respond to me" phase, and moved into an "add value to my business" mindset. Traditional problem solving and emergency work has been enhanced by virtue of IoT-enabled smart machines, data gathering, and implementation of a mobile-optimized field service team. As a result, field technicians are better prepared on the details of the equipment, potential parts needed, and repair history even before arriving on the scene.
And as the Internet of Things has become more mainstream, field service companies have begun monitoring their devices and equipment to collect data, stream information, and ultimately gain insights into the health of machines in the field. As we move more into this connected world, field organizations' knowledge about their equipment will become exponentially greater — and thus their ability to predict and avoid problems for their customers. If we look into the future, it is quite possible that these new technologies will also provide data that allows R&D organizations to realize even more benefit by actually designing their equipment for ease of service.
Service as the Product
So now we've arrived at the doorstep of the future of service, where service is not seen as solely a cost center but rather a revenue and profit generator thanks to its ability to provide added value and business outcomes. Medical device manufacturer Medivators, for instance, has doubled its profits since modernizing its field service operations.
As field organizations move from primarily emergency work to more value-add work, both sides benefit. Removing the risk of downtime, removing the hassle of scheduling service, and providing outcome based guarantees is creating increasingly sticky, long-term, and mutually beneficial relationships between many field service organizations and their customers.
It isn't business as usual anymore. Today's service organizations are focused on and are providing more and more value for their customers. Whether it's simple maintenance or outcome-based service, the field service industry is one collection of people that deserve our attention a bit more often.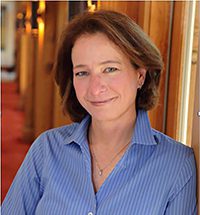 Patrice Eberline is Vice President of Global Customer Transformation at ServiceMax where she uses her years of service delivery experience working with prospects and existing customers to fully leverage the value of ServiceMax to their field service organizations.
Patrice brings over 18 years of services and leadership experience to ServiceMax, and has held key leadership roles in several fast-growing software companies. Focused on delivering high impact and long-term customer success, Patrice has a broad background in all aspects of implementation delivery, from methodology to package content, as well as creating/implementing best practice strategies for deployment, training, and adoption across large and complex organizations.
Patrice holds a Bachelor of Science degree in Business from the University of the Pacific, with special study in strategy development and conflict resolution. She is also the author of the book 'A Diamond in the Rough', providing a foundation of understanding on the domain and the impact Field Service Organizations can have.