April 10, 2018
While I've spent the last two decades in growth strategy consulting helping businesses better understand consumers to drive superior growth, the core of what I do is very oriented to a business to business context. I have a long history of working with C-Suite executives in industries of all kinds to understand their needs, find the overlap with what consumers want, and build strategy from there. All in the name of growth.
My book, Superconsumers, is based on the idea that a small group of consumers who spend a lot in the category and deeply care emotionally about it, drive an exponentially higher share of revenue, profit, growth and insights to build strategy. But the concept works just as easily in a business to business context, but is often overlooked. B2B superconsumers are just as powerful and you can use a simple 2x4x8 formula to find and unlock them to grow faster.
Executives hire consultants for several reasons. Some hire consultants to execute a strategy they have already decided on and they need either arms and legs and political cover to justify a path they've already picked (e.g., "no one ever got fired for hiring XYZ firm"). Some hire consultants to answer a specific, urgent question they can't answer and need someone with unique expertise.
But some executives have these needs and are truly intellectually curious. These leaders balance both the practical business needs, but also love to 'geek out' about strategy and consumers with me. When I talk to them, we spend half the time talking about the business issue at hand, and then half the time riffing on cool business stories of the day and how it might apply to them. I often say my role as an advisor is to have the dreams about their business they won't dare to dream and at the same time, face the nightmares they don't want to face. The executives who are emotionally engaged are willing to go there and entertain those discussions.
As you can imagine, these executives have been my best clients over time. We talk frequently regardless of if I'm serving them in a formal capacity or not. Of course, they have been valuable to me as in my day job, but their true value is their ability to make smart bets on growth strategy that have helped them drive significant growth. My 'guilt by association' with these successful executives has been the single greatest asset for my career.
These emotionally engaged B2B customers exist in every B2B category. I've met heating/ventilation/air conditioning (HVAC) B2B customers who geek out over the latest and greatest IoT for HVAC systems. There are institutional investor B2B customers who buy trading services who geek out about investing and the latest research. There are branded advertisers who want to buy advertising, but love to discuss where the direction of media is headed. These are invariably the best customers to have.
This is where the 2x4x8 formula comes in handy. This was given to me by one of my mentors, Steve Carlotti, who taught me that a productive consulting partner had two live projects to lead, four live proposals that were submitted and eight active business conversations with senior leaders who didn't necessarily have a need nor a budget, but were emotionally engaged with talking about growth.
The truth of the matter is the two and four part of the equation is highly variable on the context and is generally stuff out of your control. But having eight lively business discussions is very much something any business executive can do today.
Every B2B marketer, sales person and executive should have eight lively conversations with superconsumers in their industry, just to talk shop. Just knowing senior people isn't enough. You have to seek out the folks who like to 'geek out' about the industry. They will always take your call and want to talk shop.
The final step is to make sure you are yourself able to and willing to 'geek out' about the industry. If this is just a job and you don't really have passion for the industry, this doesn't work. I saw this often with some of my partners, who didn't really love the craft of consulting, who did not often last long in the industry. If you love the industry you are in and can talk shop in a way that you can come up with an interesting point of view in the first fifteen minutes of a conversation, you'll be well on your way to filling your 2x4x8 with a bunch of B2B superconsumers, who will in the end drive and inspire the majority of your growth.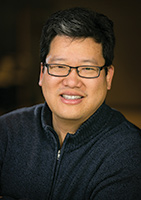 About the Author:
Eddie Yoon is the founder of EDDIEWOULDGROW, LLC a think tank and advisory firm on growth. Prior to this he was a partner at The Cambridge Group, a strategy consulting firm that helps Fortune 500 CEOs drive growth by unlocking consumer demand. His work over the past two decades has driven over $5B of annual profitable growth in consumer packaged goods, durables, robotics and energy.
Eddie is one of the world's leading experts on finding and monetizing superconsumers to grow and even create new categories. He is the author of the acclaimed book, Superconsumers: A Simple, Speedy, and Sustainable Path to Superior Growth, published by Harvard Business School Press. Superconsumers is licensed in English audio and, in addition to English, has been translated and sold in four languages, simplified Chinese, Czech, Russian, and Ukrainian, around the world.