By: Derek Rickard, Sales Manager, Cimcorp Automation, Ltd.
Each year, 5.1 out of every 100 warehouse workers experience injuries or work-related illnesses. While some are a result of accidents like trips or falls, one of the most common dangers is ergonomic injury due to repetitive, strenuous motions and physical overexertion.
Risks are particularly high in traditional facilities where employees pick and prepare orders manually. Workers spend the day performing strenuous tasks (running up and down aisles, bending and reaching to retrieve goods, moving products in and out of storage, loading pallets, lifting heavy crates and boxes, etc.). These activities put considerable strain on muscles, joints, tendons and nerves. While some injuries are minor, like sprains and pulled muscles, there are also risks for serious, long-term issues. These conditions—like repetitive stress injuries, repetitive motion injuries, musculoskeletal disorders, cumulative trauma disorders, and cumulative trauma injuries—can mean a lifetime of chronic pain.
On top of these risks, warehouses and distribution centers around the world are experiencing major labor shortages. Aging baby boomers are retiring en masse, and facilitates are often unable to attract qualified workers to fill their shoes. Considering the physical demands of material handling, it's no surprise jobseekers are less inclined to follow this career path.
For manual facilities, operational gaps left by talent shortages mean existing staff have to work harder, faster and longer, further raising their risks for injury. Facility managers can mitigate some risk through training on lifting and handling techniques and by following workplace safety regulations. But to drastically improve ergonomic conditions, they can invest in warehouse automation.
Let automation do the heavy lifting
Warehouses can invest in automation to take over the demanding tasks involved in order fulfillment. Advanced robotics controlled by intelligent software can receive, store, pick, pack and ship orders—while optimizing material flow for speed and accuracy. This includes:
Automated storage and retrieval systems (AS/RSs)
Automated guided vehicles (AGVs)
Conveyer systems
And order picking solutions…
Facilities equipped with automation run efficiently 24/7. Existing staff are no longer subjected to overexertion or required to work overtime just to keep up. Further, the right equipment can help tackle tough operational challenges, namely peak season pressures, SKU proliferation, and increased customer demands for speed.
With many facilities now exploring automation, below are a few examples of success:
Martin's Famous Pastry Shoppe, Inc.®
Martin's Famous Pastry Shoppe, Inc.® in Chambersburg, Pennsylvania previously used a completely manual process for the fulfillment of its popular bread, rolls and baked goods. Everything was picked and prepared manually, which created operational inefficiencies, as well as safety risks for staff who had to move products around the warehouse. These issues were further compounded by seasonal spikes in orders during the summer.
Martin's Famous Pastry Shoppe, Inc.® implemented an automated system that combines high-density storage and retrieval and robotic materials handling. The system rapidly moves product from storage to palletizing and loading—enabling 100-percent order accuracy and using 50 percent less space. By automating, the bakery has eliminated the safety risks of manual handling and is fully equipped to keep up during seasonal highs and lows.
Arla
International dairy company Arla was growing its product offerings. However, the dairy was hindered by outdated equipment and manual processes in its Jönköping, Sweden distribution center. Working conditions were also strenuous, as staff had to constantly lift heavy loads. Many workers experienced health problems—shoulder injuries being the most common.
Arla installed an automated system that combines buffer storage and order picking into one operation. Robots mounted on gantry frames efficiently lift the required number of crates from a stack and transfer them to an outfeed conveyor, which then transports them to dispatch. The system can access all 590 SKUs in Arla's inventory, with the number of robots easily scalable to accommodate future SKU growth. Ergonomic conditions have also significantly improved for Arla's workforce. Heavy loads are handled by automation, so staff can take on more engaging job roles supervising automation equipment.
The next generation of workers and the warehouse of the future
Like Martin's Famous Pastry Shoppe, Inc.® and Arla, facilities that automate today are preparing themselves for the future. With automation handling repetitive and dangerous tasks, facilities can elevate their employees to more sophisticated roles. This can range from supervising automated operations and advanced equipment maintenance to analyzing performance data and managing products with special handling requirements.
These engaging, tech-driven roles will ultimately draw a whole new generation of jobseekers to the warehousing industry. By implementing modern technology supervised by tech-savvy staff, your facility will be able to run better, faster and safer—and overcome any challenge that comes your way.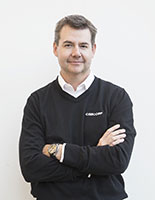 About Derek Rickard
As Distribution Systems Sales Manager, Derek Rickard works closely with Cimcorp's global customers to develop robotic order fulfillment systems designed to meet their warehousing needs. With over 20 years of supply chain experience, Rickard has worked on many of the first fully automated robotic picking systems in North America, with some of the largest ones exceeding 1 million cases per week. He can be reached at Derek.Rickard@cimcorp.com.