Serving as a key role in the Biden campaign, 2021 will bring massive changes in manufacturing – especially for technology manufacturing.
By Malcolm Thompson, NextFlex Executive Director
2021 will bring massive changes in manufacturing – especially for technology manufacturing. The 2020 presidential election brought renewed attention to manufacturing, with both candidates promising a return to American manufacturing leadership – and the jobs that come with it – as part of their platform. With the dust now settling on the election, attention can begin shifting to what Joe Biden's win and new presidency in 2021 means for manufacturing that served such a crucial pillar to his election campaign – especially now that he has begun speaking about economic recovery and bringing manufacturing jobs back to America.
It's one thing to promise a return to American manufacturing prominence but achieving it will require the President-elect to confront an increasingly impactful paradigm shift. Manufacturing's future will not look like its past, because the idea of large manufacturing plants producing bulky materials and products simply doesn't fit a high-tech world. Ensuring the future of manufacturing will require a transition to increased electronics manufacturing and other forms of advanced engineering. This growing sector already supports up to 5.3 million American jobs according to the IPC, and is only going to expand even further.
Luckily, the promise of electronics manufacturing is starting to come out from under the radar, thanks in part to two large investments in the past year from the American semiconductor space. First, a proposed $22.8 billion bipartisan support bill immediately brought new attention to electronics manufacturing like never before. Second, the world's largest contract chipmaker TSMC announced plans to build a $12 billion factory in Arizona, backed by government subsidies and set to begin production of chips in 2024, shows it has the capability to draw the attention of the biggest players in the game.
Having spent decades in advanced manufacturing and R&D, I see this inevitable shift to tech manufacturing both coming up fast, and moving to support technologies like flexible hybrid electronics (FHE), which are cost effective, lightweight solutions that can bend, stretch, twist, conform to unique form factors and adhere to a wide variety of surfaces, including skin. This digital solution will dominate heterogenous packaging and 3D integration, and the inevitable change from traditional printed circuit boards to FHE will impact a $70B+ industry.
The first step to realizing this shift is the market deciding on a solution. Getting to this point will highly depend on the application to which this advanced manufacturing is being applied (such as aviation, heavy industry, healthcare and automotive) and what materials are being used. FHE manufacturing is an additive technology, using printing on a variety of low-cost polymer substrates in a process that is highly customizable, has shorter time to market, is lower cost and is environmentally friendly. In short, it will allow manufacturing to be cost effective in the U.S. We're already seeing investments by major materials players like DuPont and Eastman Chemical in flexible electronics and materials that will be needed for FHE.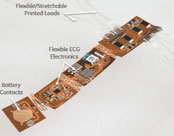 We expect the shift to happen in the medical space first, beginning with the commercialization of simpler devices like flexible Electrocardiogram (ECG) monitors where little electrical current is required. General Electric (GE) has quickly recognized that wearables are increasingly becoming the future of both the technology and health sectors, and its GE Global Research team has partnered with Binghamton University, the Rochester Institute of Technology, Infinite Corridor Technologies and NextFlex to develop flexible sensor systems for medical devices, starting with two prototype designs of wearable, wireless 3-lead ECG for clinical use. The combination of flexible substrates with a health monitoring platform will accelerate the adoption of wireless and FHE technologies in the digital health era and pave the way for more miniaturized, low cost wearables in the future. Once those medical devices are deemed to be cost-effective and proven to be as reliable as their "wired" versions, the switch is on.
The workforce is not being left behind in this high-tech shakeup, either. Companies are already making strides to ensure that traditional manufacturing hubs are included, starting with capturing the attention of high school and community college students to showcase the opportunities in the growing advanced manufacturing field. For example, companies like Boeing have already invested workforce development programs to ensure Huntsville, Alabama will be an advanced manufacturing hub in the future. Similar efforts have also been taking shape in Ohio, California, Louisiana and the Carolinas.
It may not look like the manufacturing of yesteryear, but our economy's scope and focus has shifted in that time. Continuing to invest in new technologies and processes will keep American manufacturing competitive. With companies, universities and government agencies all working together towards a common goal, an advanced manufacturing-focused system will help the new administration achieve its promised results to America's heartland and beyond.

Dr. Malcolm Thompson brings over 30 years of executive experience in the display, semiconductor, and telecom industries to his current role as Executive Director of NextFlex. Previously, he served as the Founder and Chairman of the US Display Consortium and was CTO at Xerox PARC. Dr. Thompson was also CEO of four startups during his career, raising over $300M: dpiX, makers of digital x-ray imaging systems; Novalux, providers of high power vertical cavity lasers; Vitex, makers of encapsulants for OLEDs; and RPO, manufacturers of touch systems for mobile products. Recent advisory roles include advisor to the National Academy of Sciences for flexible electronics, the Pentagon, and White House Economic Advisory Council; he was also appointed Technology Pioneer at the World Economic Forum in 2000 and 2001. Dr. Thompson received a Ph.D. in Applied Physics from the University of Brighton.
Contact:
https://www.nextflex.us
info@nextflex.us