As the rise of the electric car industry commences, the UK's much-loved SUV has jumped aboard this trend to help reduce global emissions.
With the post-Brexit pollution legislations alongside our love for SUVs, the low-emissions target will be even more difficult to achieve. Italy, who usually offset the trend for fuel-efficient cars by favouring a smaller design, will no longer benefit the UK after we leave the EU. For our SUV love-affair to continue prospering we need to begin showing a presence in the electric SUV market. With this being said, read on to discover the best electric SUV vehicles to invest in before you make the switch.
Tesla ignites electric car era
Traditionally being associated with small, streamlined, and sporty appearances, electric cars have evolved a lot since. Being the face of this stereotype however, in 2008 Tesla released the Roadster onto the market. Having the ability to travel up to 200 miles per charge, this all-electric car runs of lithium-ion battery cells to give it the power it needs. This ignited the start of a new era, initially setting the bar high.
Since then, the electric car industry has skyrocketed among the masses. As they become more affordable and stylish, coupled with increased consumer awareness of the environmental impact vehicles have, electric cars have become a viable substitute. After the British Government announced that the deadline for a ban on any new petrol or diesel vehicles had been brought forward to 2035, it is now more crucial than ever that electric vehicle production is in full swing.
The Tesla Model X quickly took the lead for being the first pure electric SUV after Tesla's original launch of the vehicle back in 2016. Although Tesla was one of its kind originally in this department, now it is faced with some fierce competition. Back in 2019, even the likes of the Nissan Leaf was outranked by the Mitsubishi Outlander as the top electric vehicle by fleet size (41,265), confirming the rise of electric SUVs.
Style icon: Mercedes-Benz EQC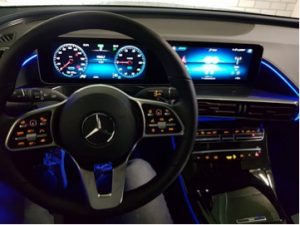 Bringing a rather stylish, silent, and sophisticated presence to the electric SUV market, the Mercedes-Benz EQC makes a statement. The Mercedes C Class vehicle satisfies all demands we, as consumers, have from an electric car — safety, style, silence, and efficiency.
At 220V, this car will charge in 41 hours, however, at 440V this car will charge in 0.67 hours. The level of flexibility this car offers is truly amazing. As well as this, the comfort of those in the vehicle and the smoothness of the drive is unrivalled.
Affordability with Hyundai Kona EV
Opting for the Hyundai Kona EV if the price and practicality is of great significance to you, is advised. With an acceleration time of 0-60 in 6.4 seconds and travelling a distance of up to 258 miles when fully charged, this car is far from shabby.
Earning the title of 2019 North American Utility Vehicle of the Year, this vehicle, although not being considered as high-tech as the more expensive models on the market, must be doing something right!
The one and only: Audi E-Tron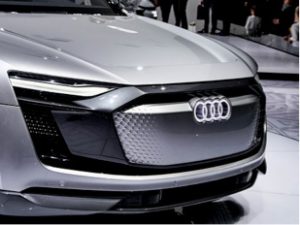 The Audi E-Tron vehicle is bound to catch your eye when shopping for the perfect electric SUV. Purchasing this car does require splashing out the cash, however in return for your dream car, it is worth the investment. With a combination of its sleek interior and ahead-of-its-time touch-screen infotainment system, Audi never fails to impress, ultimately raising the bar high in 2020.
This vehicle truly is equipped for every outcome. Allowing you to drive up to 204 miles on a full charge, having a speedy ten-minute charge time, and including a light off-roading functionality, what more is there to ask for?
The Hybrid Happy: BMW X5 xDrive45e
The BMW X5 xDrive45e is the perfect hybrid option for anyone considering the switch. Now with a battery capacity of 24kWh – up from just 9.2kWh – and including two extra cylinders and an overall more economical drive, this hybrid vehicle is the next best thing. For those who still don't feel ready to rapidly switch to a pure electric drive, but if the environment and energy efficiency are still a concern of yours, a hybrid vehicle is ideal for you.
Hardly more noticeable than a gear change, this SUV has an incredibly smooth electric to hybrid switchover. This hybrid SUVs popularity has skyrocketed with its upgrade from the previous four-cylinder form and has become one of the most highly recommended models.
There is truly an option for everyone, whatever your priorities are, now that the electric SUV market has grown dramatically in recent years. There has never been a better time to invest in an electric vehicle since the introduction of Low Emission Zone (LEZ) standards and the post-Brexit pollution legislation has led to a call for concern. Make your vehicle an SUV, especially if space, functionality, and off-road ability are among your main concerns.
Delilah Kealy-Roberts is a copywriter for Mediaworks, a digital marketing agency that creates quality content for a variety of industries. An experienced and passionate writer, Delilah specialises in technology, travel, and culture. After acquiring an undergraduate BA (Hons) degree in English Literature from the University of Leeds, she has gone on to write for many online and print publications across different sectors. She can be reached on delilah.kealy-roberts@mediaworks.co.uk.