Costs, supply chain woes and labor shortages are challenging industry and the ice industry is a perfect example of adapt or be left behind.
Manufacturing isn't easy. From finding a unique product idea to developing the first iteration and from sourcing parts to ramping up production, that's only the beginning. Then there comes building inventory, marketing to potential customers, completing sales and completing supply chains to get it in the hands of buyers. These are the bare minimum steps, and industries across the board are struggling in one area or another.
The sheer volume of products – both industrial and consumer – that move along the supply chain daily is exorbitant. All this has caused a crisis of raw material shortages holding up manufacturing while loads of already produced items sit on container ships offshore waiting to be unloaded because there was such high demand at one point. While nearly every company is feeling the brunt of this right now, those shipping from overseas are impacted more.
That's where some U.S.-based manufacturers have been able to set themselves apart in recent years. Some companies, for example, have been able to improve their local economies by creating more jobs, expanding their manufacturing presence and generating more revenue.
Additionally, they've also reduced their reliance on massive supply chains and focused on more regionalized distribution, enabling them to get product to buyers quicker – sometimes while even creating a better quality of product.
The ice industry is no different. The traditional bagged-ice model of sales is hampered by raw material sourcing for building, supply chain challenges for moving it to stores and labor shortages at locations for managing stock. That's where innovation and domestic manufacturing have changed the game for ice. Manufacturers in the space have turned to ice vending as a way of the future to overcome such challenges, and many domestic producers are getting ahead of competition.
Sourcing Parts
Every OEM is subject to sourcing parts to produce their product. A key factor in that decision is cost to produce, which often comes down to sourcing parts from overseas or looking for domestic producers. Looking overseas generally nets a more cost-effective product, however, it opens the door for challenges with getting the part to the manufacturing facility as well as the quality issues. Companies have even experienced having problems with imperial versus metric measurements, which impacts after sales service.
That's where U.S. manufacturers might have a leg up. By sourcing domestic parts, they don't have to deal with long lead times of transporting the part to the manufacturing plant, go through customs when importing and can customize the specifications easier. Additionally, parts sourced in the U.S. generally are higher quality.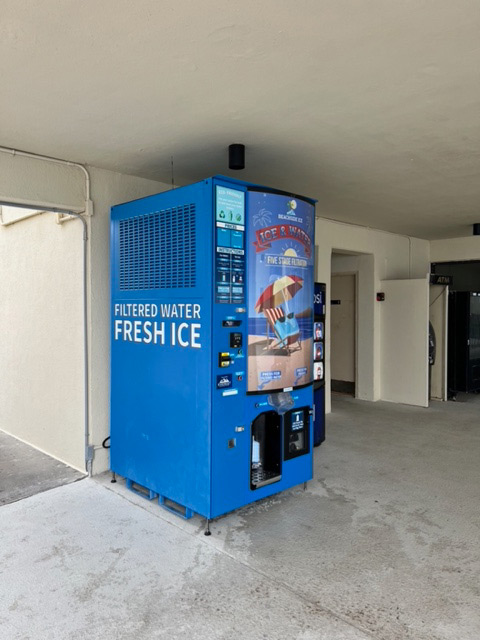 Shorting the Supply Chain
For years, bagged ice has been the gold standard for sales. However, two challenges exist with that – once ice is produced, it can sit in storage for years before it is bagged and moved to the point of sale, and it requires diesel trucks to be on the road transporting it to the end point. Not only do these hurdles insert safety concerns into sales, but the transportation of ice isn't always reliable due to the truck driver shortage.
That's where ice vending machines are flipping the script. They can be placed on site at locations such as convenience stores, campgrounds, marinas, car washes and other places where bagged ice is sold. It produces ice onsite and can regenerate levels, whereas bagged ice might run out of product. Also, it eliminates the need for trucks to move it from the plant to the sales location, which is more environmentally friendly.
Combatting Labor Shortages
Industries across the board are having trouble sourcing employees. For the ice industry, not only is it a matter of big, bagged ice plants having employees, but it's also the shortage of truck drivers to move bags to locations as well as places like convenience and grocery stores having employees to continually stock the cooler.
The lesson for other industries is to continue innovating. There's always a better way to do things. While bagged ice has been the standard for years, it didn't stop the invention of ice vending machines. Such machines self-produce ice when it's needed, cutting out any labor challenges during the entire production cycle.
There's no doubt that manufacturing is a complicated process. But companies shouldn't make it harder on themselves. Instead of looking at areas like OEM parts sourcing, the supply chain and labor as challenges, examine alternatives that make it easier and help your company get ahead of the competition.
About the Author:
Ben Gaskill, Co-Owner and Director of Sales and Marketing for Everest Ice and Water Systems, has worked in the manufacturing industry for 20 years. Spearheading sales, Ben has helped Everest grow from humble roots into a two-time honoree on the Inc. 5000 list of the country's fastest-growing companies.