We're still several days away from knowing the full impact of the COVID-19 shutdowns on the US manufacturing industry.
By David Yanez, CEO, Andonix
While the US March 2020 PMI was 49.1, indicating the start of a contraction, and the broader economic data has been largely negative, we've never had such a large swath of US manufacturers shut down at the same time for so long. More recently, the IHS Markit's Flash Composite PMI sank to just 13.5 in April, the lowest on record – and well below even the most pessimistic predictions. For more than a month, the entire US automotive industry has been shuttered, and tens of millions of employees have been stuck at home, many of them unemployed.
So what does recovery look like, and when can we start? Thankfully, we're almost there. With the curve flattening in many major population centers, local and state governments are mapping and preparing to implement plans to reopen the economy. OEMs, suppliers, and small manufacturers are following suit, but with a wary eye on the need for increased employee safety measures.
For the economy to open and stay open, we need to fundamentally change how we operate. There will be no "returning to normal". This will require processes, technologies, and protocols to identify, track, and respond to potential infection rapidly.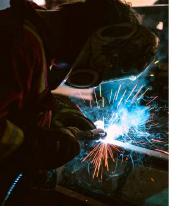 Business Continuity in the Face of a Crisis
In the midst of a crisis on the scale of the coronavirus pandemic, productivity takes a back seat to business continuity. Beyond a stable cash runway and sufficient demand to continue making and selling goods, companies need to focus on attracting and protecting their people. Without a stable workforce, it becomes nearly impossible to maintain operations. That means a focusing on:
Avoiding costly partial or full shutdowns when a positive case of COVID-19 is detected.
Addressing extreme absenteeism through cross-training and micro-learning technology.
Implementing peer-to-peer communications tools for employees who don't have email addresses.
Ensuring site entry and compliance verification through self-evaluation, digital check-in, and temperature checks.
Many companies lack the fundamental resources to rapidly implement new processes to meet these challenges. For businesses in a complex supply chain – such as tiered suppliers for the automotive industry – it's even more difficult.
The Foundation of a Successful Response
This is one of the biggest challenges most companies will ever face, so it's not feasible to tackle it all at once. To help avoid costly shutdowns, the larger problem must be divided into smaller chunks.
Priority must be given to detection, prevention, and monitoring in the workplace. Tactically, this means implementing and updating processes to have greater visibility into your efforts, including:
On-Site Entry – Employees must be able to enter the building safely and without proximity to others. Digital self-evaluation and wellness forms on smartphones make this fast and easy.
Wellness Monitoring – Systems can be implemented to automate wellness monitoring and better support social distancing efforts in places that often have large volumes of workers – like entrances and cafeterias.
Color Badges – Provide color-coded digital passes and permits to your employees and guests to manage entry and exit from the facility.
Friendly Contact Tracing – Contact tracing specific to the workplace can be implemented, which allows you to easily notify an employee if they have been exposed to a health risk while at work. With greater precision, you can contain issues much faster without a full shutdown.
Another major challenge is that many companies are using paper to manage checklists and administrative processes. Not only is this inefficient; it poses an additional health risk. Paper and writing utensils are a major source of potential cross-contamination and infection. A digital solution is needed.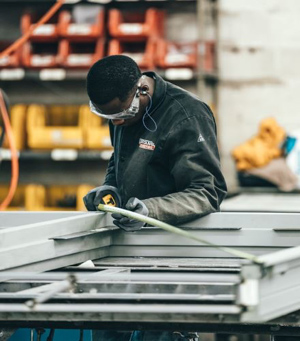 Accelerating Digital Adoption to Meet New Needs
Many companies are faced with a sweeping list of changes and adaptations they need to make to open, and remain open. Traditional paper-based processes are ineffective and potentially dangerous, so digital adoption becomes an absolute must.
The culture must be refocused to prioritize employee health and the individual responsibility of each worker to report symptoms or potential exposure immediately. Work processes that ban personal mobile devices need to be revised to ensure employees have access to easy-to-use communication tools that aren't at risk of contamination.
Being ready for anything requires a new digital baseline. It's the only way to respond to a pandemic. Business continuity over the next 12-18 months will be fully dependent on these procedures. By integrating these changes deep into your company's culture, you are better prepared for the next major disruption, helping minimize the risk of future closures.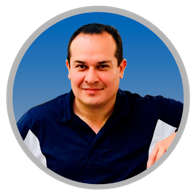 David is the founder and CEO of Andonix, a technology company, that automates front-line work in industrial age companies like the auto industry through a SaaS platform that connects people, process and place. Andonix is being showcased as a Harvard Business School live business case for innovation, the rise of new information age market players and the role that new entrants and manufacturing industry incumbents will play in creating new markets and ecosystems. David holds a degree in Industrial Engineering by the Iberoamericana University in Mexico and is a Harvard Business School alumnus (OPM50).