What does the immediate future look like with the virus?
There's no denying the last year has been one of the toughest in modern history. Following the emergence of Coronavirus back in early 2020, our worlds have been turned upside down in so many ways. The virus has changed everything from how we work to how we shop and socialize.
To make things worse, despite enduring many months of lockdown and distancing, a growing tide of expert opinion is suggesting we could be on the verge of a second wave of the virus – with more isolation the possible result. So just how does the immediate future look for life with the virus?
Lockdown efficacy vs negative impacts
While it's true lockdowns were successful in immediately slowing the spread of COVID, the unavoidable truth is, we simply can't stay locked up in our homes forever. Isolation on that scale goes completely against human nature, and the number of recorded mental problems has skyrocketed through the last year.
Moreover, virtually shutting down countries has plunged many nations into unseen levels of debt – debt that's going to take years to pay back. The IMF recently announced it expects the global economy to shrink by 3% this year – the worst recession since the 1930s. The US, UK, Russia and much of Europe reported a -5 to -15% negative growth in the first quarter of the year.
Alongside the economy, businesses are also suffering from many already forced into closure. Lockdown may have reduced the early spread of infection. Still, it's also having untold detrimental effects in so many other areas of our lives that it's becoming difficult to justify the positives compared to the negatives. In late June, unemployment in the US reached a staggering 10.4% of the total population (up from 3.7% in 2019) – in Canada it was 7.5% (5.7% in 2019) – the UK, 4.8% (from 3.8% in 2019). Most of these job losses have been attributed to the effects of COVID.
Moreover, no-one believed lockdowns could last forever, and the notion of a second wave has been predicted for some time. It was almost inevitable that, as isolation eased and people began to socialize more, reported cases of infection would rise. With a virus so potent and capable at transference, an increase in socializing was always going to increase infection rates. Couple that with wider testing and a rise in reported cases was inescapable.
The race to produce a vaccine
While nobody knows for sure how long the development of a vaccine capable of protecting against COVID will take, many experts predict it could take several years. Indeed, some even suggest we may never find a successful inoculation and could instead end up having to adapt to life alongside the virus. Certainly, the development of previous vaccines has, in most cases, taken upwards of ten years – frequently significantly longer.
Efforts are being made globally with several front-runners already reaching the third stage of the four-level testing requirement – however, scientists have repeatedly warned against placing hope that COVID will be solved with a vaccine alone. Rather, many believe it's more likely Coronavirus will lessen through several combined factors, including better care processes for those already infected and the possible development of herd immunization.
Is the virus weakening?
Most scientists agree it would be folly to suggest the potency of the virus is lessening as its R rate (the rate of infection between people), continues to grow. However, what is clear is there are fewer hospitalizations now than during the first outbreak – and death rates are slowing significantly. The primary reason being improved testing and the fact the virus is now affecting younger, healthier people.
A more balanced approach
Now we're nearing nine months living with Coronavirus, many are calling for a more balanced approach to how we deal with these inevitable cluster cases and outbreaks. Home-working has, by and large, been hailed a great success with many employees and employers are reaping the benefits of an improved work/life balance and lower running costs. Through lockdown, most of us have adopted video-chat as an alternative to meeting in person while e-commerce is booming across all sectors as we slowly move our shopping experiences online.
While regional lockdowns may still need to happen, a lot has been learned over the last few months, which should allow for a phased return to work. It's also hoped the lessons we've learned will allow for dealing with the virus in clusters rather than forcing nationwide lockdowns.
However, if this is to work successfully, testing is going to need to increase and track and trace methods are going to have to improve significantly – to isolate exactly where outbreaks are occurring and trace infected people's movements and points of contact.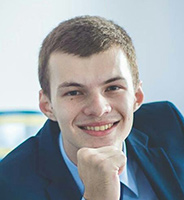 James Daniels is a freelance writer, business enthusiast, a bit of a tech buff, and an overall geek. He is also an avid reader, who can while away hours reading and knowing about the latest gadgets and tech, whilst offering views and opinions on these topics.